Fullscreen for Safari extension for iPhone [Jailbreak]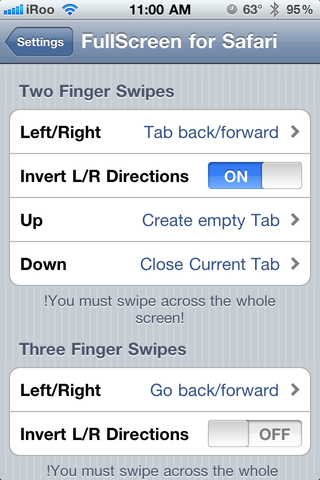 The Cydia Store now has a great extension available for jailbroken iPhone and iPod touch called Fullscreen for Safari that allows for not only toggling Safari into fullscreen mode for completely unobstructed browsing, but also includes multi-touch gestures.
This package costs $1.49 and has functionality and options that will completely change the way you use Safari. You can do things like two finger swipe left/right to switch tabs, two-finger swipe up/down to either open a new tab or close the current tab respectively, and shake to toggle fulscreen mode. (I personally love this function.) To get into fullscreen mode, the developer has defaulted to using a three finger tap anywhere on a page, but I've reassigned that to bring up my bookmarks since I can just shake my iPhone to get it into fullscreen mode.
This Cydia extension is seriously sweet, and I would absolutely consider this a must-have for all iPhone and iPod touch jailbreakers (not yet available for iPad). You can follow the developer, @_Yllier_, on Twitter to keep informed of any updates.
UPD
Video after the break and if you have played with Fullscreen for Safari, let us know how you like it!
by Andrew Wray
Get the best of iMore in your inbox, every day!
Your source for all things Apple
Adds a lot of functionality... A lot of customized gestures...

Dude this is nice I just got it on my touch and its aiki much better now. Did you mean 'iPhone and ipod touch USERS' in your opening line though? Typo alert ;)

This is a really cool tweak, that Ive never even thought about having. shake to full screen is pretty slick i must say

This, Safari Download Manager and Ad Block, REALLY should be a default part of iOS.

I just bought it. It's a bit buggy and I think that the gesture time interval for some of the gestures take to long. But it's okay...

and it crashes on my iphone... although the last update compatible with 4.3.1... I purchased it and removed it after 4 hours.... waiting for the bugs fix

This doesn't look "necessary" to me. :|

Boo, your comments will be deleted. Do not post pirated app links!

@Boo come on man, support hard working developers out there. Not cool bro..

This is a nice tweak. It's just one of those things that makes since. Plus the extra screen space is much appreciated.

This makes me wonder what the iOS 5 point will look like, but I also wonder if apple holds out on it's users. Meaning they give us just enough to keep us wanting more.

Meh. Making an app just for the sake of making an app.

Ahem. Are we gonna get rid of the pirated apps comments and links? Geez, I make a couple of cracks about Rene's spelling and grammar and am deleted a whole lot quicker.

Why is the video in Flash ?

Agreed. Support the devs. They don't come to your work and steal your big macs, do they? :p
@DoubleDown the video is a YouTube embed which should provide H.264 for iOS.

I don't get it, why doesn't this stuff just come from apple? Why isn't this allowed on the iPhone by apple. Sometimes, I feel like the whole jailbreak community are on Apples payroll

Agree with Drake also, unnecessary and needless junk.

I got it earlier.. I don't really like it on the iPhone's smaller screen, but I can imagine this would be awesome on the iPad.

Eagleeyesmith, yep its buggy. I bought it and none of the swipe controls work (two and three finger). Fullscreen and double taps work fine though. Hopefully they get ironed out quickly.

If you wan't a good browser and are not jailbroken just get iCab Mobile. This has fullscreen, adblock and you can download every filetype and then send it to your Dropbox! You can even Sync Bookmarks using Dropbox.
Oh and it really kicks ass on the iPad since you can have tabbed browsing!

All of that for the price of a very buggy and slower jailbroken iPhone. No thanks.

Great little tweak. The only thing I don't like is that the 'one-finger-double-tap' option eliminates the zoom to frame feature when enabled. It needs a double tap for zoom and triple tap for fullscreen.

using it right now. absolutely love it