This is what using Apple Vision Pro could be like in five years time
Gen 1 might pass you by. But what will life with Apple Vision Pro look like a little further down the line?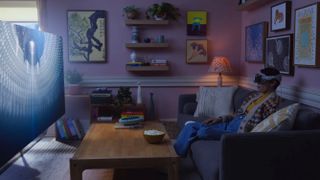 (Image credit: Apple)
Apple did the unthinkable for me at WWDC 2023: it made me look at my TV and think, "will this be the last one I ever buy?"
I'm thinking the same thing about my soundbar. My laptop. Now, there's nothing wrong with any of these devices, but after the glimpse into the future that was Apple's WWDC 2023 keynote, I can't help but think about what my living room and home office of the future will look like. Hopefully they'll at least be tidier.
Of course, I'm talking about the Apple Vision Pro headset. Now, I should say I've not had the chance to try Apple's first "spatial computing" device first-hand, but my mind is already brimming with ideas as to how it's going to change my relationship with technology, entertainment, and work.
With the nausea, discomfort, and whatever the metaverse is, I've never seriously considered a VR or AR headset before. Not until the Apple Vision Pro. I'm no Apple obsessive either: I've switched from Android to iPhone and back again. I got my first Apple Watch only last Christmas. Nevertheless, the Vision Pro feels closer to reality than sci-fi than any other device of its kind. I can, so to speak, see it.
However, I'm talking about the Vision Pro of the future. The one that properly breaks through to the mainstream - 2028's Vision Series 5 or SE, perhaps. At $3499 and with endless refinements still to be made, the Pro releasing next year will only find itself in the homes of the keenest tech and Apple enthusiasts, with the deepest pockets. The Vision that becomes ubiquitous - synonymous with mixed reality headsets just as the iPad is for tablets - must be lighter, more comfortable, have a more capacious external battery pack, and be more powerful. Siri needs to be smarter.
When that time comes, perhaps using the Apple Vision Pro in five years time will look a little like this…
The living room
Could the living room of the future not have a TV in it? For as long as I can remember, the living room has been the TV room; we go there to watch TV.
With the Vision Pro of the future, we'll be able to watch shows and movies at any size and in whatever room we like, so why should an entire room be devoted to it? Even though Mark Zuckerberg thinks the Apple Vision Pro is anti-social, perhaps future, screen-free living rooms will actually be more sociable. Could it be a space designed for in-person conversation, rather than together-but-separate entertainment, instead? Once you've finished Severance season 2 ...and 3 on Apple TV Plus, naturally.
Whatever space you choose to watch your entertainment, you'll still be able to do it together with a future Vision Pro. You'll have watch parties with friends in a different place, which'll be less weird once Apple's uncanny valley Personas have been upgraded. One day, sitting together without a headset to watch a movie will feel endearingly retro. You'll need to have multiple headsets to watch a show together in the same space, but if a future Vision Pro can theoretically replace existing devices, maybe this will feel, even, dare I say, affordable. Also, Apple's Eyesight passthrough tech is already sophisticated enough to give you a good sense of people physically close to you.
Apple has already partnered with Disney Plus to give us a sense of what entertainment on the Vision Pro can look like, but the success of the tech in this use case will naturally depend on how much third parties invest in their AR experiences. Of course, filmmakers will always extol the virtues of communal experiences in movie theaters, too, but the trend towards watching the latest releases at home has only accelerated in recent years. The Vision Pro won't be the end of cinema, but it will possibly become increasingly niche.
The home office
A future Vision device will complement flexible working, something that has become much more common since the pandemic. You'll have even fewer reasons to justify being in a single, specific place outside your home to do your job, but with a mainstream Vision headset you'll be able to do it in any room, with as many screens and windows as you like. And as unnerving as Apple's Personas seem at first, video conferencing that way is much more professional than Meta's Sims-style avatars.
2024's Vision Pro will be able to detect when you're looking at a Mac so you can get straight to work on there, but future versions may be powerful enough that you don't need a Mac at all. Maybe there'll be a Vision headset that prioritises power over mobility for people who want to edit video in Final Cut Pro AR, just like there could be a more mobile, portable option for outside the house - Vision Air, anyone?
Needless to say, there will be some jobs for which a mixed reality device will not be the only answer. It's difficult to imagine a device that packs the power of a Mac Pro and is comfortable to wear for long hours at a time, and a virtual keyboard will never match the tactility and responsiveness of a physical one. All that said, though, the Vision Pro will eventually have a meaningful impact on the office for many people.
Photography
I'll address the ski-goggle-shaped elephant in the room: yes, it was jarring to see a man record his child's birthday party with a headset in the Apple's keynote. Will it always be? Possibly not. Next year's Vision Pro will feature Apple's first 3D camera, and if its spatial audio recording and panoramic shots aren't immersive then, they will be one day.
Having seen an iPhone (sometimes an iPad) recording far too much of most gigs I've ever been to, it's not inconceivable that people would be willing to look absurd to capture their most important memories. What if you're recording a milestone moment, like a wedding or graduation? What if this could be the last time you see this person? Having the chance to feel closer to an important person or treasured memory certainly makes me question how I record snapshots of my life for posterity.
Combined with advancements in AI meaning we could be uploading the data of our loved ones to the cloud as early next year, the Vision Pro could utterly transform how we remember our lives. It's impossible to predict how, but all I know is it's intoxicating, concerning, and creepy all at the same time.
A Vision of the future
Of course, these predictions of the future rely on a dizzying number of assumptions, and to paraphrase Linus Sebastian, you should always buy something based on what it is today, rather than what it could be tomorrow. But while I believe a mainstream Vision headset can only enhance the way we work and play, it will never replace every device for everyone. However, for the average person who prizes convenience, versatility, and immersion, Vision devices will be everywhere, whether that's in five years' time, or more.
In other words, while the 2024 Apple Vision Pro won't be the future, Apple has got closer than anybody else in defining what it will look like.
Master your iPhone in minutes
iMore offers spot-on advice and guidance from our team of experts, with decades of Apple device experience to lean on. Learn more with iMore!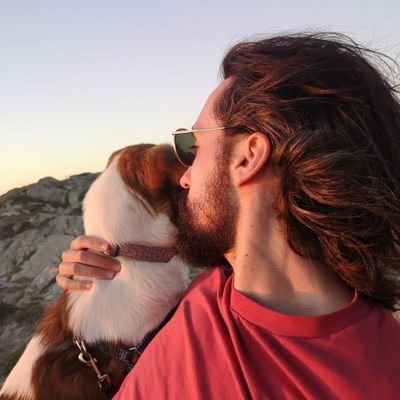 Harry Shepherd is an Audience Development Manager at Future Publishing for iMore, and previously was Guides Editor for PC Gamer. He is a writer and editor with more than two years experience specialising in entertainment, gaming, SEO and guides, and has fought more boss fights than most people have had hot dinners.