Google: No comment on official Google Voice app for iPhone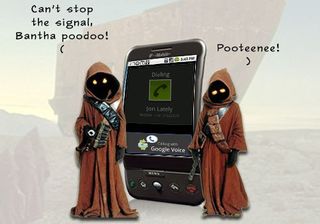 When contacted Monday by Apple Insider, Google declined to comment on whether it would resubmit its native application, which Apple refused to accept into the App Store last year.
Just in case you missed the big headlines recently, Apple relaxed their strict App Store guidelines and now have been approving apps that were previously rejected for replicating the phones built in capabilities. Google Voice apps were just about the first ones back in action and making their presence known in the App Store over the weekend including GV Connect and GV Mobile +.
So with both of those already available, how do you feel about Google possibly not releasing an official app for the iOS platform? Sound off below!
This is an official entry by BrianT in TiPb's next top blogger contest. Think you have what it takes to join Team TiPb? Bring it!
Not a comment on the article, but on the writer, moreso, I think this article is well written, and quite professionally done. I know that I will see more, but at the moment, BrianT has my vote.

I just want push notifications for sms, from google or GV Mobile +.

It seems to me like Google submitted it when they knew it would be rejected in order to make Apple look bad and draw attention to android, and now that it could be approved Google doesn't bother submitting it again.

More likely Google either has not updated it since iPhone OS 3.x days, or that Google is gun-shy about releasing another app where a competitor has power over them, and has demonstrated a willingness to exercise that power.

Google will no longer waste any time other than support its own OS. I'm not holding my breath on seeing new stuff from them.

@Glenn_Va
Didn't they just update Google Earth for iPad yesterday?

GV connect was great for me.

Google is not petty ... they update plenty of other apps for the IOS platform.. but if they try to take a stance with Google Voice... can you guys really blame them?
It was Apple messing up... and by relaxing their rules.. they pretty much admit to it..

Whatever app will allow for VOIP calls and push notifications will be the one I use.

Can TIPB put together a Google voice tutorial like they did for IOS 4.1
Get the best of iMore in in your inbox, every day!
Thank you for signing up to iMore. You will receive a verification email shortly.
There was a problem. Please refresh the page and try again.