Google Photos — Everything you need to know!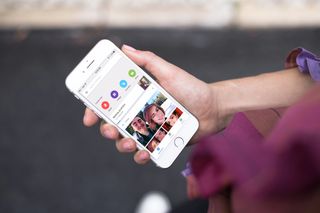 (Image credit: Google)
August 22, 2017 - Google Photos may support iOS 11's HEIF file format
A new update for Google Photos will make a very specific group of people happy:
You use Google Photos to back up your photos on iOS, and
you've installed the iOS 11 beta on your Apple devices.
Come iOS 11, Apple will be introducing a new file format called HEIF that will make quite an impact on your storage by reducing the size of your images. You can learn more about that here:
How HEIF and HEVC will keep you from running out of space on your iPhone
Anyone who decided to install the iOS 11 beta and convert their image files to the new format, however, found that certain apps and services couldn't interact with the files. Google Photos, which offers free unlimited storage for photos and videos (up to 16 megapixels and 1080p HD, respectively), was just one example.
As of a new update on August 22, 2017, however, it appears Google Photos now supports the HEIF file format (HEIC is the filename extension). Will Sigmon shared this screenshot on Twitter, which appears to show an HEIF image file successfully backed up by Google Photos:
Some replies to the tweet claim they haven't been able to get it to work. We've found several HEIF images in our Google Photos library, but it's unclear if they were uploaded via Google Photos backup.
The Verge:
Wired:
The New York Times:
If you're someone who has a lot of photos and videos to keep organized on your iPhone and you're looking for an easy access, no-nonsense way of making sure your memories are in order, then Google Photos may be just the app for you.
Designed with totally free unlimited storage space, visual search, the ability to send a photo in seconds, and so, so much more, there's no surprise that Google Photos has been praised as a must-download necessity for serious and casul picture-takers alike.
Here is absolutely everything you need to know about Google Photos!
What is Google Photos?
Google Photos:
Essentially the app acts as a hub for all of your mobile pictures and videos that can easily be accessed from almost any device.
Once you snap a photo or a video on your iPhone or iPad, it's instantly uploaded to your Google Photos account, so there's no need to manually upload, select, and comb through individual photos in order to access them later, even on different devices.
With Google Photos, you get:
Free unlimited storage
The ability to free up space on your iPhone
Visual search
Automatically create movies, collages, GIFS, panoramas
Edit and transform your photos with a tap
Advanced stabilization which will turn your Live Photos into looping videos or GIFS
Smart automatic albums
The ability to send photos in seconds
Collages and photos you took a year ago on this day to feel #nostalgic
The ability to view your photos and videos on your TV with Chromecast support
How does it work?
Simply sign up for Google Photos with your selected Gmail email account, choose to sync your iPhone to your account, and start organizing instantly!
You can back up photos anywhere, never run out of storage, use smart albums to document and keep track of all your memories and adventures, find your photos faster with a smart-tagging system, create fun animations, collages, movies, and so, so much more.
What is Assistant?
Assistant is a feature on Google Photos that allows you to create albums, collages, animations, and movies.
It will also automatically suggest and make different examples of collages, albums, and whatever else from your camera roll.
What about albums?
Albums is a feature on Google Photos that allows you to sort your pictures into different categories like shares, people, places, things, videos, collages, animations, and movies.
You also have the option to create your own album and add whatever images or videos you want into it.
How much does it cost?
Google Photos is a completely free app to download, so it doesn't matter how many images you sync and upload!
What devices can I use Google Photos on?
You can access your Google Photos account from a web browser or download the Desktop Uploader for Mac or Windows computers. It is also available on iPhone, iPad and Android devices.
How do I get Google Photos on my iPhone or iPad?
You can dowload the app right here (opens in new tab)!
Questions?
Do you have any questions about Google Photos specifically? Are you a big fan of the app, or is there another photo organizing app that you think works best?
Let us know what your thoughts are in the comments below!
Get the best of iMore in in your inbox, every day!
Cella writes for iMore on social and photography. She's a true crime enthusiast, bestselling horror author, lipstick collector, buzzkill, and Sicilian. Follow her on Twitter and Instagram: @hellorousseau
I tried using the Google Photos web page app. Last time I checked, Google Photos was not searching the description you put on a photo... and there is no "tagging" feature (just words, I don't mean tagging people)... and if you wanted to use albums for "tags," the albums are not sorted by title, or even searchable (this is Google, right?), so you can't easily find an "album" to add a photo to if you have hundreds of albums. If I can't simply type a word and find a photo from years ago, I don't want to use it. I've gotten into Amazon photos, which has some of those things I just mentioned, and saves full size versions of the photos I take (I have Amazon Prime, who doesn't now), which Google doesn't do.

1. In the free unlimited tier, does Google Photos backup photos and videos at full resolution?
2. Do I need to keep Google Photos app open on iOS devices to ensure all photos are backed up?

1. In the free tier a high res photo is kept in the Google cloud but not the FULL res photo. (You need to pay for an account to do that.)
2. I believe the 'Google Photos' app needs to be open to upload the photos to their cloud. (When I open the 'Google Photos' app in begins automatically uploading photos/videos to their cloud. I'm in the app so often or take so few photos that they upload before I can adjust my eyes.) Note: Just because photos upload to the Google cloud does not mean they are off your phone. If you want to free up space on your phone there are a few more steps you need to take.

1) No, full resolution photos and videos will use up your allocated storage.
2) No again, iOS will turn off background sync a short while after you exit the app.

Thanks (to dlongman as well). 1. Google Photo's conversion is rather opaque as to which photos and videos will be converted and how. I suppose for most general public, it doesn't matter much. But I want to know and it's unfortunate that it's a black box. 2. Inability to always backup photos and videos maybe iOS limitation but makes it difficult for me to trust Google Photos. I guess I will stick to iCloud Photo Library. My library is just a tad over 1TB so I am paying $240/year!

That is ridiculous that you have to spend that. I'm extremely happy with Google Photos. Just works as they say. Posted via the iMore App for Android

The free option compresses the photos but does not alter the resolution unless it exceeeds 16MP. If photos exceed 16MP, it will resize to 16MP. The iPhone's 12MP images will remain 12MP. The same goes for video, which is limited to 1080P max. Google Photos support is the source of this information.

Amazon's family vault for photos is good concept, hope other companies follow this step. Google's unlimited photos backup is also good though.

I have loads of photos on Flickr, can I transfer directly from there to google photos?

No, you have to download them all from Flickr then upload to Google Photos.
Thank you for signing up to iMore. You will receive a verification email shortly.
There was a problem. Please refresh the page and try again.