Google Places with Hotpot Released for iPhone.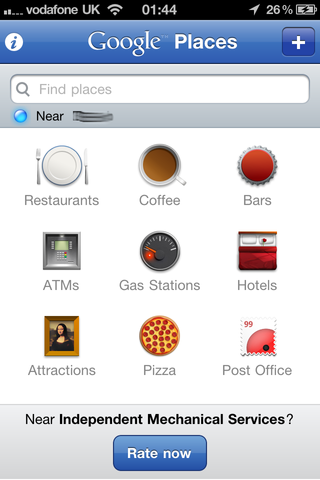 Google have released Google Places with Hotpot on the iPhone. For those of you who aren't familiar, Google Places is a free app that allows you to find local businesses and rate them, and with their new 'hotpot' feature, Google can suggest new places you'll like, based on your previously ratings.
The app uses your location to suggest nearby places for you to rate. You can give a standard star rating out of 5, and depending on the location, optional ratings including: Food, Atmosphere, Value and Service.
You can view ratings from most review sites such as Yelp or Qype, as well as Google's own ratings and it comes with 9 separate categories as standard (Restaurants, Coffee Shops, Bars, ATMs, Gas Stations, Hotels, Attractions, Pizza Parlours and Post Offices) but you can add personal searches as well, to cater to your tastes.
This isn't a 'check-in' application like Gowalla or Foursquare, but this is more similar to apps like Yelp or AroundMe.
What do you guys think about the new Google Places? Will you be using it? Let us know.
[Free - iTunes Link (opens in new tab)]
[gallery link="file" columns="2"]
Writer for iMore, YouTube Vlogger, and Host for [TEChBrits]
"Hotpot"?? I think you mean hotspot. There's a type in your title.

Nope its "hotpot" alright.
http://www.google.com/places/

Yeah I'll try this out, I have Yelp but I prefer to use Google where possible, cos that's the kind of guy I am. The interface looks clean and snappy.

Make that, "typo"....so much for my grammar...lol

Grammar Police - nope, it's hotpot.

does hotpot tell you what kind of pot is available around you?

Has anyone seen an option to change the settings from miles to km? :/
And it seems that their database for Europe (or at least Switzerland) could use some work. At the moment, the nearest ATMs it recommends are on the other side of the country, while other specified ATM apps have very good databases.
Additionally, there should be a warning before it exits and opens Safari, at least when clicking on a menu item in the "+" settings menu.

Oops - I meant "specialized", not "specified"..

So you have a reason to believe the cops want you?

It's one of my favorite apps . . . . or at least it would be if it worked as it should. For some reason, my Places App switched from displaying distances in Miles to Kilometers when my new Verizon Droid X2 did it's first update and now I'm stuck with a next to useless app since it requires me to do all sorts of math in my head to determine how far away thing are
Get the best of iMore in in your inbox, every day!
Thank you for signing up to iMore. You will receive a verification email shortly.
There was a problem. Please refresh the page and try again.