Google Voice updated for iPhone, brings new design and Hangouts integration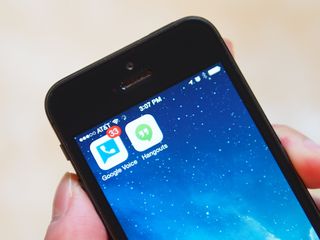 (Image credit: iMore)
Google Voice for iPhone has been updated. Head into the Apple App Store and you'll find version 1.6 of Google Voice. Today's update is notable for bringing a new design to match those found in the iOS 7 guidelines.
Here's the full changelog for version 1.6 of Google Voice:
Updated user interface to match iOS7 guidelines
Bug fixes and performance enhancements
Support for Google Voice integration in Hangouts
Requires iOS6 and higher
Still use Google Voice? Grab today's update and let us know what you think of the new design and Hangout integration!
I really don't want them to combine Hangouts with Voice. I want them to stand alone. I use Voice to keep my second line separate, a line I ported in. I don't want all the Hangout "features".

Hell hath frozen over, folks. I thought I'd never see them update this app again, it's been almost 2 years since the last real update (I've been using a third party app since then).

What google voice hangouts integration? I cannot find any integration whatsoever. I tried checking out all settings and nothing. Phone calls are not routed to hangouts and sms messages are not either. Where is the integration?

Same here. I don't see it Sent from the iMore App

All I know is Mexican food sounds really great right now Sent from the iMore App

Matching IOS7 when IOS8 is about to be released seems rather late to the party. Also, does the new app have support for multiple GV accounts?

Exactly. You think they could have held off for another week and updated all the way to iOS8

I wish it DID have support for multiple accounts. Also, I see no Hangouts integration as well... Sent from the iMore App

I went to lengthy pain to take myself out of g+, avoided hangouts at all costs, I use voice, but becomes useless once you exit the USA. What would be the next google app integration that fails to be useful?

I think, but not 100% sure, that the integration is simply using your GV number when making a call via Hangouts and I imagine this would translate to the iPad too. Why have a GV app at all then? I don't know. I use it for my business line at at one point earlier this year it was routing calls to Hangouts at the same time and was a confusing mess - two ringtones at once!! Sent from the iMore App
Get the best of iMore in in your inbox, every day!
Thank you for signing up to iMore. You will receive a verification email shortly.
There was a problem. Please refresh the page and try again.