Having issues skipping, stopping, and playing music tracks in your car over Bluetooth? Here's the fix!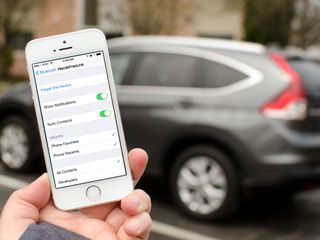 If you frequently pair your iPhone with your car in order to play music over the speakers, you probably have controls on your dash or steering wheel that let you pause, play, and skip tracks without having to actually pick up your iPhone. Unfortunately some iPhone users have reported issues with these functions under iOS 7. Either skipping, pausing, and playing don't work with car controls or there is a serious lag. Regardless what issue you're experiencing, the good news is that there's an easy fix!
How to fix iOS 7 Bluetooth issues when pairing your iPhone to your car
Launch the Settings app on the iPhone (or iPad) that you're having issues with in your car.
Tap on Bluetooth.
Tap on the info button next to the device that shows up as your car. This may vary from manufacturer to manufacturer. For example, since I have a Honda, the Bluetooth device shows up as HandsFreeLink.
Tap on Forget this Device.
Tap on Forget Device one more time in the popup menu to confirm.
Re-pair your iPhone with your car the way you did the first time you set it up.
Once you re-pair your iPhone with your car again, you shouldn't have a delay or issue skipping, playing, and pausing tracks. I had this issue with my iPhone after updating to iOS 7.1 and simply pairing my iPhone like brand new resolved the issue. Every once in a while I seem to experience the lag or delay again and I have to repeat the process yet again. Hopefully Apple comes up with a fix soon but until then, hopefully this does the trick for you.
If you're having a Bluetooth issue in your car, try the steps above and then let me know in the comments if this fix worked for you. If you found another trick that works, be sure to let me know that in the comments too!
Get the best of iMore in in your inbox, every day!
iMore senior editor from 2011 to 2015.
I get about a 2 second delay with my iPhone 5 and (coincidentally) Honda. It was there as well with my old iPhone 4 so I figured that's just how it is. Are you saying you can press the skip-track button and it instantly plays the next song?

2 second delays are about normal. I was experiencing 5 or more. Sometimes no feedback when skipping and forwarding. Sent from the iMore App

Ally, I also have Hondas. Both 2013 Pilots. I find that when using the USB port, the audio for navigation with Apple Maps (even with the HFS (? I forget the exact setting. It is only available when connected) enabled) is intermittent. It then doesn't matter what I do, it won't dictate anything through Bluetooth once it decided to go wacky. Any thoughts? Have you experienced the same? Sent from the iMore App

Siri has been a mess with HFL for me the last few months. Sent from the iMore App

Anyone having issues w this on BMW idrive systems? I have two. Both give me a fit for Bluetooth audio. Very frustrating. Additionally, who exactly is that tip for? Of course resetting works for some situations. Everyone knows to try that.

A lot of people actually won't try this. Says my email inbox. ;) Sent from the iMore App

CarPlay can NOT get here soon enough!!!

I sometimes see issues with this, though only with Spotify so I had assumed it was an issue with the app. Sometimes skipping to the next track or the deck controls just not working. Shutting off my deck and reconnecting to my phone would usually fix it but I never thought to re-pair it. I'll try that and see how it works.

I have 2013 VW passat. Bluetooth connection is good. I can do anything else but skipping between tracks won't work. It's annoying and not really fixable. I tried 3 different android phones and 2 I phones. I wasted so much of my time with this and also took to the dealer ship. They can't figure the problem. Any one had same issue and have a solution?
Thank you for signing up to iMore. You will receive a verification email shortly.
There was a problem. Please refresh the page and try again.