How to train for a marathon with the Apple Watch Ultra 2
Using the adventurous Apple Watch for long distances.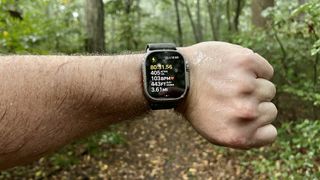 (Image credit: Future)
Most Apple Watches are excellent for logging training runs, but the Apple Watch Ultra and Apple Watch Ultra 2 are uniquely suited among their contemporaries for long-distance runs like marathons.
The batteries last for twice the amount of time as a regular Apple Watch, the precision dual-frequency GPS systems are more accurate to ensure you get exact distance measurements, and the additional Action button allows you to operate the watch without using the touch-screen, essential if you're wearing gloves or dealing with lots of sweat.
However, if you're planning on wearing an Apple Watch Ultra over 26.2 miles and beyond, there are a few things you'll need to know. Below, we'll tell you how to record a running workout with your Apple Watch, how to use the Action button to its full potential, tips on analyzing your training runs, and some third-party apps you need to know about.
What you'll need
An Apple Watch Ultra 2 or Apple Watch Ultra, running watchOS 10.
iPhone X or later, running iOS 17.
How to record a running workout with your Apple Watch Ultra
Access your Apple Watch and open the Workout app
You'll see a list of activity profiles to select. Tap Outdoor Run
Tap the three dots on the top right of the activity profile to choose a goal: Open (run with no goal, until you stop the workout), Time, Distance, or Calories
If you've picked one of the latter three, you will be able to adjust your goal - for example, if you choose Distance, you could choose 10km
Tap Start
While you're running, you can choose to mark a segment of your run to view later in the iPhone's Fitness app. Press the Action button once to mark a segment
Tap the Action button and the Side button at the same time to Pause a workout. From the Pause screen, you can tap End Workout
How to map the Workout app onto the Action button
You can access a specific Outdoor Run quickly by mapping it to the programmable Action button. The Open run profile is probably best for this, as it'll be used most often.
From the main menu, tap the Settings icon on your Apple Watch
Scroll down and tap to select the orange Action button option
Tap Action. Here, you'll be presented with a list of options: Workout, Stopwatch, Waypoint, Backtrack, Dive, Torch and None. These are the apps that can be mapped to your Action button.
Tap Workout. A green tick will appear when the app is selected
Tap the blue back arrow (top left) to return to the main Action button option in Settings
Tap First Press and select which workout profile you want to open with the Action button
How to access your Workout Details with Apple Fitness
Open Apple Fitness on your iPhone
Scroll down to History
Tap Show More
Find the run you want to analyze, and tap it. From here, you'll be able to see stats at a glance under the Workout Details header, along with splits, heart rate, and a thumbnail map
On the metric you want to analyze further, tap Show More
You'll be able to see a lot more of your chosen metrics and use these to better inform your training goals. For example, a popular strategy during marathons is to run the second half of your race faster than the first – which is known in running circles as a negative split.
By looking at your split pace per km, you can tell if you're slowing down or speeding up on long runs, and adjust your pace accordingly.
How to use Race Route and Pacer on your Apple Watch
Open the Outdoor Run profile on the Workout app on your Apple Watch
Tap the upper three dots on the right-hand corner of your Workout profile to select your goal
If you're near a local route you've run at least twice, the Race Route option will show up, along with a map of the route
Tap this option to select your best or most recent performance on that route. Tapping one of the two options will start the workout
Racing against yourself can help improve your personal bests and ensure you're pacing yourself correctly. As you run, you can check your Apple Watch to see if you're running faster or slower than your previous time.
You can also pace yourself with the Pacer tool, which is accessed directly above the Race Route option and can help you pace even on a new route.
You can use it to set a goal and a target time manually with the Edit icon rather than race against a previous time of your own. Either way. you'll be able to check your Apple Watch regularly to make sure you're ahead of your target pace, or behind your target pace.
One more thing... Best third-party apps for marathon running
The Workout app isn't the only tool you can use to help your marathon training. Strava can help you find routes that are popular with the rest of the community, and you can sign up to an online group to keep you accountable – if you're running the New York marathon for example, there is an online club on the Strava app you can join. This will allow you to post on the club's page, see the leaderboard, and view the training schedules of other members.
Nike Run Club, which is affiliated with Apple, offers a similar community vibe, while Footpath can help you create local training routes and offer turn-by-turn directions when running a route for the first time. C25K offers a Marathon 26.2 app, which contains a selection of premade training plans ideal for first-timers.
Master your iPhone in minutes
iMore offers spot-on advice and guidance from our team of experts, with decades of Apple device experience to lean on. Learn more with iMore!