Here's how much the new Apple TV will cost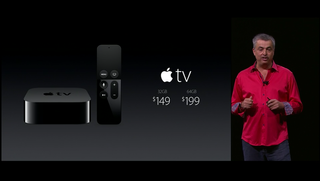 Apple has officially announced the all-new Apple TV, which features a number of great feature additions, but a big question is how much it will cost for you to get one. With a big focus on games and video content, the new Apple TV will come in two models this year. The new Apple TV will release in October 2015 in 80 countries, and here's how much each of them will cost.
The first option is a 32GB model, which Apple has priced at $149. If you would rather double the storage to 64GB, that will set you back an additional $50, at $199. Apple will also be selling the previous Apple TV hardware at the $69 price tag, for those looking for something more basic.
Jared started off writing about mobile phones back when BlackBerry ruled the market, and Windows Mobile was kinda cool. Now, with a family, mortgage and other responsibilities he has no choice but to look for the best deals, and he's here to share them with you.
What's the cost of it in Canadian dollars? Sent from the iMore App

$37,000 and $45,000 respectively. At current dollar value.

No really Sent from the iMore App

If you want a rough idea of the cost in Canadian dollars, take the US price and add 30%. But just roughly, the 32GB Apple TV in CDN is about $199 and then $249 for the 64GB Apple TV. But Apple could change this to make it closer to the USD Price. Posted via the iMore App for Android

They generally add about 50% actually if you check out the numbers. The exchange rate difference is typically 20% (or lately 30% when the dollar is soft), but they pretty much always add 50% or so on to the American prices. Simply because they can.

If you think that the exchange rate is the main reason prices are higher in Canada than you know absolutely nothing about retail and supply chain. Sent from the iMore App

I'm a bit disappointed there wasn't a "regular" model without all the bells and whistles but that still had a bit more power than the current model. It seems clear that if you don't buy into things like Apple Music and iTunes in the cloud that most of the new features are not useful for anything. I need a new one so I will have to upgrade but a 50% price increase for features I don't need and can't use doesn't sit so well. Hopefully the search can be tuned so it doesn't always bring up options from the store and instead only searches my local content.

Actually they add about 30% they dont take into account that we have high tax

No Optical Audio? How are we supposed to hook this up to a sound system?

If your receiver supports it, HDMI audio. But I understand your frustration. Optical audio is what I use because I use an older receiver in my apartment (hand me down from the parents), and I run an optic cable from the tv to the receiver and my game console and laptop through HDMI to the TV

HDMI. If you need someone else you will have to buy an adapter.

I have my AppleTV connected to my TV via HDMI and then I run optical out from the TV to the receiver. It obviously requires that the TV be powered on whenever the AppleTV is on, but for me that's not an issue. I suppose that if one wanted to launch an Apple Music station or playlist and have it on in the background (with no tv), then there might be an issue. There are also HDMI to optical converters as well. http://www.amazon.com/Panlong-Converter-Extractor-Splitter-De-embedder/d...

Hey iMore - can't you find out what the official Canadian cost will be? Thanks.

What's the point of the extra storage if apps and content are streamed? Sent from the iMore App

That is exactly my question. I chatted w/ Apple this morning, and they could not provide a definitive answer as to what is the value add of storage....

Im going to take a wild guess here and say the storage is going to be for the apps and games you can now install on the new TV .
Get the best of iMore in in your inbox, every day!
Thank you for signing up to iMore. You will receive a verification email shortly.
There was a problem. Please refresh the page and try again.