Here's how to track your iPhone 6s or 6s Plus shipment without a tracking number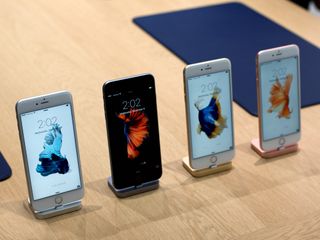 Even if Apple hasn't yet sent you a tracking number for your shiny new iPhone 6s or 6s Plus, you may still be able to hone in on its shipping progress. Thanks to a neat trick pointed out by Macworld, you can get a handle on your new iPhone's current location armed with nothing more than your phone number.
To get started, you'll want to navigate to the UPS tracking site. From there, click the dropdown labeled "Track by Reference" and then type the phone number associated with your new iPhone into the "Shipment Reference" box. After that's done, just click on the "Track" button and you should be off to the races.
Once you're on the tracking status page, you'll be able to see the progress of your shipment, and you'll also now have access to your tracking number for easy reference. Keep in mind that, when entering your information, you can narrow things down a bit by also inputting your destination country and zip code, if necessary.
Via: Macworld
Get the best of iMore in your inbox, every day!
Does this only work if you preordered from Apple?

Works with T-mobile pre-orders too.

I tried mine but it does not work. What did you put for reference?

When did you place your pre-order? I placed mine at 11am central on day one of pre orders and my order is still processing.

Yes it just worked for me Sent from the iMore App

What was your status? In  web

I think I might of clicked reported for your comment.. I apologize. I am new at this and I was curious to know what that meant.

Yes I think so. Was able to track my preorder from Apple Sent from the iMore App

Should I be concerned if my 6s still hasn't shipped yet? I placed my order moments after preorders went live. It's been in "preparing for shipment" status since last week. I had a preauthorization come across my bank last week as well, but that has since dropped off. UPS has a tracking number, however it says that they are waiting for pickup at the origin. Sent from the iMore App

Can someone help me with mine? I have Verizon and I don't think I did it right it's not working. I did order my iPhone 6S Plus on the 14th

No need to do this if you have UPS My Choice account and you are having it delivered to that profile address, it will show up in your account after logging into the UPS app or website.

Can't get it to work. Preordered through Verizon Posted via the iMore App for Android

Verizon preorders.
We got a tacking number via email (From Verizon as an order status update) on Saturday with a FedEx tracking number (not UPS.) So Verizon is appearently using FedEx, bot UPS.
Mine shows "At FedEx Location Newark, NJ" (for a California order.)
This only applies if you preordered from veriozonwirelesss.com, not a Verizon phone from Apple.com

Wow, now that's a scoop! Apple.com still says "preparing for shipment" yet UPS already shows it departing from AK this morning.

Yes u r right. I think then it will reach Louisville where Apple will assemble the parts and then they will ship when it is ready. That's why in Apple website it says preparing for shipments. Hopefully u will be getting ur iPhone by Friday.

You must enter phone number without spaces.

Seems to not work on phones purchased contract free from T-Mobile but will work if you're a UPS My Choice member.