HomeKit Routers: Everything you need to know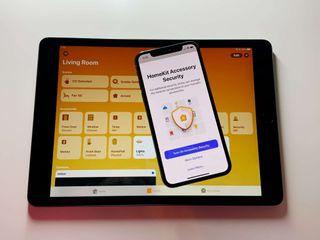 (Image credit: Christopher Close / iMore)
Apple's HomeKit Secure Router feature — first introduced back in 2019, offers a suite of security benefits that can help keep your home network safe and secure. With a HomeKit router, you can control the activity of your smart home accessories, so you can block a device from talking to a server in the cloud, or other devices on your network, with just a few taps in the Home app. If you are ready to lock down your home network, then here is everything that you need to know about HomeKit Secure Routers.
What are HomeKit Secure Routers?
Essentially, HomeKit support for routers enables access to enhanced privacy controls for your HomeKit devices. With a HomeKit-enabled router, new settings will be added to the Home app on iOS, iPadOS, and macOS, allowing you to restrict your network traffic to keep things private and local.
What's so great about that?
Adding restrictions that prevent your HomeKit devices from accessing the internet can help reduce snooping or attacks from outside sources. While risks are relatively low compared to our phones, tablets, and computers, smart home accessories are still susceptible to these types of privacy issues.
With a HomeKit Secure Router, you can restrict devices to only vendor-approved services — such as accessing a specific server that enables you to control your accessories while on the go or one that provides firmware updates. You can also completely block your HomeKit accessory from accessing the internet altogether.
What controls do HomeKit routers provide?
The following controls are available within the Home app after setting up a HomeKit-enabled router:
Restrict to Home: Only allow connections to your home hub. This may block firmware updates or other services.
Automatic: Allow connections with an automatically-updated list of manufacturer-approved internet services and local devices.
No Restriction: Allow connections with any internet service or local device. This provides the lowest level of security.
According to Apple, the Restrict to Home setting provides the highest level of security, followed by Automatic and No Restriction.
Can I see which services that a HomeKit device accesses?
Services depend entirely on the accessory and the vendor. In the Home app, some accessories will have a list of services or servers that they communicate with over in the Wi-Fi Network & Routers section of the Home app. Logitech Circle cameras, ecobee thermostats, and the Philips Hue Bridge are a few accessories that display their services information.
In the case of the Circle cameras, Logitech lists services such as time sync, connectivity checks, and firmware updates in the Home app. The Philips Hue Bridge lists additional services like analytics, diagnostics, notifications, and compatibility with alternative smart home platforms.
If I block internet access, will my HomeKit devices still work?
Yes, they certainly will! Thanks to Apple's insistence on ensuring that all HomeKit devices work at the local network level, your HomeKit devices will continue to work by communicating only with your HomeKit hub. Even with the most restrictive access level — Restrict to Home, set for your devices, you should see the same performance and reliability levels as always, and they will still work with Scenes and Automation.
Of course, some devices — especially those compatible with other smart home voice assistants, may behave a little differently with restrictions. Some accessories may indicate something is wrong by displaying a different color on an on-device status light during regular operation, or some may flash the light continuously. Again, the device will still work, but these behaviors are something to consider.
What about my non-HomeKit devices?
All other devices on your network, such as your iPhone, will still function the same way as before. Only HomeKit-enabled devices are affected by the settings applied within the Home app. The Home app will only display HomeKit devices, and it does not provide an interface or additional settings for non-HomeKit accessories.
What about firmware updates for HomeKit accessories?
Firmware updates are still available for your smart home accessories, just like they were before adding a HomeKit Secure Router. However, you should note that using the Restrict to Home setting for your router may prevent firmware updates.
It would be best if you made it a habit to periodically switch it back over to a lower security level to ensure that your device receives the latest security and performance enhancements.
Can I change my settings at any time?
Yep, all you need is the Home app on your iPhone, iPad, or Mac. Setting a restriction level takes just a few taps, and changes typically apply a few seconds after making your selection. If for some reason, a change didn't take effect immediately, the Home app will display a note mentioning that it will continue making the change in the background.
What else do I need to set it all up?
In addition to a compatible router, HomeKit Secure Router support also requires a HomeKit hub on your home network. HomeKit hubs include the Apple TV HD, Apple TV 4K, HomePod, HomePod mini, and all iPad models capable of running the latest version of iOS.
Do HomeKit Secure Routers require a subscription?
Nope! HomeKit router features are available free of charge from within the Home app.
Will I need to buy a new router?
Potentially. While HomeKit is available to all router vendors, it is up to the manufacturer to support the feature. All HomeKit Secure Routers currently on the market added HomeKit support via firmware updates to existing devices. We expect to see routers support the feature right out of the box in the future.
Which routers are compatible with HomeKit today?
Despite HomeKit Secure Router being available for a few years now, compatibility is still relatively sparse. Only two router vendors — eero and Linksys, support the feature on select models today.
eero's HomeKit Secure Router lineup includes both the standard and pro models of the eero 5 WiFi line and the latest eero 6 WiFi systems. eero's support works with single and multi-pack Wi-Fi systems, so you can potentially save a few bucks if you live in a smaller home or if you just want to try out HomeKit.
Linksys HomeKit routers include two WiFi System models from the Velop mesh line. Compatible Velop models include the AC 2200, AC4400, and AC4400 WiFi systems and the latest WiFi 6 system, the AX4200. Like eero, you can access HomeKit features with a single router if you don't need a multi-point setup.
Hey, I have one of those! How do I add it to the Home app?
For starters, you will need to ensure that your iOS devices, HomeKit hubs, and router are running the latest software versions available. For your router, check with your manufacturer's app or website for specifics on how to update your router.
Once all of your devices are running the latest and greatest software, you can enable HomeKit through the manufacturer's app. Unfortunately, you cannot add the routers directly from the Home app; you must initiate it through your router's app. If you need help, you can check out our guides: How to upgrade your eero router to a HomeKit Secure Router, and How to upgrade your Linksys Velop router to a HomeKit Secure Router.
Ok, I got it added; now, where do I find the new controls?
You can find all HomeKit Secure Router controls over in the Home app. Head to Home Settings, then Wi-Fi Network and Routers to manage your devices. Are you having trouble tracking them down? We have you covered with our step-by-step guide, How to manage HomeKit-enabled routers in the Home app.
Since my router is in the Home app, can I add it to Scenes and Automation?
Unfortunately, HomeKit routers are not available for use in scenes and automation. However, the potential is always there if additional router features — such as pausing the internet for specific devices, become available.
I want to go back to using my router without HomeKit. Can I still do that?
Yes, you most certainly can. Even though it takes just a few taps within your router's app, the process is scary as you may lose access to some of your HomeKit accessories. According to eero, you may even have to factory reset your Wi-Fi HomeKit accessories to get them to show up in HomeKit again after.
Lock down your home with a HomeKit router
As you can see, HomeKit Secure Routers are more than just another accessory in the Home app. With a HomeKit Secure Router, you can rest assured knowing that your smart home devices are safe from outside threats and not reporting back sensitive data to some unknown server in the cloud. If you are all-in with HomeKit for your smart home and plan a network upgrade, then a HomeKit router is a perfect fit.
Updated December 2021: Updated with latest router models and iOS features.
Master your iPhone in minutes
iMore offers spot-on advice and guidance from our team of experts, with decades of Apple device experience to lean on. Learn more with iMore!
Christopher spends most of his time writing and dreaming about all things HomeKit and the Home app. Whether it is installing smart light switches, testing the latest door locks, or automating his households daily routines, Christopher has done it all.