How to Accessorize your Space Gray iPhone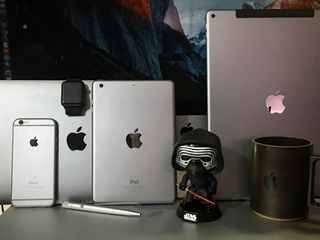 Ask anyone who makes anything and they'll tell you the black — or in this case, space gray — is the most popular color. It can go anywhere and go with anything. But that can make it difficult to find just the right accessories to accentuate your space gray iPhone.
... Beyond a space gray Apple Watch, iPad, and MacBook, that is!
The Scarf from Totallee
The Scarf from Totallee is an ultra thin, snug-fitting, and protective iPhone case that's minimalist design won't distract from your space gray iPhone's stylish appearance and feel. Praised for it's no-nonsense, no-bulk look, it adds only 0.02 additional inches to your space gray iPhone. The Scarf is designed with a slightly textured, frosted finished, making the case easy to grip in your hands and ideal if you just want a slight splash of color to match with your iPhone.
Because of The Scarf's minimalist design, you won't have to worry about logos cluttering up your iPhone, taking away from its simplicity. While the perfect color to match your space gray iPhone is the light gray color, The Scarf comes in four other shades, including black, white, navy, and mustard yellow.
Plus, it only costs around $15. How awesome is that?!
Space gray Olloclip 4-in-1
Shoot your iPhoneography masterpieces in with the perfect mobile photography accessory: the space gray Olloclip 4-in-1 lens for your iPhone!
The Olloclip is perhaps one of the best tools out there for shooting photography and video with your iPhone. The 4-in-1 specifically breaks down into four lenses, including a fisheye, wide-angle, 10x macro and 15x macro, all which capture bright and vivid photographs and videos for around $80.
Simply slide on the Olloclip to your iPhone, adjust the lenses accordingly, and you have a whole new perspective! With the space gray Olloclip, you won't only be taking incredible pictures, but also shooting in matching, accessorized style with your space gray iPhone (ain't that just the most picture perfect thing?)
iPhone Lightning Dock in Space gray
When you're charging your iPhone, why not charge it in style with Apple's iPhone lightning dock in space gray? If you like keeping everything uniform on your home-office desk or at your cubicle at work, then picking up a sleek lightning dock like the space gray model from Apple for around $50 may be worth considering.
With the iPhone lightning dock, you can comfortably make important speakerphone calls straight from the dock, connect your headphones to listen to music comfortably, and attach the dock to speakers or a stereo with a cable sold separately to play your favorite band's newest single or the latest podcasts.
While the iPhone lightning dock comes in three other bright, eye catching colors – including silver, gold, and rose gold – the perfect shade to match your space gray iPhone would be the space gray lightning dock.
Satechi aluminum wireless headphones & stand
Finding a great, affordable pair of Bluetooth wireless headphones is one thing, but finding a pair that matches your space gray iPhone and comes with the perfect matching stand is a whole 'nother cause for celebration.
The Satechi aluminum wireless headphones and stand are a great pairing and a spot-on set of accessories for your space gray iPhone because of both their stylish simplicity and design. The headphones come with audio playback buttons with a sleek, modern aluminum look, including a built-in microphone and the perfect space gray finish.
The Satechi stand's corresponding design balances your headphones perfectly on your desk or side table, keeping them safe from potential spills or scratches. These space gray headphones will set you back around $70.
Mophie Powerstation in Space gray
If you use your iPhone constantly — for Pokemon Go or Snapchat, we don't judge! — then you know how terrifying it is to run the risk of running out of battery power all together.
That's why the Mophie Powerstation in space gray is a solid option to consider if you want to keep your anxiety down (and your battery at 100%!) while still accessorizing to match your space gray iPhone for around $80!
With the Mophie Powerstation, you get up to three times the extra battery life, as well as two outputs, so you can charge two iPhones at once. The Mophie may look bulky or big, but it's actually quite thin, making it portable and easy to slip into your bag.
The Powerstation comes in a few different colors, but in order to match the Mophie's modern, aluminium finish best with your space gray iPhone, check out the space gray version!
LAX Gadgets extra long nylon cable
Keep your space gray style strong with LAX Gadget's extra long nylon cable in gray, another perfect accessory to pair with your space gray iPhone! This charger is Apple MFi certified and charges your iPhone quickly, while the nylon cable is made to withstand any tears or tension that a normal cable may face.
Tough aluminum end-pieces keep everything secure and connected, while the nylon design prevents extreme tangling.
The LAX comes in four different lengths, including one foot, ten feet, four feet, and six feet, so you can mix and match your cables depending on where you need to charge your space gray iPhone. Depending on the length, you'll be spending between $9 and $15.
What's your fave space gray accessory?
Is there a space gray iPhone accessory that you think is perfect that we missed on our list? (Sorry about that, btw). Then let us know in the comments below! We'll be sure to check it out.
Updated September 2017: This list still has the best of the best options for your space gray iPhone!
Get more iMore in your inbox!
Our news, reviews, opinions, and easy to follow guides can turn any iPhone owner into an Apple aficionado
Cella writes for iMore on social and photography. She's a true crime enthusiast, bestselling horror author, lipstick collector, buzzkill, and Sicilian. Follow her on Twitter and Instagram: @hellorousseau