How to add your UltraViolet movies to Movies Anywhere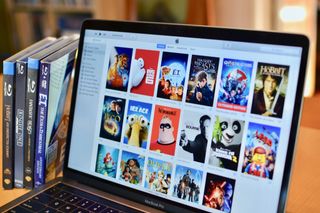 Movies Anywhere is Disney's attempt to merge all of those digital movie services where you purchase content into one place. You don't have to watch all of your movies in Movies Anywhere. Instead, the service brings the movies to you. If you've bought digital movies on iTunes, Amazon, Vudu, Xfinity, Microsoft, FandangoNOW, or Google Play, you can now watch all of them on whichever your preferred service is.
If you recently received an email from UltraViolet that the company is closing and you'll have to link your movies to another account by July 31, 2019, you might be wondering whether you can get these movies into your Movies Anywhere account. You can add your UltraViolet movies to Movies Anywhere, but you need a Vudu account to do so (I know, you have to sign up for one more account).
Note: Not all movies are supported by Movies anywhere, so it's a good idea to have your UltraViolet movies linked to a couple of different services to ensure all of your movies are accessible after UltraViolet closes.
Movies Anywhere: Everything you need to know
Step 1: Sign up for Vudu
If you don't already have a Vudu account, you'll have to get one in order to merge your UltraViolet movies into Movies Anywhere.
Navigate to Vudu.com (opens in new tab) and sign up. You don't have to add a credit card during the setup process if you don't want to. Just skip the step to complete the process.
Step 2: Log into UltraViolet
If it's been a while since you used UltraViolet to watch a movie, you may have forgotten your username or password. Navigate to UltraViolet's Homepage and make sure you can log in. If you've forgotten, follow the steps to reset your account information.
Step 3: Merge your UltraViolet account with your Vudu account
Once you're ready, it's time to connect your UltraViolet account with your Vudu account so you can merge the movies from the former to the latter.
Navigate to Vudu.com

(opens in new tab)

from your web browser.
Log in with your Vudu account credentials if you haven't already.
Click on your Profile Name in the upper left corner of the website.
Click on UltraViolet.
Click on the Already have Ultraviolet? link.
Click on Connect.
Click on OK when finished.
Step 4: Connect your Vudu account with Movies Anywhere
If you haven't already connected your Vudu account with Movies Anywhere, make sure you do so or you won't see your UltraViolet movies on your list.
Navigate to MoviesAnywhere.com from your preferred web browser.
Sign in with your Movies Anywhere credentials.
Click on your User profile in the upper right corner of the website.
Click on Manage Retailers.
Click Connect next to Vudu.
Enter your Vudu account credentials to confirm permission to connect the account.
All supported movies will populate across all of your connected digital retailer services; iTunes, Google Play, Amazon, and Vudu.
Remember, not all movie distribution companies have signed on with Disney for Movies Anywhere. For example, Paramount Pictures does not support Movies Anywhere. So even if you bought a Paramount Pictures movie on iTunes or on Amazon, it won't appear across all of your supported digital retail services.
Any questions?
Do you have any questions about how to add your UltraViolet movies to Movies Anywhere? Put them in the comments and we'll help you out.
Thanks to the iMore Show listeners that contacted me to let me know that this was possible.
Get the best of iMore in in your inbox, every day!
Lory is a renaissance woman, writing news, reviews, and how-to guides for iMore. She also fancies herself a bit of a rock star in her town and spends too much time reading comic books. If she's not typing away at her keyboard, you can probably find her at Disneyland or watching Star Wars (or both).
On the sign-up page for Vudu it states "This service is for the U.S. only."
Does anyone know how I get ultra violet movies transfered to work with Australian iTunes?

The article is misleading... Unfortunately, not all movies available under UltraViolet are available in Movies Anywhere.... There are a few studios/distributors that supported UV that are not part of MoviesAnywhere so their movies will NOT carry over from Vudu to MoviesAnywhere. If you look at movies in VUDU you'll see UV, MA markings or BOTH or None... on the details of each movie. Only those UV movies that also show the MA marking will show in MoviesAnywhere. For example, as I look through my UV locker, and Vudu, movies like Alex Cross, Divergent/Insurgent/Agilent, Escape Plan, Ghost in the Shell, Mission Impossible Fall Out, and others don't show in MoviesAnywhere locker or its retailers (iTunes, Google Play, Amazon, etc). If you look at their listings in VUDU you'll see only the UV logo on them, not the MA logo. In Vudu when you look at a movie like The Fifth Element, The Meg, Pacific Rim (2013), Ready Player One, etc... you'll see they have both UV and MA logos, and those titles DO show in both UltraViolet retailers like Vudu or FandangoNow, as well as MoviesAnywhere and its retailers like iTunes, Amazon Video, Google Play Video, etc. Then there are movies in Vudu like Overboard, Legally Blonde and others are not marked UV or MA, so they will not be available in your UltraViolet or MoviesAnywhere lockers or other retailers.

True but if/when these UV only movies are added to Movies Anywhere in the future then they will populate over MA. This is the only real solution to retain at least most of your UV library and get them onto MA now or possibly in the future. The best thing to do is connect both UV and MA to VUDU and only use VUDU to view your movies, this will ensure that most if not all of your movies are available in one place. Ideally UV and MA would have struck a deal to directly import your UV library to MA but that would just be too pro-consumer for the studios.

This article needs a little more information.
Once Ultraviolet is linked to VUDU then DO NOT disconnect or close the accounts. Once UV closes down then the UV rights should remain with your VUDU account linked to UV but only if still active and linked at the time it closes down. This goes for family sharing as well for those who have previously linked multiple family VUDU accounts to the same UV account (all accounts will retain access to the current shared library after UV closes but will not share new additions after that time). If movies are currently part of UV but not Movies Anywhere but are added to MA in the future then they should populate to MA at that time.
Thank you for signing up to iMore. You will receive a verification email shortly.
There was a problem. Please refresh the page and try again.