How to change the default font in the Notes app for iPhone and iPad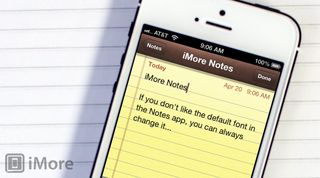 Update: iOS 7 has removed the ability to change fonts in the Notes
iOS has always come with a built-in Notes app and serves as a pretty easy way to keep basic notes. While some users may prefer something more powerful like Evernote, the Notes app gets the job done for a lot of people, especially since it supports iCloud sync.
If the default font within the Notes app burns your retinas nearly as it does mine, it may deter you from using the Notes app. There's actually a way to change it.
Launch the Settings app from the Home screen of your iPhone or iPad.
Scroll down and tap on Notes.
Here you can switch between three options; the default Noteworthy font, Marker Felt, and Helvetica. Make your selection and then exit.
While Helvetica may be the only acceptable option at this time, it will be a lot easier on the eyes than the default font.
Get the best of iMore in in your inbox, every day!
iMore senior editor from 2011 to 2015.
Awesome! Thanks Allyson! Really appreciate your helpful articles.

Thanks Allyson. How do you change the note title or add a new note title?

The note title is just whatever is on the first line of the note

I think what I really want to do is change the account name to say "work". Then all my work notes would be in the same place.

is there is an app that do the same thing for free? so i can download more fonts

Thanks for the tip. That annoying default font is the reason why I don't use the app. Great tip!

ok thank god and you :-) much better much much better

Why is iMore so good at posting articles like this one, which is more like a reminder, about stuff I knew how to do but forgot?
Time and time again, I seem to be going back in time through the iMore archives to re-learn things about my iPhone 4S and New iPad.
Thanks again guys!!!

Allyson, thank you for the helpful instruction, but I still have a problem. The accounts for my notes (I guess by default because I didn't set it up) are "All notes", "On my iPhone" (also "On my iPad" on the other contraption) , and "iCloud". Some of the notes are duplicated on those last two accounts and I'm not sure how to transition to only one uniform account. Also, when I applied your recommended changes, it did change the font to Helvetica on "some" of the notes (that's good, I wanted that), but not all of the notes. And in some of the notes the font changed for some part of the note but not for all of the note. Am I hopelessly entangled here or is there a relatively easy and reliable way to have ALL parts of ALL notes, in ALL accounts convert over to Helvetica. It's so much easier to negotiate. Thanks for your time. Don
Thank you for signing up to iMore. You will receive a verification email shortly.
There was a problem. Please refresh the page and try again.