How to enable Speak Selection on iPhone and iPad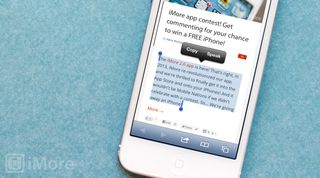 There are lots of accessibility options available in iOS that a lot of people overlook. One of those is Speak Selection which adds the ability for your iPhone or iPad to read back text to you. Opposed to voice over functionality which speaks everything you tap, Speak Selection can be activated but is only triggered when you choose to activate it.
Here's how to set it up and use it.
How to enable Speak Selection on iPhone and iPad
Launch the Settings app from the Home screen of your iPhone or iPad.
Now tap on General.
Scroll down and towards the bottom, tap on Accessibility.
Tap on the Speak Selection option and turn it to On.
You can further customize the speed at which your iPhone or iPad reads the text and the dialect it uses. Once you're done, just tap the Home button to return to the Home screen.
How to use Speak Selection on iPhone and iPad
Launch the app containing the text you'd like your iPhone or iPad to speak back to you.
Hold your finger down on the text you'd like it to read to pull up the copy/paste menu.
Highlight the text and in the text edit popup, select Speak.
Your iPhone or iPad will now speak the text back to you.
Get the best of iMore in in your inbox, every day!
iMore senior editor from 2011 to 2015.
This would be great for my parents who have trouble reading internet text because its smaller than normal sometimes. My father uses iOS to make everything as big as possible, but I'm sure he would love this on some occasions. Not only do people put small font sometimes, but they use fancy font that is so bloody hard to read.

I'm trying this when I get my replacement 4S from Best Buy tonight. Would be helpful a lot.

Not sure about the "social listening" part of things, as its just another way to avoid talking with friends, but the app is well put together!

I did not know about this feature, very interesting. This can work out great for those instances when you may have your hands full or are preoccupied with another project but want to read an article while you do whatever else you are doing. Keep doing what you're doing and have your iPhone/iPad read the article to you.

Awesome! I just set mine to "Irish English." Wonder if it'll sound like it's had a few? :)

This would be perfect for a student like me. Having notes and articles spoken to me is an easier way for me to learn. Also amazing for people with disabilities!

It's great for learning and how to pronounce new words. Wasn't aware of this, thanks

As always Ally does a tremendous job taking her time to let us know how to use the fullest functionality of our iPhone or iPads. Thank you Ally for the knowledge.

This is one of a few great options in the accessibility section including guided access

This is one of a few great options in the accessibility section including guided access

One of the worst mistakes people make with iOS is assuming that accessibility options are only for those with disabilities. The same goes for OS X. There are actually quite a few nice options in there for everyone.

This is a really cool feature, had no idea! Just went to try it out and works pretty well. My favorite feature in the accessibility settings is the assistive touch. It's Great way to get past a broken hardware button.

Sweet! Thank you for the quick

Sweet! Thank you for the quick

Nice one. Wasn't aware of this. Don't have speech turned on as i don't really use that but selective speech is good for quickly understanding how to say specific words that I wasn't familiar with before.

Thanks for posting this Ally! I have had the LED notification in use for some time but never paid much attention to some of the accessibility functions. Started using this today as well as invert colors for certain apps. I have decent vision but I surely ain't getting any younger!

I love the speak option. I use it to read emails to me in the car since Siri has a hard time doing it.

This is a really great for older people and for people who have trouble texting and reading the screen

Very nice, didn't know about this little trick.

Had no idea you could do this. Thanks for the tip. Myriad uses

My Father who is in his late 60's is computer illiterate. He wanted to be able to do basic email and texting so we got him an iPhone. After figuring out Siri he never types anything. At first I though that was "cute" and even played around with it a bit myself. Now I find that at least half the time I am using Siri to dictate emails or text. Who says an old dog can't teach the young dog a trick or two!

This is a pretty neat feature that is often overlooked. I always recommend to people who buy a new iPhone to poke around in the accessibility settings just so they know what all is available to them.

Great to have this function of the box, contribute to the world of accessibility greatly.

Wow, didn't know about this one. This would be helpful when I take notes from some article or stuff. Gonna try it out now.

I was actually thinking about this idea the other day as I was driving - I wondered how I could get Siri to talk out a webpage of text... this is basically the same thing. Thanks for the tip!

Looks great i didnt know about this feature!

I had no idea that this existed. Can't wait to try it out!

This could be useful for many people. I like seeing the little things companies do

This is great. I didn't know this feature existed. I am going to set this up for my mom right away. She has a very hard time reading smaller print on here iPad. She will love this. Thanks so much.

WOW , and yet another awesome tip, also I would like to say that there are some many cool things you can do under the Accessibility tab. Like the LED flash when you get a call or alert of any kind.Learn something new everyday with iMore

We need more Accessibility tips , thanks Ally
Thank you for signing up to iMore. You will receive a verification email shortly.
There was a problem. Please refresh the page and try again.