How to enlarge system text on iPhone and iPad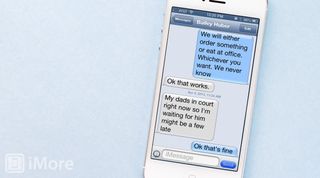 The iPhone and iPad have lots of settings for accessibility that makes it easier for people with hearing and visual impairments to use them. If you or someone you know has visual impairments, features such as Voice Over and enlarging the system text size can completely change their experience and help alleviate frustration.
Here's how to enlarge text size throughout iOS on iPhone and iPad:
Launch the Settings app from the Home screen of your iPhone or iPad.
Tap on General.
Scroll down and now tap on Accessibility.
Now tap on the Large Text option.
Here you have several options to make text larger throughout iOS. Tap on the one you'd like.
That's it. You'll now notice that the text in apps such as Messages, Mail, and other default apps abides by the text size you set. While all apps can't abide by this, the ones that support it will.
Get the best of iMore in in your inbox, every day!
iMore senior editor from 2011 to 2015.
Too bad this doesn't work for the Gmail iOS app. The text is soooooooooo small compared to the Mail app.

Yea. My father, 74, uses this to see his emails clearly. He would absolutely love to use GMAIL; however, as you said, it only affects native mail client. I told him you could probably jailbreak it and get it to work that way but he didn't want to.

Gmail works fine in the native Apple Mail app.

This works only for select, few apps, and even Apple will not conform to this save the few apps mentioned here. Typical Apple: form over function, that is, make things pretty but useless.

I'm missing any larger issue you're trying to make about this being "typical Apple". They make many things that are pretty and many things that are also use*ful*.

I'm changing my moms phone today with larger font. She will appreciate this for sure!

I did this for a family friend who has trouble seeing the smaller font and refuses to wear her glasses most of the time. We cranked up the font size as big as it would go, a bit too large! Haha. But seriously, it works quite well for her.

My 14 year old daughter showed this to me the other day. Another great tip.

That tip really helped my Dad out. Thanks!

Hey that's pretty cool! I would have never known! Sometimes the font is soooo small for me to feel like squinting haha. Thanks for the heads up!!

Will this work with the Safari browser, or just in iOS itself?
I'd love to be able to enlarge font sizes of text inside the browser while making it fit the screen (so I won't have to keep scrolling sideways back and forth in order to read something. On some websites that's an issue).

First thing I do when I get a new phone... Make the text as small as possible.

Yeah I think is a good feature (limited to a few apps but oh well) Used it on my dads iPhone so he could see his contacts better.

How can I enlarge the time and battery life etc on my iPad mini?

Can I enlarge text on my downloaded books?

How to enlarge my keypAD .LETTERS TO SMALL I HIT WRONG LETTER OFTEN?
Thank you for signing up to iMore. You will receive a verification email shortly.
There was a problem. Please refresh the page and try again.