How to exclude songs or albums from playing when using shuffle in the iOS Music app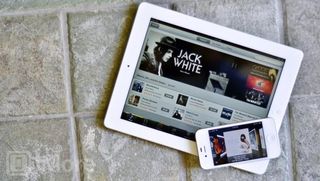 If have a lot of music on your iPhone, iPad or iPod touch, using the shuffle feature can be a great way to listen to a random selection of music. Unfortunately, it comes at a price if you have content that you just wouldn't want to listen to. For example, I have a couple of albums with children's nursery rhymes and also some Christmas songs. Every time I select shuffle and begin to relax, without fail t plays one of the nursery rhymes and drives me mad.
Well, if all of your music is stored on your Mac or Windows PC in iTunes, there is a very easy way to tell your iPhone, iPad, or iPod touch to leave certain tracks or albums completely out of the shuffle list.
Open ITunes.
Click on the Music Tab.
Scroll to find the album or track you wish to omit from any future shuffle.
If it's a single track simply right click on it.
If it's a full album, click on the first track, hold down the shift key, and then click on the last song. That should highlight all the tracks in the album.
Right click with your mouse and select Get Info.
Click on the Options tab.
Look down and you will see a tick box and a drop down menu next to the heading Skip when shuffling.
Click the box and then change the drop down menu to Yes.
Hit OK.
Sync your iPhone, iPad or iPod touch with iTunes.
That is all there is to it. The attributes will have been transferred to your iOS device and those chosen tracks or albums will no longer play during a shuffle. If you use iTunes Match, iTunes should automatically update to iCloud and all your devices should automatically be updated with the attributes.
This has been a feature that has gone under my radar for quite some time but it is a really nice tip to know. Now I no longer need to listen to nursery rhymes when all I want is some AC/DC!
Note: There is also the checkbox immediately to the left of song titles in iTunes, that can cause iTunes on Mac or PC to exclude a song from shuffling. However, it also does other things, and in general doesn't seem to govern how a song reacts to shuffling on the iPhone, iPad, or iPod touch. The method above has proven more reliable for that specific purpose.
Anyone else have any tips or tricks for better controlling what does or does not get shuffled?
UK editor at iMore, mobile technology lover and air conditioning design engineer.
All well and good, but I've found that marking 'Skip when shuffling' does not always work... like when playing via a 3rd gen. AppleTV... and intermittently works on my iPhone4S and iPad(2012)... yes - it's a nice feature, but only when it actually works.

I use nested playlists in iTunes to control the content on my iPod Touch. This gives me fine-grain control, and allows me to also have some items I want for a specific reason but not have in my general random listen-to list. In that second case, I don't Shufle the entire on-device library, just the playlist that excludes what I dont want to listen to.

Great!!! i've been annoyed by my sound effects playing during a shuffled playlist... (I'm a dj and my library is filled with effects andd transitions) GREAT TIP!! =)

I have set up playlists to "segregate" my song choices, but the "shuffle" program keeps crossing over and playing songs from the other lists. How do I keep this from happening?

Chris, You just made my day! I'm about to get on my bicycle and I don't have to listen to my yoga chants in the shuffle!

Thanks so much! A very convoluted Google search led me straightaway to this suggestion. This has been bugging me for days. I thought just adding Christmas music from Apple Music to a special playlist would exclude it from "MyMusic". I had avoided putting Christmas music (and other obscure things) on my iPod/iPhone for years due to the fact that I always play my entire library in shuffle mode. There are so many options hiding away in iTunes that I have never got around to discovering ;)
Thank you for signing up to iMore. You will receive a verification email shortly.
There was a problem. Please refresh the page and try again.