How to fix iPhone and iPad apps that hang up while downloading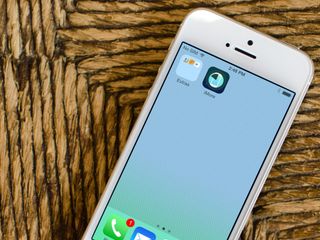 Trying to install an App Store app that just doesn't want to finish downloading? Or perhaps you just finished restoring from an iCloud backup and certain apps seem to never finish downloading. Regardless why an app is frozen on your iPhone or iPad, we get help you get those stuck apps unstuck!
1. Make sure you have a working data connection
Before you do anything, make sure that your data connection didn't cut out. The easiest way to test this is to do something else that requires an internet connection. Either load a web page in Safari or try sending an iMessage.
If your data connect is the issue, resolve that and your app should start downloading right where it left off when there's a working connection again. If there's nothing wrong with your connection, continue on to step 2.
2. Tap on the app icon
A lot of times folks don't realize they accidentally tapped on the app while it was downloading. This actually pauses the install. You can easily tell if you've accidentally paused an install if it has a pause icon over it with the word paused underneath it. However, even if the install doesn't seem to be paused, tapping on it can sometimes trigger a frozen install to pick up where it left off again.
If a single tap doesn't work, it doesn't hurt to try tapping it again. If nothing happens after a few seconds, move on to the next step.
3. Reboot your iPhone or iPad
Like most other iOS issues, a reboot can also fix apps hanging up. Simply hold down the Home button and Power button on your iPhone or iPad at the same time and don't release them until you see the Apple logo on the screen.
After your iPhone or iPad has fully rebooted, check to see if the stalled app is still there. If it's completely gone, you're good to go. Just head back into the App Store and try downloading it again. If it's still frozen, move on to the next step.
4. Try to delete the app and reinstall it
Sometimes iOS will let you delete apps while they're still installing. If trying to tap on an app and a reboot didn't fix the issue, try deleting the app manually. Simply hold down on the app icon until all your apps start wiggling. Now tap on the x icon in the upper left hand corner of the app. Confirm you'd like to delete the app.
If the app disappears instantly, you're good to go and can try and re-download it from the App Store. If attempting to delete it does nothing at all, continue on to the next step.
5. Download another app
For some reason, downloading another app from the App Store can make stalled apps start to download again. So simply head into the App Store, find a free app to download. Any old app will do and it can even be something you've previously purchased. Wait a few seconds and see if that kickstarts the stuck app. If not, continue on to the next step.
6. Sign out of iTunes completely and reboot
If all else fails, signing out of iTunes on your iPhone or iPad should terminate any downloads you currently have in progress. To be sure, after you've signed out, simply reboot your iPhone or iPad before signing back in.
Launch the Settings app on your iPhone or iPad.
Tap on iTunes & App Store — you'll need to scroll down a ways.
Tap on your current Apple ID at the top.
Tap on Sign Out in the popup menu that appears.
Sign into a different Apple ID in the fields provided.
7. Sync with iTunes
Even if you back up to iCloud instead of iTunes, you can still sync through iTunes. Sometimes plugging your iPhone or iPad into iTunes and syncing your purchases back and forth will either kickstart stuck app downloads or make them terminate themselves. Simply plug your iPhone or iPad into the computer you regularly sync music and movies with and hit Sync. Wait for the sync to finish and then check and see if the app either finished downloading or got booted from your Home screen.
8. Wait it out
Sometimes app hangups can be caused by changes to the App Store server. Perhaps you tried to download an app right when an update went through for that particular app. While issues like this are more rare, they can happen. If all else fails, simply place the app icon somewhere on a Home screen where it won't bother you and forget about it for a few days. If it doesn't fix itself, try these steps again.
Your tips and tricks for getting stuck apps unstuck?
If you've had apps get hung up on download for you before, what did you do to resolve the problem? Did one of the steps above work for you or did you have to do something else? Be sure to let me know in the comments!
Master your iPhone in minutes
iMore offers spot-on advice and guidance from our team of experts, with decades of Apple device experience to lean on. Learn more with iMore!
iMore senior editor from 2011 to 2015.