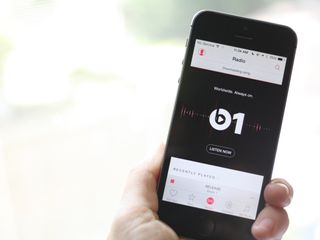 One major component of Apple Music is the company's new 24/7 live radio station, Beats 1. Comprised of three keynote DJs, three local stations from major cities around the world, and special highlight programming, Beats 1 mixes tunes and tastes for an experience I can't really compare to other terrestrial radio. (Sirius FM comes close, but the stations still feel a little stale in comparison to Beats 1's shows.)
Beats 1 may not be for everyone, but the good news is you can tune in and out at will: Don't like a song? Switch back to your music library or a For You playlist with a simple Siri command. Here's how to load up Beats 1 on all your devices, as well as how to check showtimes and listen to past shows.
Tune in on iOS
Open the Music app.
Tap the Radio tab.



Tap the Listen Now button on the Beats 1 banner.
If you're driving or otherwise occupied, you can also ask Siri to tune you to Beats 1 by saying "Play Beats 1," "Turn on Beats 1", or "I want to hear Beats 1".
Tune in on your Mac
Open iTunes.
Select the Radio tab.



Click the Listen Now button on the Beats 1 banner.
Check showtimes
Not sure what DJs and shows are happening when? Check out our full Beats 1 schedule below:
Listen to past shows
Missed a special Beats 1 segment and want to catch up? Most of the DJs and hosts post playlists and selections from their shows on Connect. (You can't listen to whole show archives, because there are additional copyright/royalty issues inherent in making songs available in podcasts.) Here's how to find them.
View your play history
Listened to a song on Beats 1 you absolutely want to hear again? Check out your play history. Here's how to find it:
Any questions?
Having trouble with something Beats 1-related? Give us a holler below in the comments.
Get the best of iMore in in your inbox, every day!
Serenity was formerly the Managing Editor at iMore, and now works for Apple. She's been talking, writing about, and tinkering with Apple products since she was old enough to double-click. In her spare time, she sketches, sings, and in her secret superhero life, plays roller derby. Follow her on Twitter @settern.
"Want to rock out with the DJs of Beats 1? " Interesting choice of opening line. I've yet to hear any rock and roll on Beats 1 when I give it a shot and tune in.

Ha, they were playing the Rolling Stones this morning!

Also, they just had an exclusive new Keith Richards video and interview today. The interview will replay tonight, apparently.

The how-to articles are getting ridiculous.

Don't read the ones you don't find helpful! Other people need this stuff. (Also, some of these easier comprehensive articles are going into our how-to book in August.)

It's not that I don't appreciate the how-tos, it just seems that lately they are about very simple tasks on iOS. I understand if that is the new direction but I appreciated the more advanced how-tos that populated the site in the past. I know they show up from time to time but they seem less frequent now. Not a complaint about you, I enjoy your work.

Oh totally! Don't worry, those will make a return—we're just trying to round out some of the more basic things (especially music-related) while we have time this summer.

My beats 1 doesn't work???I constantly received message 'cant open,error 403,try later'.Any help?please? Sent from the iMore App

Same here. Help Sent from the iMore App

I had the same. I am in a country that is not part of the countries where beats1 is available. Ony slution: a vpn provider! Sent from the iMore App

Looks like there was a service outage. In the future: http://www.imore.com/icloud-music-library-itunes-match-hanging-you-heres-how-fix-it

How about "How to make what they play on Beats1 not suck?"' That's a how to I could go for. Seriously, I do appreciate the how to articles, I'm not being snarky about you. It's just that Beats 1 is such a major disappointment. It's almost like they purposely made Beats 1 suck so that people would pay for Apple Music to get to the good music. It worked with me!

ummm That's an opinion...they play certain Tyler of music for certain parts of the world at different times of day I like it Sent from the iMore App

Ha. I'd recommend tuning into the 9AM/10PM shows, Beats 1 LA, and Zane Lowe if you're not super into hip-hop.

Serenity Caldwell,I do have problem with Beats1 radio.Doesn't work at all.You offered help in Your article...I'm waiting... Sent from the iMore App

Whee are you living? Beats 1 is not trully worldwide (which is a shame and false advertising). You may have to use a VPN and i think iMore does not want to advice it :) Sent from the iMore App

And use a VPN if you are in a country that is not part to the world according to Apple Sent from the iMore App

I'm using VPN,but it doesn't help.Everything else from apple music works just fine,except beats 1?? Sent from the iMore App

Raises arm.. Hey Siri, play beats 1...
I can't do that on your watch, use handoff. Which doesn't do anything.
Thank you for signing up to iMore. You will receive a verification email shortly.
There was a problem. Please refresh the page and try again.