How long does it take Pride Vans to ship?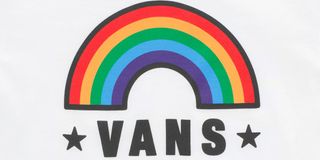 (Image credit: Vans)
How long does it take Pride Vans to ship?
Best answer: Shipping for most everything is being delayed by the COVID-19 pandemic. Despite this delay, Vans estimates five to seven business days for arrival.Rainbow slip ons: Checkerboard Slip-On (opens in new tab) ($50 at Vans)Pride tops: Rainbow Foxing SK8 Hi Tapered (opens in new tab) ($65 at Vans)
While the COVID-19 pandemic is affecting shipping just about everywhere, Vans is still offering free shipping in a relatively short period. What used to be three-day shipping is now five to seven business days. That is still pretty fast all things considered, and you might even get yours more quickly. Mine only took four days.
Right now, Vans isn't offering expedited shipping. In the past, they have provided two-day and overnight shipping, but neither of those options is realistic at the moment.
Why not get them from Amazon?
There are several reasons not to go through Amazon to get Vans. First of all, Amazon is experiencing shipping delays too. Right now, Amazon is prioritizing healthcare-related items, PPE, and other essentials over everything else. What would typically ship free in one or two days can now take upwards of a week to show up.
On top of that, they can be way more expensive. The checkerboard slip-ons that I adore are available on Amazon, but they are also double the price, or more, depending on what size you need. I looked at multiple pairs of Vans on Amazon, but the only ones Amazon seemed to have a consistent stock in were the outlying sizes. Amazon will link you to other sellers for sizes it doesn't have in stock, but some of those other sellers are charging you $130 for a pair of shoes Vans only sells for $50.
Vans also has a much wider range of products. The Checkerboard Slip-Ons are on Amazon, but most of the other awesome Pride designs aren't on Amazon at all. Basically, it's much easier and cheaper to get what you want when you want it from Vans directly.
Slip-on beauty
(opens in new tab)
Famous for the checkerboard design, Vans has upped the game with this rainbow-infused shoe. You'll love the design, plus the padded collars and signature waffle soles. Even better, this design is available for every size foot, from toddlers to adults.
Sk8ter tops
(opens in new tab)
Rainbow Foxing SK8 Hi Tapered
For something a little more subtle, you could go with these white high-tops with rainbow foxing. They also have tapered tops to give more flexibility than traditional high tops.
More navigation links:
Pride 2020
Companies and LGBTQ orgs
Rewatch the best Pride parades
Get the best of iMore in in your inbox, every day!
James is a lover of all things new and shiny. From 3D printing to Nintendo he stays current with all the technology that will lead us into the future.
Thank you for signing up to iMore. You will receive a verification email shortly.
There was a problem. Please refresh the page and try again.