How to set a default Reminders list on iPhone and iPad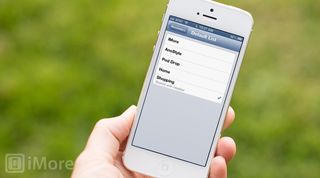 The native Reminders app on the iPhone and iPad are not only simple to use, it'll automatically sync your content between any iOS device and Mac you own. Along with the ability to set up your own reminder lists, you can also choose a default one. That means that new events you add using Siri will end up in the list you've specified.
Here's how to tell Reminders what you want your default list to be...
Launch the Settings app from the Home screen of your iPhone or iPad.
Tap on the Reminders section.
Now tap on Default list.
Tap on the name of the list you'd like the Reminders app to default to when you create a new reminder.
That's all there is to it. The Reminders app will automatically add any non-specified reminder to your default list. If you'd like to add them to other lists with Siri, you can also do that. Check out the link below to find out how.
iMore senior editor from 2011 to 2015.
I use this function to add Reminders (almost) directly to OmniFocus. The Omni Group app allows entries in the default Reminders list to be added to Omni Focus. So, verbal reminders added through Siri are picked up when the OmniFocus app is opened.
It works for me.

I hope Siri can address these shortcomings in updates. I have multiple lists in Reminders to keep everything clean and neat. Not being able to use Siri to add one quickly is a PITA and needs to be addressed. Soon.
Get the best of iMore in in your inbox, every day!
Thank you for signing up to iMore. You will receive a verification email shortly.
There was a problem. Please refresh the page and try again.