How to use the Reminders app on iPhone and iPad with Family Sharing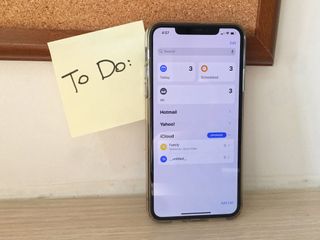 (Image credit: iMore)
If you're using Family Sharing, you can share reminders with everyone in your group. From shopping list items to household chores, packing lists to game day tasks, shared reminders are a great way to keep the whole family organized and engaged on their iPhones and other Apple devices.
How Family Sharing works
Family Sharing is a great way to share apps, Apple Store purchases, and photo albums, but did you realize it's also a great way to keep everyone in the family organized? You can share calendars, reminders, and to-do lists so that everyone stays on track. If you haven't set up Family Sharing yet, you can find out how to do it here.
How to add tasks to a Family list
Launch the Reminders app on iPhone and iPad.
Tap on Family from the main list view.
Tap the New Reminder button to add a reminder. It's the plus sign on the left.
Tap Done once you've added your reminder.
The Family List is automatically created for you and everyone in your group as soon as you enable Family Sharing. So, as long as you use that list, creating shared reminders is just as easy as creating a regular reminder.
How to view participants in the Family list
Want to make sure everyone in the family sees your reminders on their own iPhones? Easy! Just do the following:
Tap on Family from the main list view in the Reminders app.
Tap on the three dots in the upper right corner.
Tap View Participants to see all of the family members that are receiving family reminders.
From here, you can view participants or delete them if needed.
How to delete a Family list
If you'd rather delete the Family list altogether, you can do so from the same interface.
Tap on Family from the main list view in the Reminders app.
Tap on the three dots in the upper right corner.
Tap Delete List and then confirm by tapping Delete again.
Remember that any future reminders from the list will also be deleted once you delete the family list.
Keep the family on track
Now that you know how to share reminders with your family, you can easily stay on top of grocery lists, house chores, and more. It's one of the best ways to stay organized in iOS 15.
Updated February 2022: Everything's up to date for the latest version of iOS.
Jaclyn Kilani is a content writer at iMore. She's a longtime Apple addict with a flair for creating (written works, design, photos; you name it!) on her devices. Jaclyn has also worked in the marketing sector for over 16 years, dabbling in a bit of everything from writing to graphic design and digital marketing. In her heart of hearts, however, she is a born writer and an avid reader who adores everything about the written word. Someday she may even churn out a book or two.

Throughout her career, Jaclyn has also developed something of an addiction to all things Apple. Her professional and personal life is enhanced by an ever-growing collection of iPhones, iPads, MacBooks, Apple Watches, and even AirTags. Luckily, this expensive habit is of great use to her work at iMore, where she writes with authority on Apple products and the accessories that go with them.
Thank you for signing up to iMore. You will receive a verification email shortly.
There was a problem. Please refresh the page and try again.