Safari for iPhone and iPad running slow? Here's how to speed it up!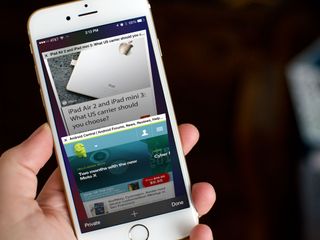 If Safari on your iPhone or iPad starts to act rather sluggish, it can make for a terrible browsing experience. But whether Safari is slow to load new tabs, is stuttering while loading pages or scrolling, or something else entirely, we've got a few fixes you can try. We've also heard some iOS 8 users are experiencing issues with Safari freezing up on them. If you fall into that group, these options should work for you, too!
Safari running slow or freezing on your iPhone or iPad? Here's how to fix it!
Launch the Settings app on your iPhone or iPad.
Tap on Safari.
Tap on Clear History and Website Data.
Tap on Clear History and Data in the resulting pop-up menu.
Now relaunch Safari and see if your browsing experience has gotten any better. For some folks, clearing a large browsing history should be enough to speed things up. But if those steps don't work, you may need to also disable JavaScript for your browser.
Tap on Advanced.
Disable the JavaScript option.
While disabling JavaScript isn't necessary for most users, it may do the trick for your slowdown issues. For most people, disabling JavaScript shouldn't hinder general browsing; some interactive elements on websites may not work properly, however. If that's the case, you can always use JavaScript only as you need it.
iMore senior editor from 2011 to 2015.
Thanks for the tip. Fingers crossed.
I hope this stops the persistent spinning data-is-transferring indicator in the top bar (next to the cell signal) mine kept going even with one page open & fully loaded. So far it's going away as soon as the page is done.

Disabling JavaScript most certainly breaks the login in & drop menu on iMore.com.

Definitely some drawbacks :/ you can also try turning off iCloud sync. That works for some. No perfect solution for now. I wish there was.

I would like to say a big thank you for Editor Allyson Kazmucha sharing so detailed step-by-step guide. Both ways are useful, and I just want to share something new. Maybe "Open recently closed tabs" will be also useful, since it won't take too much time to load it again if we return to visit. Simply choose the tab button on the bottom-right, then long-press on the "+" sign. Also, using the DuckDuckGo searching engine will be good if we use this to search the web, because it protects our privacy. Just my experience :)

Disabling javascript breaks the iMore site menus including being able to log in. It also breaks other sites, such as Facebook (the FB app sucks and gets worse with every update, the web site is way more useful). Disabling javascript probably breaks a lot of other sites as well, those are the only ones I actually tested on.
Get the best of iMore in in your inbox, every day!
Thank you for signing up to iMore. You will receive a verification email shortly.
There was a problem. Please refresh the page and try again.