How to tell if your car has Siri Eyes-Free or CarPlay installed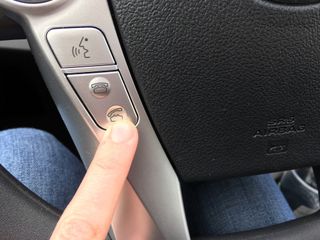 With all the vehicular hype on either Apple's rumored car projects or CarPlay, you'd be forgiven for not knowing about Siri Eyes-Free, Apple's first car-related venture.
What is Siri Eyes-Free?
Apple released this feature in 2012 in hopes of giving drivers access to Siri without having to fiddle with the home button on their iPhone or screens. (Think of it as a CarPlay precursor.) Siri Eyes-Free works much the same as summoning Siri from your device: After pressing a designated button in your car — usually on the steering wheel — you'll have access to most of the voice assistant's features via your car's Bluetooth system.
Any text Siri would normally spew on your iPhone's screen, the digital assistant instead speaks to you. Dictate a text message? You'll have those words read back to you in Siri's dulcet tones before you can send it off.
Notably absent are features that would require you to look at your iPhone while driving: You can't tell Siri to open apps, for instance, or show you photos.
What's the difference between Siri Eyes-Free and CarPlay?
The primary difference is visual: CarPlay requires a vehicle with a compatible touchscreen system, while Siri Eyes-Free vehicles need only be compatible via Bluetooth Audio.
CarPlay, with its touchscreen, offers a lot more multimedia functionality; Siri Eyes-Free restricts your optics to the windshield and forces you instead to rely on your ears (and your car's Bluetooth microphone).
How do I tell if my car has Siri Eyes-Free or CarPlay?
CarPlay vehicles are pretty easy to spot in the wild thanks to Apple's highly-visual operating system on their touchscreen systems; we've also kept a running list of cars that support CarPlay on iMore.
In contrast, Siri Eyes-Free vehicles are a lot harder to spot in the wild or at your local car dealership thanks to the lack of overt branding: Whereas CarPlay vehicles come with a handy navigation screen branding them as such, many Siri Eyes-Free cars don't even have a separate button to activate the feature; depending on the car, it may piggyback off an existing voice control button or even your controls for answering phone calls.
Here are guides to find Siri Eyes-Free on a few popular car models:
How to use Siri Eyes-Free in your Chrysler, Dodge, or Jeep
In general, if you're considering purchasing a car and want to know whether it supports either Siri Eyes-Free or CarPlay, you're best off Googling "Siri eyes-free [model and year of car]". Most cars began implementing support for Siri Eyes-Free in the 2014-2015 year, but some brands (like Toyota) waited until the 2015-2016 model year, so it's always best to check.
Can I get Siri Eyes-Free in an older car?
Yes and no. You won't be able to properly enable Siri Eyes-Free without installing a new Bluetooth-compatible receiver that supports it, but there are a few hacks that make getting Apple's old-school Siri experience easy as pie.
One option is buying an aftermarket Bluetooth "home" button for $20-$50 on Amazon: I've tried a few and been less than impressed with overall reliability, but have yet to experiment with the top-reviewed option on Amazon, Anker's SoundSync Bluetooth Receiver (opens in new tab).
The other option — and my personal preference — is picking up a set of AirPods and using one in the car to trigger Siri. It works almost flawlessly, and positioning the mic next to your mouth means that you'll get a much better transcription experience than trying to shout at Siri through a Bluetooth microphone.
Questions about Siri Eyes-Free?
Let us know in the comments.
Get the best of iMore in your inbox, every day!
Serenity was formerly the Managing Editor at iMore, and now works for Apple. She's been talking, writing about, and tinkering with Apple products since she was old enough to double-click. In her spare time, she sketches, sings, and in her secret superhero life, plays roller derby. Follow her on Twitter @settern.
I've had a vexing Bluetooth problem with my iPhones (from 4s to 5s to 6s Plus) where, when connected via BT, I do not hear any turn by turn directions unless I'm also playing an audio file (music or podcast) at the same time. If I pause the music, I lose all audio feedback from the iPhone via Bluetooth. It happens with my cheap BT adapter in my old Honda and with the built in BT receiver in my new Chrysler Town and Country, and it happens in rental cars as well. Anyone else see this?

Sounds to me like you need to enable the "Directions over HFP" or whatever it's called. If you're using Apple Maps, the only way I know to change/enable this is to 1) be connected to your car - it won't show this setting otherwise, then 2) start a route going anywhere, then 3) pull up the screen that shows you more buttons, 4) tap on the speaker icon, 5) scroll to the bottom and you will see "Allow HFP Prompts". If you're using Google Maps, you gotta do the same steps 1 & 2, but then 3) tap on "Menu", 4) tap on "Settings", then 5) you will see the option for "Play as Bluetooth phone call" - enable this. This will basically make your car stereo think that the directions are phone calls coming in, so depending on your vehicle, you might get an annoying "Call Ended" prompt after the directions play, but your mileage may vary.

I tried this and it worked perfectly! Thank you!

I guess that's the issue with how the car's Bluetooth works. I never had this issue with my iPhone 6s plus and ford fusion. I could get navigation prompts even while not playing music. But in BMW I face the same issue as you, need to have music playing to get navigation prompts. I no longer have the ford to check if it still works there, so it could be something that ios10 changed as well.

Cool! I'll try that on my way home from work today!

Another way to get Siri Eyes-Free in an older vehicle is to install an aftermarket media player (like the <a href="https://www.amazon.com/Pioneer-AVH-X4800BS-Motorized-DVD-Receiver/dp/B01... AVH-X4800BS</a> or other media player that supports Siri Eyes-Free. You won't get a steering wheel button, but you can use a button on one of the media player's screens to activate it. You can also use "Hey Siri," and it will work.