How to reset iCloud Music Library for Apple Music and iTunes Match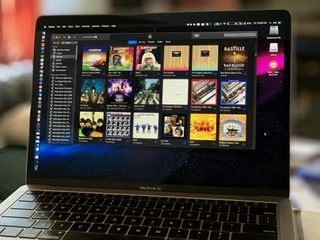 (Image credit: Christine Romero-Chan / iMore)
iCloud Music Library lets Apple Music and iTunes Match subscribers store all their music online for easy access on all their devices. But, like all cloud services, there's a small chance something might get borked or messed up along the way. If you're having problems with iCloud Music Library, here's how to reset it so you can enjoy your tracks again.
When do you need to reset your iCloud Music Library?
Are there songs from your collection that got matched to the wrong track? Wrong album art? iTunes 4010 errors? If you've run into any of these, Apple's cloud copy of your music might need to get dumped and resynchronized.
You may also want to reset your library if you're getting matched tracks as "Apple Music" files instead of Matched DRM-free files.
Before you go about doing this, make absolutely sure you have a hard copy backup of your music library on at least one of your Macs: You don't want to reset your iCloud library and end up without songs you've uploaded, purchased, or matched.
How to reset your iCloud Music Library
There are currently a couple of different ways to reboot iCloud Music Library: You can use Apple's update method, or manually remove your songs from iCloud. Both methods currently require iTunes and your Mac to do so; you can't reset iCloud Music Library on your iPhone, though you can turn it off entirely if you so choose.
Option 1: Update iCloud Music Library
Open iTunes.
Click File.
Hover on Library.
Click Update iCloud Music Library.
Apple will then rescan your tracks, and with luck, categorize them appropriately.
Option 2: Manually rescan your iCloud Music Library
If nothing else is working, you can force iCloud Music Library to do a manual rescan by deleting everything in that repository.
Note: If you go this route, your local files won't be affected, but you'll get rid of any Apple Music tracks or albums you've saved to iCloud. Do this at your own risk.
Open iTunes.
Select Music from the dropdown menu on the left side of the iTunes window.
Select the Library tab.
Click on Songs under the left column.
Select all your music in Songs view (use Command-A on the keyboard).
Press the Delete key on your keyboard.
Click on the Delete Items option to remove these tracks from iCloud Music Library. (Do not, under any circumstances, click Remove Downloads — this will move all your local music to the trash, rather than delete songs from iCloud.)
Your iCloud Music Library is now empty, waiting for you to fill it. If you're interested in just resyncing your Mac's library, all you have to do is follow the steps to update iCloud Music Library and wait for the process to finish. If you get a dialog box querying what you'd like to do with songs already on your other devices, choose Replace.
If you'd instead like to keep your main library siloed from iCloud and create a separate iTunes library just for music you'd like to sync with your other devices, you can do so.
How to create a secondary iTunes library
And, of course, if you're sick of iCloud Music Library and you want to avoid using it altogether, you can disable it for your primary iTunes library.
How to enable or disable iCloud Music Library on your Mac, iPhone, or iPad
Did this work? Still having problems?
Bug Apple Support (opens in new tab) and let us know in the comments.
August 2019: Updated for macOS Mojave.
Christine Romero-Chan has been writing about technology, specifically Apple, for over a decade at a variety of websites. She is currently the iMore lead on all things iPhone, and has been using Apple's smartphone since the original iPhone back in 2007. While her main speciality is the iPhone, she also covers Apple Watch, iPad, and Mac when needed.

When she isn't writing about Apple, Christine can often be found at Disneyland in Anaheim, California, as she is a passholder and obsessed with all things Disney, especially Star Wars. Christine also enjoys coffee, food, photography, mechanical keyboards, and spending as much time with her new daughter as possible.

I am definitely going to try this! I want to be able to use Apple Music on my MacBook Air, but keep my meticulously-tagged 76,000 track iTunes library on an old iMac in pristine condition.

Yay, I'm glad you covered this Serenity. Thank you! Although, in the end, the solution for my disastrous library changes was to restore my iTunes folder from a pre-12.2 Time Machine back up and call Apple to have them wipe out my iCloud Music Library data so that when I turn it back on, it won't pull down the bad data again. I'm still waiting for them to let me know I'm good to go. My issue quickly arose last week when album art, artists, album titles, and tracks were all irrevocably changed by bad matching when I turned on iCloud Music Library on my Mac.

You're lucky/ unlucky you got that far. Did you sign up for Apple Music, or just Match? I had Match for 2 years, never touched AM. I get this 4010 error. Still waiting on a definitive since the first three things I tried failed, but they weren't as drastic as a new library or a restore. I'm very close to doing a restore. Did you just go for it, or can you link to a step by step to properly rollback with time machine? Thanks. Sent from the iMore App

Here is an example of what happens when I add a playlist from under the "For You" tab in Apple Music, and add it to "My Music". The original playlist on Apple Music: http://i.imgur.com/rAm5tku.png
What happens: http://i.imgur.com/WfdT1nY.png This happens for any playlist I add on my Mac through Apple Music, not just weird Phish live tracks.
It takes MY tracks (if they even vaguely match) to populate the playlist, even if its the wrong version of a given song. Then it changes the iCloud status of those tracks (which I had before Apple Music) from "Matched" or "Uploaded", to "Apple Music". If I delete and redownload them, I get a DRMed version. These are tracks I had ripped from CD independently, which incidentally are higher quality than the 256kbps AAC that Apple provides. Just one example among a myriad of other errors I've been encountering (album art, AHEM).
I think I'll do what Serenity suggested in the article (option 1, I DO have a backup), until we get some kind of update or until iOS 9 and El Capitan are released and they hopefully fix some of these issues.

I have just two tracks that with permanent iCloud statuses of "Waiting." I can download them on my phone but not on my computer. I'm tempted to just buy the songs and be done with it.

Thanks, hoping option 2 takes care of all the grayed-out songs on my iphone.

I tried to use iCloud music library, but I had the same problem I was getting with iTunes match. I have more than 25k songs, however, I have several thousand songs purchased from the iTunes music store. This brings me under the 25k non music store limit, but I still get the error stating that I have more than 25k songs. This has been a long standing issue, and I know it does not affect many people, but, it would only really affect the people that have spent a lot of money on music from Apple. I would love to use this feature, but, I have never been able to get it to work, even though I had tech support spend hours of time on their side trying to figure it out for me.

Hope this works. My Dropkick Murphys music (Irish punk, Samuel Adams beer song) turned into Sunday School songs when iTunes got upgraded to Apple Music! And I agree with Galley's approach below, to be careful. Ever since Apple Music took over, My Music seems much harder to use, and I worry Apple Music is eating up my cellular data instead of playing from My Music when I am driving.

Before I try these options-
Here's my situation, pleas help!
Had match for 2 years, worked well across multiple computers, my iPhone, my iPad, 3 AppleTVs until 12.2. I am not interested in Apple Music rental service (yet). After iTunes updated itself (I didn't want it to) it asked me if I wanted to use iCloud Music Library. Clicked yes. Asked if I wanted Apple Music; no. Never worked properly since. It worked one morning with tons of errors. It has mostly not worked at all, when I try to Add This Computer (main computer only: 5K iMac), from the two ways I know how, I always get the 4010 "Genius" error. But even if I sign out, turn off / on Genius, then attempt to turn on Match, in any order, I still get 4010, even if Genius on its own completed successfully.
Here's my variables: this library has cd rips, protected AAC from my early iTunes account (same email address as now, but apple decided to change my ID handle from "durfmobile" to my email address a few years ago), protected AAC from my wife's old account, "purchased" AAC from my account and her new account. All accounts have been authenticated. The library folder lives on ~/users/shared so we can both access the same library (plus the Admin account. We are both standard users. Yes I set permission appropriately), the media lives on my Netgear NAS connected hardwire gigabit via SMB.
I have also read that with previous versions of iTunes the songs from other-than-he-who-pays-for-Match are the ones screwing it all up, resulting in the 4010 error. I would love to simply remove her songs from the library and try again, but there's no way that I can find to sort by "Purchaser", and since everything is co-mingled, it would take me a millennium to manually go through each song's info panel to see who purchased what. I have actually created a smart list of only her old music based on import date & protected, but I can't delete those songs, only export playlist as .txt or .xml.
I submitted a ticket to apple but all they sent back was how to turn on match even though I clearly f'n explained specifically how I had attempted to do so numerous times.
I have a working Time Machine backup from before 12.2, but I'm afraid of what that will screw up, and I'm not 100% sure of what would & wouldn't need rolled back. I assume the library folder, NOT the media folder, any iTunes plists in all user accounts, and the hidden "SC Info" folder in ~/users/shared. Any more? Any less? Any specific order? Any suggestions? Any hope?
Can any one confirm Serenity's tutorial to work with a similar situation as mine?
Oh, and the one hour that it was halfway working, every single movie, TV show, and podcast had an ERROR in the iCloud Status column, in addition to a good portion of my ripped songs. What's going on there?
Thanks! Sent from the iMore App

To follow up on my novel-
I went ahead and rolled back to iTunes 12.1.2.27 - things are better, but not perfect.
Here's what I did-
1- I logged out of all standard users accounts, unchecking the "reopen windows" option.
2- Logged into the Admin account.
3- Opened the Applications folder, then clicked on Open Time Machine from the menu bar icon.
4- Went back to July 1 (for me) to find the old version of iTunes. Clicked Restore.
4a- Got a warning that I can't modify or delete the current version of iTunes.
4b- googled how to delete iTunes from terminal. Did so.
4c- Reattempted step 3 & 4. Success.
5- Restored the iTunes Library folder (this will vary for most people)
5a- I have my iTunes library folder located here: /Users/Shared/iTunes , but my media is not in there, I have it on my NAS, and I have iTunes set on each account to store media in that location. This way all users access the same library, and the media is not taking up space on my main drive on any of my devices. So for me, restoring that entire iTunes folder didn't take too long, since there is no media in there. You're on your own to figure out which files from that iTunes folder you'll actually need. I would assume the files at that level such as "iTunes Library.itl" etc, not the folders such as "iTunes Media".
6- Restored /(User)/Library/iTunes
7- Restored iTunes related preference files in the Admin account, located here: /Users/(User)/Library/Preferences/ - com.apple.iTunes.plist, com.apple.iTunesHelper.plist .
8- Restarted, for safe measure.
*DID NOT LAUCH ITUNES YET*
9- Repeat step 6 & 7 for each user.
10- Opened iTunes from my (standard) user account, it asked me log in with my iTunes account; did so.
11- Opened iTunes Preferences, Advanced, unchecked "Check for new software updates automatically". I did this since iTunes updated itself, without me clicking update in the App Store updater.
12- Double check your settings in iTunes Preferences.
13- From here I let iTunes attempt to update iTunes Match (I already had it working prior to 12.2) It gave me the same 4010 error, but this time Match stayed active and I was able to even add a new song from Garageband, then right-click, add to iCloud. Worked; is now on my iPhone. But I was still getting a ton of "Ineligible" and "Error" in the iCloud Status column, but upon further inspection, it was only for non-music files, like voice memos and some files that aren't working anyhow due to an iTunes account glitch (my wife's old account). So, that is as expected. The music that should be included in Match is included. For the most part, I'm back up and running.
So, when that 4010 error comes up, I can basically just ignore it for now, I might try to off / on Genius later.
-
14- Repeat step 10, 11 & 12 for each user. (OS X system user accounts)
-
I'll wait for a good, known-to-be-stable version on iTunes before I update again. I hope this helps others with similar situations, but as usual with tutorials on the internet- your milage may vary, terms and conditions apply, tastes great, less filling, don't try this at home, swim at your own risk, no skateboarding after dark, buyer beware. Good luck!

I forgot to mention-
Be sure to log out each time you switch users : Only one user logged in at a time. Sent from the iMore App

Also, any changes or songs you added to iTunes since your update to 12.2 will be lost. So, I had to add a put a few songs back in place. For me, the files were still there since I didn't touch the media folder, but iTunes had no clue they were there until I re-added them.
***
And, if you had issues with Album art going crazy, you might want to Restore that folder as well-
.../iTunes/Album Artwork

I must be lucky: I've only seen a few minor problems easily fixed. Should be interesting to find out what causes all this in some libraries etc.

One tip I found, after you delete your iCloud library you need to wait about 30 mins for the changes to propagate across the servers. Sent from the iMore App

Apple Music sure seems like a hell of a