How to tether your iPad Wi-Fi to your iPhone using Instant Hotspot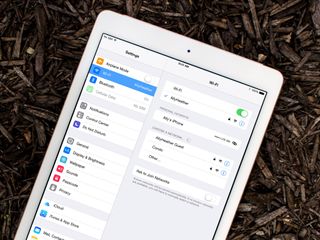 If you have a Wi-Fi only iPad, or any internet capable device, you can easily use your iPhone's personal hotspot feature to get online.
Many carriers support the personal hotspot feature, as long as you've got a compatible data plan. Once you're connected to your iPhone, you can browse the web, send iMessages, download apps, and do anything you'd normally be able to do on your iPad while connected to Wi-Fi.
How to connect your iPad to an iPhone personal hotspot
Launch the Settings app on your iPhone.
Tap on Personal Hotspot.
Tap on the toggle to turn Personal Hotspot On. Create a password for your personal hotspot in the password field. This prevents unauthorized users from using your iPhone's data.
On your iPad, launch the Settings app.
Tap on Wi-Fi.
Join your iPhone's network like you would any other Wi-Fi network. The network name will be the name of your iPhone. Instead of Wi-Fi bars, you should see an interlink icon next to it, which makes it easier to pick out from other Wi-Fi networks.
Not only can you connect your iPad to your iPhone's personal hotspot, but any other device including a Mac, PC, or any other device that has Wi-Fi built in. Most carriers allow you to connect up to 10 devices at a time, but that may vary depending on what plan you have and who you have service through.
Just keep in mind that using tethering will cause you to go through your data plan faster. It can also drain your iPhone's battery significantly fast.
What about Instant Hotspot?
Instant Hotpot happens when:
Your iPhone or iPad (Wi-Fi + Cellular) has an activated carrier plan providing Personal Hotspot service.
Each device is signed in to iCloud with the same Apple ID.
Each device has Bluetooth turned on.
Each device has Wi-Fi turned on.
If you're asked for a password when connecting, then not all of the above steps have been met.
What do you think?
Do you use personal hotspot often? Does having the ability to connect your iPad kept you from purchasing a cellular iPad? Why or why not?
Let me know in the comments!
Updated July 2018: This article has been updated for the most recent version of iOS.
Get More iPad
(opens in new tab)
Get the best of iMore in in your inbox, every day!
iMore senior editor from 2011 to 2015.
The issue is that the iPad and Mac don't automatically connect to the hotspot. Without fail, they'll sit there scanning for WiFi networks, and I have to manually find and tap/click on the Personal Hotspot from the list.
Thank you for signing up to iMore. You will receive a verification email shortly.
There was a problem. Please refresh the page and try again.