How to upgrade to the new iPhone if you are on the iPhone Upgrade Program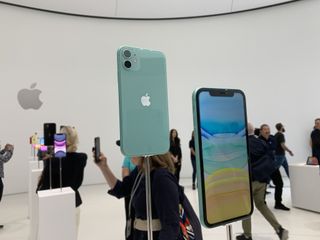 Apple's iPhone Upgrade Program allows you to make monthly payments on your iPhone and upgrade every year, without having to be locked into a two-year carrier plan. It also enrolls your new iPhone in AppleCare+, so you can get a cracked screen fixed or replace a broken device at a reduced price. If you like getting a new iPhone every year, the iPhone Upgrade Program makes it possible for you to do so without having to pay any extra costs.
If you enrolled in the iPhone Upgrade Program last year, you are eligible to upgrade to the iPhone 11. Here's how!
Make sure you are eligible
If you enrolled in the iPhone Upgrade Program last year when the iPhone XR, iPhone XS, or iPhone XS Max launched, you are eligible for an iPhone 11, iPhone 11 Pro, or iPhone 11 Pro Max. Although you signed a 24-month contract, you can trade in your old iPhone – in good condition – for a new one with no extra fees.
You will, however, need to sign a new 24-month contract. So, keep that in mind if you are thinking about getting out of the program.
You can also trade in your old iPhone for the new model if you've only been in the program for 6 months, but you'll have to pre-pay the next 6 months before you can upgrade. So, basically, you'll have to have paid for 12 months of the program before upgrading to the iPhone 11, no matter what.
If you aren't sure about your eligibility, visit Apple's iPhone Upgrade Program Eligibility page and enter your iPhone's serial number and the last four digits of your IMEI number, which can be found under Settings > General > About on your device.
Get pre-approved for your loan.
In order to expedite the process of getting your new iPhone, Apple has implemented a pre-approval feature that is already underway and available for returning upgraders and newly enrolling customers.
Enrolling to purchase an iPhone that is already on sale
You can enroll or re-enroll at Apple's website to purchase an iPhone that is available now (not in pre-order) by visiting Apple's iPhone Upgrade Program page and clicking on Join Now or Check your upgrade eligibility to get started.
You can also enroll from the Apple Store app.
Launch the Apple Store app.
Select the iPhone model you want to purchase on the iPhone Upgrade Program.
Select whether you are Replacing your current iPhone or buying a new iPhone on an existing carrier account.
Select your carrier.
Select your finish.
Select your capacity.
Select Apple iPhone Upgrade Program when asked how you would like to pay.
Select I'd like to enroll if you are new to the program or I'm already part of the program if you are currently enrolled in the iPhone Upgrade Program.
You will then follow the instructions to complete your loan approval process to enroll or re-enroll in the iPhone Upgrade Program.
Enrolling to purchase an iPhone that is in pre-order
Currently, Apple only allows you to get loan pre-approval for preorders like the upcoming iPhone 11 from the Apple Store app on your iPhone (not available on iPad).
Open the Apple Store app on your iPhone.
Tap Check Upgrade Eligibility on the "Get a head start on your upgrade" banner that should appear at the top of the Discover tab if you've previously been enrolled in the iPhone Upgrade Program.
Tap Continue.
Tap Select under the iPhone you want to get.
Tap No under "Do you have an iPhone to trade in?"
Tap on the color you want for your iPhone.
Tap on the model of phone you want if that option is available to you.
Tap the storage capacity that you want.
Tap your chosen carrier.
Tap on either AppleCare+ or AppleCare+ with Theft and Loss to decide which level of protection to get.
Tap Continue.
Confirm your carrier.
Once you've finished these steps, you'll either be pre-approved or not. If you are, you'll be given an option to add the pre-order time to your calendar if you're getting an iPhone for which pre-orders have yet to open.
Your preapproval will last three days after pre-order begins. Once pre-order ends, outstanding preapprovals will expire.
Getting pre-approval for an iPhone pre-order *does not** reserve an iPhone for you. It is still a first-come, first-served basis. Going through the preapproval process allows you to select the model you want for faster checkout than starting from scratch.
Do note that once you've gone through this process, the choices in model, color, and storage capacity that you made are locked in until pre-orders open up. When that happens, you're free to choose whichever model, storage capacity, and color that you want for your upgrade.
If you're an Apple Card user, Apple reminds you that you can get 3% cash back when using the card to make your iPhone Upgrade Program purchase. If you choose to do this an replace your existing credit card as the payment source, you'll need to manually enter your Apple Card number, CVV, and expiration date.
How to find your Apple Card account number, CVV and expiration date
A note about credit report pulls
There's been a lot of confusion about whether Apple does a hard or soft pull on your credit report to approve you for re-enrollment. That's because each candidate for a loan is different. Apple's iPhone Upgrade Program overview states:
Basically, Citizen One, the banking organization Apple works with to process loans, may only do a soft pull on your credit report if it considers your previous activities in the iPhone Upgrade Program to be in good standing. If, however, Citizen One deems it necessary to research further into your credit data, it might do a hard pull.
A note about credit freezes
If you've put a credit freeze on your credit report, there are a few things you should know about applying for your iPhone Upgrade Program loan.
A credit freeze is a way for you to restrict access to your credit report to protect you from identity theft. If you've put a freeze on your credit report, it doesn't affect your credit score or keep you from being able to apply for loans. There are some caveats though.
If you are already signed up with the iPhone Upgrade Program, Apple will still be able to access your credit report for a soft check. The Federal Trade Commission states:Your report can be released to your existing creditors or to debt collectors acting on their behalf.
If you are joining the iPhone Upgrade Program for the first time, you can still have Citizens One run a credit check, but you'll want to first temporarily lift the freeze specifically for the credit report agency Citizen One will request your report from.
I spoke with a customer service representative with Citizens One who said that Apple will run the credit check when you first enroll in the iPhone Upgrade Program. All four credit bureaus will be contacted, starting with Equifax first. Then, Experion, Innovis, and TransUnion.
The credit report agencies must lift the freeze within three business days of your request.
Fees usually range in price from $5 to $10 but are different in each region.
Here are the numbers for the U.S. credit report agencies:
Equifax — 1-800-349-9960
Experian — 1‑888‑397‑3742
TransUnion — 1-888-909-8872
Innovis - 1-800-540-2505
You'll need to provide your name, address, date of birth, Social Security number and some other personal information.
Make sure your iPhone is in working condition
Your "Financed iPhone" (as Apple calls it) has to be in good working condition for Apple to take it as a trade in. An Apple employee will check it out and make sure it qualifies for an upgrade. Apple's Terms & Conditions for the condition of your iPhone are as follows:
For a Financed iPhone to be considered in good physical and operational condition, the Financed iPhone must:
Power on and hold a charge;
Have an intact and functioning display;
Have no breaks or cracks; and
Have Activation Lock disabled (you may be asked to disable at the time of upgrade)
If your iPhone doesn't meet the qualifications for trade-in, you'll need to pay either $29 for a cracked screen or $99 for a broken device through your AppleCare+ to fix it. If you have used up your two incidents, you will have to pay an Apple Authorized Service Charge to fix it (which could cost $200 or more). If your iPhone is unrepairable by Apple, your iPhone won't qualify for the upgrade program and you'll have to continue paying it off, though you can enroll for a second iPhone at that time.
Be prepared for re-enrollment and trade-in
You can either visit an Apple Retail Store in person or re-enroll online via Apple.com or the Apple Store app (required for pre-orders). If you choose to re-enroll in person, bring your current iPhone with you so you can have it assessed and trade it in right away. If you re-enroll online, Apple will send you a trade-in kit so you can mail in your old iPhone after receiving your new one.
How to prepare to trade in your iPhone through the iPhone Upgrade Program
Note: Someone else can upgrade your iPhone on your behalf; however, that person will be responsible for starting a new iPhone Upgrade Program loan agreement. So don't send your 16-year-old kid or someone with poor credit.
What to do if you've had your iPhone replaced for hardware issues
If you have had your iPhone replaced for hardware issues in the past year, it is possible that the serial or IMEI number on the replacement device was not updated for your account, showing that you are not eligible for an upgrade. Make sure to check your eligibility right away so you know whether or not everything is in order and speak with an Apple support representative if there is an issue as soon as possible.
Any questions?
Pop them into the comments and we'll help you out.
Updated September 2019: Updated for the iPhone 11, iPhone 11 Pro, and iPhone 11 Pro Max.
Master your iPhone in minutes
iMore offers spot-on advice and guidance from our team of experts, with decades of Apple device experience to lean on. Learn more with iMore!
Lory is a renaissance woman, writing news, reviews, and how-to guides for iMore. She also fancies herself a bit of a rock star in her town and spends too much time reading comic books. If she's not typing away at her keyboard, you can probably find her at Disneyland or watching Star Wars (or both).