How to use a HomePod or HomePod mini as a HomeKit security alarm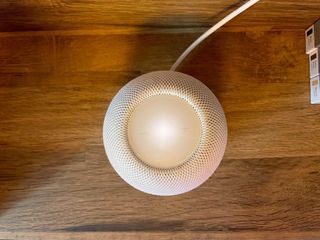 (Image credit: Stephen Warwick / iMore)
Apple's HomePod and HomePod mini offer the best smart home experience through HomeKit and Siri voice controls. If you want to take things to the next level, though, you need to know how to use HomePod as a HomeKit alarm. That's right, Apple's speaker works with security devices like the best HomeKit door and window sensors, giving you the ability to create a DIY security system. Here's how to use HomePod as a HomeKit alarm.
How to use HomePod or HomePod mini as a HomeKit security alarm
In this example, we will be using a HomeKit door and window sensor to create our alarm automation. You can also use a HomeKit motion sensor — including those available through most HomeKit cameras.
Launch the Home app.
Tap the Add Button (looks like a plus sign).
Tap Add Automation.
Tap A Sensor Detects Something.
Tap on the Accessory that you want to use as your trigger for the HomePod.
Tap Next.
Tap Opens or Detects Motion depending on your accessory type.
Tap Time and set the specific times that you want the automation to be active.
Tap People to set location-based conditions for when the automation will run.
Tap Next.
Tap your HomePod or multiple HomePods if you have more then one.
Tap Next.
Tap Play Audio.
Tap Choose Audio....
Tap the Search field or navigate to a song or sound in your music library.
Type in the name of the album or sound type in the Search field for a sound.

We recommend searching for "alarm sounds," but you can use any song or sound from Apple Music.

Tap Search.
Tap on the desired Album.
Tap on the Add icon (looks like a plus sign) next to a sound or song.
Tap the toggle next to Repeat.

You can leave this off if you want your sound or song to play once.

Tap Set Custom Volume and use the slider to set your desired level.

You can also choose Use Current Volume if you want your HomePod to use the last volume level.
Tap Back.
Tap Turn Off and set your desired duration for how long your alarm should sound.

If you want your sound to play until you turn it off, choose Never.

Tap Done to save your automation.
You now have your HomePod set to activate the assigned alarm sound when a motion event occurs or when your security device triggers. To stop your alarm, tell Siri on the HomePod to stop, or create a HomeKit scene that pauses playback on the HomePod. You can then assign it as a favorite in the Home App for easy access.
Secure your home with your HomePod
As you can see, using your HomePod as a DIY security alarm is a breeze. All you need is a security device like a HomeKit motion sensor and an Apple Music subscription. There are tons of sounds available to keep would-be intruders at bay, including horns, sirens, and even dogs barking — all just a tap away. For maximum security, be sure to leverage the HomePod's power by cranking up the volume for your automation.
(opens in new tab)
In addition to its massive library of songs, Apple Music is also home to tons of sound effects perfect for use as a security alarm.
Updated December 2021: Updated to include HomePod mini and for iOS 15.
Christopher spends most of his time writing and dreaming about all things HomeKit and the Home app. Whether it is installing smart light switches, testing the latest door locks, or automating his households daily routines, Christopher has done it all.
Thank you for signing up to iMore. You will receive a verification email shortly.
There was a problem. Please refresh the page and try again.