How to watch YouTube videos on the Nintendo Switch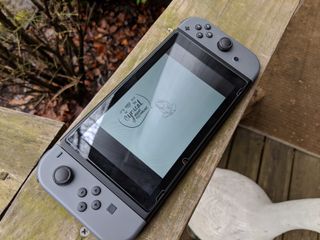 While it's solid on the game front, the Nintendo Switch has been a lot slower with other entertainment offerings. There isn't a way to watch Netflix or access a lot of other content on the Switch at the time of writing. There isn't even an official web browser!
Fortunately, all is not lost. Not only does the Switch have a back way to get to a web browser, it's pretty easy to get to YouTube and other sites. This is how to use YouTube on your Nintendo Switch!
Open your system settings.
Tap Internet, then Internet settings.
Open the connection you're currently connected to, then tap connection settings.
Tap DNS settings, then tap Manual.
Tap Primary DNS, then use the backspace key to erase the default address.
Enter the following address: 45.55.142.122. Tap *Ok**.
Tap Connect to network. You'll see that the connection errors out when it tries to connect to the Internet; this is normal.
Tap Next, then wait about seven seconds.
You'll see the browser open to Google's homepage. From here, you can browse any website, including YouTube.
Fortunately, you won't need to go through all of those steps every time you want to browse to your favorite websites. We're going to set up the web browser as its own "network." This way, your normal network can be used for game downloads and multiplayer, while you use the browser's "network" for visiting websites.
Head back to your connection settings. Tap on the DNS settings, then tap Automatic.
Go back to the list of connections, then scroll to the bottom of the list.
Tap Manual setup.
Name the network something you'll be able to remember — "Browser" would work well.
Type your Internet connection's SSID, select the security type and type in the password.
Tap DNS, the select Manual. Again, the DNS address will be 45.55.142.122.
Tap Ok, then save the connection.
Connect to the network, then wait seven seconds for it to redirect to Google's homepage.
Browsing YouTube
We're not quite done yet, since soon you'll be able to watch your favorite YouTube channels. Unfortunately, you can't just browse to YouTube's main page and watch videos, but the community has come up with a workaround.
In your user profile, select Posting to Social Media.
Tap the Link button next to the Facebook icon.
Instead of logging in, use your cursor to select the Pages button along the bottom of the screen.
Search for Switchbru's page.
Switchbru's pinned post contains a link to SwitchTube, their site for watching YouTube on the Switch.
You can search for a video title by using the search box, but searching by video ID is going to be more reliable.
This is a lot of work to just watch cat videos, and you can honestly watch a few videos on your phone in the time it takes to get this all set up. But it's fun to play with hacks and unofficial features, and there are worse ways to use your Switch.
Do you want an official YouTube app for the Nintendo Switch? What about other tricks for the Switch? Let us know down below!
Updated August 2018: Steps still work as written
Get the best of iMore in in your inbox, every day!
Thank you for signing up to iMore. You will receive a verification email shortly.
There was a problem. Please refresh the page and try again.