I chose the iPhone 8 Plus instead of waiting for iPhone X and I don't regret it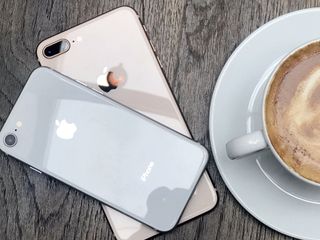 With all the frenzy around the iPhone X, it's almost easy to forget that Apple came out with the iPhone 8 and iPhone 8 Plus about a month ago, both of which are stellar phones.
It became pretty obvious when the iPhone X was announced that my iMore coworkers were very excited to try out Apple's latest and greatest (myself included); however, when the time came to order the iPhone 8 Plus or wait for the iPhone X, I chose the former. Now that the iPhone X is finally here, I am happier with my decision now than I was when I made it.
The same hardware where it counts
At the core of the iPhone 8 Plus and the iPhone X is the same A11 Bionic chip that allows you to glide through iOS 11 at lightning fast speeds. In fact, The iPhone 8 and iPhone 8 Plus both sport the same neural engine and embedded M11 motion coprocessor that the iPhone X packs. When it comes to the stuff that really matters — how fast the phone performs and how it's optimized for the newest iOS — the iPhone 8 is identical to the iPhone X.
Of course, there are some differences in the cameras that are worth taking into account. The rear telephoto lens on the iPhone X has a ƒ/2.4 aperture whereas the iPhone 8 Plus only sports a ƒ/2.8 aperture. It's a very small difference that the majority of users (myself included) will not notice. It does mean that Portrait Mode photos in low light situations will turn out better on the iPhone X, but the iPhone 8 Plus is more than adequate in low-light situations for the average consumer. The addition of Portrait Selfie mode on the iPhone X doesn't appeal to me, because it only really looks awesome when it works.
Image 1 of 4
As you can see by the photos above, I have used the Portrait Mode and the Portrait Lighting effects on the iPhone 8 Plus a bunch of times and in my experience, the results can vary. In ideal conditions Portrait Mode photos can look absolutely amazing; however, some inconsistent lighting or a weird angle can really mess up how the photo turns out.
I'm by no means a professional photographer and perhaps in the hands of a skilled individual, Portrait Mode may be better than my personal experience. Regardless, Portrait Mode and Portrait Lighting effects are an added bonus on a great camera, not the reason I'm going to buy a new phone. That may mean I'll have to manage shooting my Portrait Mode selfies with the rear camera on my iPhone 8 Plus, but I'm ok with that.
I'm not interested in Face ID
No, it's not because I'm worried scans of my face will end up in the wrong hands, that Apple will sell my face to advertisers in the future, or that my evil twin may be able to break into my phone without me knowing. It's because I don't consider it to be any more convenient than Touch ID.
Touch ID is marvelous, and in my personal experience has been fast and reliable 99.9% of the time, and while all the early indications of Face ID, even from Rene Ritchie's review are praising its accuracy and speed, it has its limitations.
With Face ID, you can only store one face, unlike with Touch ID where you can have up to five fingers programmed. This means Face ID won't allow you to share your iPhone when you need to, at least for now. The idea of sharing your iPhone with someone may horrify some of you, but my significant other has a finger registered on my device and it has made my life easier in many instances. If my hands are otherwise busy and I want to look something up, message a friend, or check the actors of the show we are currently watching, I can easily have my partner do it for me. Before you start yelling at me about how Siri can do all those things, you try and get Siri to send a message to your Mom that dinner is going to be late when you have oven mitts on, you're cooking Thanksgiving dinner, guests are talking to you and the smoke alarm is going off. Siri just isn't feasible in every situation, whereas manual control always works. If I had to deal with Face ID in this situation, I would need my partner to grab my phone and hold it up to my face. I would then need to look at it intently for it to open while I'm trying to focus on other things.
If you think that situation is way too specific, let me give you another one. You're sitting on your couch watching Netflix, cuddling with your cat, and drinking a beer, when you suddenly want to open up your phone. With Touch ID, you'd simply have to lay your finger on it and without even moving the phone you could quickly do what you wanted to do. With Face ID, you'd have to pick up the phone, look at it, and then swipe up on the screen to get to your Home screen.
Of course, you could always turn off the Attention Required feature, which would help mitigate this problem, but Attention Required is an added safety feature that ensures someone doesn't unlock your iPhone when you're not looking directly at it. I'd rather be extra safe then have a little more convenience.
There's a reason Touch ID has been around so long. It's because it works amazingly well, and it's as secure as you want it to be while still being useful in a plethora of different situations.
I agree with iMore's close friend Mr. Mobile on the subject of Face ID:
As if losing Touch ID wasn't enough, moving to the iPhone X would mean losing the Home button too. Double tapping to enable reachability on the iPhone 8 Plus, double-clicking to activate the app switcher or even triple-clicking to access the accessibility shortcut is all gone; in its place are brand new gestures. It's not that gestures are bad overall, but picking up the iPhone X will feel like picking up a brand new phone, which means there is a learning curve we haven't seen on a new iPhone in a long time. You'll have to re-learn how to do basic things, and that just seems tedious and unnecessary. I hate to be the boy who called Android, but virtual home buttons have worked well on plenty of phones and I don't like Apple's decision to go with gestures.
In the end, it's not about how fast Face ID works; it's about how convenient Touch ID and the Home button is that makes me comfortable in my decision to stick with my iPhone 8 Plus.
Money money money
I don't care how advanced the iPhone X is; $999 is a lot of money for the average person. When it came down to it, it was really hard to justify spending that much money on a phone ... any phone.
Yes, the almost bezel-less OLED display looks very bright, rich, and stylish, and I would be lying if I said I wasn't a little jealous, but it's just a look that isn't going to affect how I use my iPhone day to day. I'm more than happy to keep the extra $200 in my pocket and miss out on some luxuries that the iPhone 8 Plus doesn't offer.
What do you think?
Whether you think I'm off my rocker or you are also happy with your iPhone 8 or iPhone 8 Plus, I want to hear from you! Leave a comment down below!
Get the best of iMore in your inbox, every day!
Luke Filipowicz has been a writer at iMore, covering Apple for nearly a decade now. He writes a lot about Apple Watch and iPad but covers the iPhone and Mac as well. He often describes himself as an "Apple user on a budget" and firmly believes that great technology can be affordable if you know where to look. Luke also heads up the iMore Show — a weekly podcast focusing on Apple news, rumors, and products but likes to have some fun along the way.
Luke knows he spends more time on Twitter than he probably should, so feel free to follow him or give him a shout on social media @LukeFilipowicz.
While the price is a large consideration, the idea of replacing my 6S plus with the 8 Plus was a problem for me. It's too big. Since the X has a larger screen and is only slightly bigger than the 8 that's my choice. Plus everything I have read about Face ID is that it makes Touch ID seem antiquated.

As soon as I heard about Face ID, Touch ID seemed antiquated. Touch ID causes me a lot of issues due to having clammy hands, sometimes it just plain won't work for me, and obviously that doesn't follow the Apple "just works" slogan. I'd love to have a quick authentication method that works 99% of the time, and that's what Face ID seems to be

The "larger" screen is kind of a mixed bag. It's technically bigger, but it's narrower. I've found myself a little annoyed going to the keyboard on smaller screen. Not to mention the letter boxing of videos and the notch taking up some space. I would've preferred the X to match the Plus screen width. I'll be eager to upgrade next year if they have an "X2 Plus" model. Hopefully a larger screen but still in an overall smaller package than a Plus model. That being said, it's not a deal breaker by any means and I love the X. No regrets. I'm sure I'll get used to it in no time.

The notch at the top was the deal breaker for me. I actually was looking forward to the x due to my fond memories of webos. The new x interface reminded me of all the good things about webos. I just couldn't overlook the notch. Apple really should have just extended the top of the phone an extra half inch or so to make the Face ID camera and sensors a solid bar and thus make a symmetrical screen at the top. If Steve Jobs came back from the dead for one day and took back over apple he would have fired whoever made that decision. It doesn't matter how many times people say it doesn't look bad or it's not distracting. It IS distracing and it takes away from the emmersiveness of the display.
I also presently use a 6s plus and in my opinion it's still a better buy than the 7, 8, or 10. It has a better quality modem since it's a Qualcomm modem that Apple did not slow down like they did to the modems in the 7 or 8 to make them run at the same speed as the intel modems in those same models. This leads to better call quality and fewer dropped calls. The 6s plus still has the headphone jack. And I even have the model with the tsmc chip with gives better battery life over the other 6s plus models. The only thing I consider a negative is not having the latest a11 chip for performance reasons and that wouldn't be a deal to me if Apple would actually optimize their iOS updates before issuing them out. I updated to iOS 11 and its really slowed down my phone as well as taxed my stellar battery life. I've also noticed I have been having problems with audio on phone calls as well since I updated.

I stuck with the 6S+ too. /me hugs V-Moda headphones

You can only stick with it so long until you have to upgrade to a jack-less phone

The notch has had mixed reactions, but ultimately once you've used the phone for a bit you're going to forget about it, except maybe when you're watching a video in landscape but that's why the video starts by default zoomed-out so that the notch doesn't cover it. I'd really like to see a credible source for your modem issues, I've personally had better signal strength on my iPhone 7 Plus than I did on previous iPhones. I've very rarely had to deal with dropped calls in general so I can't say whether that's better or worse, but it certainly doesn't seem worse. Call quality has remained about the same, but it's always better through FaceTime audio anyway. Headphone jack is really a non-issue, and all the other manufacturers are starting to remove the headphone jack now, Apple's done it, Motorola's done it, Intel are going to do it, and Google have done it. Samsung will be next. As for iOS updates, Apple deliver a major OS update each year, which is a very difficult thing to do. They have to either prioritise stability or optimization, and they choose the former rightly so. If Apple released OS updates every 2 years, then it wouldn't be an issue, but people want updates fast. If you're worried about performance issues, wait for the "X.1" or "X.2" releases, where "X" is the major version number, in this case 11. The first few minor updates after a major OS update fix the performance issues. I can't say I've had any problems with audio on phone calls though

Trust me Touch ID is not old. It works fast, reliable, and discreet. Face id is literally in your face and everybody else's if you're in a crowd. I don't want people watching me login to my iPhone. Plus try it on a really sunny day. I couldn't unlock my X a few times and was without a phone for the afternoon.

"reliable" is subjective. It's temperamental with me, one of my friends, and I've heard it from others too. It depends on things like moisture in your skin, which is different for each person. Face ID is discreet, you look at your phone anyway so what's the difference between looking at it to unlock it?

Is it crazy to think Apple should bring swipe-to-home to the 8 Plus, like they did with iOS 11 on iPad?

The one issue I have with the 8 Plus (and 7 Plus) is that the 2nd back camera is not optically stabilized, where as the X has both stabilized. That, to me, makes a big difference in lower light photos.

I agree that stabilization on both rear cameras is a nice feature, and no doubt it will perform better in low light; I just don't think it would be useful enough for me to justify the price increase. I typically try to snap photos in pretty well-lit conditions to achieve the best looking results. All depends on how you shoot.

I'm curious if you got the 256GB 8 Plus? Everybody talks about how high priced the X is, but it's only a couple hundred more for the same storage space. There's a LOT of new and bleeding edge technology in the thing that I think totally justifies the higher price. Now, that doesn't mean everybody should think that they need that technology for the price, which is fine, but people saying it's so outlandish kind of makes me roll my eyes.

No doubt about it, the price is outlandish. Doesn't mean fans won't pay it, but trying to justify $1000+ just isn't going to work.

I upgraded from the 7 Plus to the 8 Plus. 8P is a great iPhone. 7P was also. I do hate the notch on the X a lot. And IMO, Steve Jobs would never have accepted that design let alone released it. I did try to buy the iPhone X on release night. Got up for the 3AM.. If fate would allow me to buy one full price, outright I would (give it one of my kids or family most likely - I REALLY hate the notch). I tried for almost two hours on the Apple Store app, and a MBP - All I got was errors every time through the order process. Tried for nearly 2 hours and accepted the fate. And I do believe next year with the iPhone X s - the notch will not be there. So I'll.wait for that version.

Sorry to hear your experience trying to order the iPhone X was less than pleasant. Personally, the notch doesn't bother me too much, I understand why it's there and it certainly makes the phone stand out for better or worse. I am interested to see if Apple will pursue the idea of having Touch ID underneath the front glass panel. The rumors indicated that they tried that for the iPhone X but couldn't get the technology to work (take with a grain of salt); however, if they did, would that be enough to eliminate the notch? It's an interesting debate.

Luke Filipowicz, I totally agree with you! The notch doesn't really bother me but the lack of Touch ID on the iPhone X is my main deal breaker. I'm on the iPhone 5SE and I think it is time "to go up". I was divided between the 8 and the X but have finally made my mind up with your help: I'll go for the 8; the 8 Plus is too big and I deeply dislike it (hence my staying over the last years with the 5, 5S and 5SE). I hope Apple implements Touch ID underneath the front glass panel for the next X iteration. That'll be the only way I'll be convinced to get one.

I can't see Touch ID coming back. Apple seemed pretty certain that it was the next main authentication method after Touch ID, and I can see why. Touch ID has flaws, if your hands are dirty/wet/moisture etc. Face ID will work in these situations. There's only two (known) flaws with Face ID. One is what Apple mentioned, identical twins, which won't affect most people. The second is that you actually have to look at your phone, which I see as a non-issue given that in any situation I'm unlocking my phone, I'm going to want to look at it for something anyway

Turn off Require Attention and you don't have to look at it. It's a trade off, sure, but it's there. I had to turn it off because I wear polarized sunglasses almost all the time when I'm out and about, but to me, that's no more of a problem than Touch ID with wet hands. I personally would love to have screen embedded Touch ID, just to have the option of both. My understanding was that they got it to work, but they couldn't get acceptable screen yield rates for mass production. If require attention could just be smart enough to recognize you have UV lenses on and relax the requirement in such cases, it'd be pretty perfect for me.

I've heard this argument a few times now about the notch. But, where would the speaker, front camera, and sensors be relocated to if not for the notch? There's no viable place to put them except where they are, unless you don't want the edge to edge to edge to edge display anymore.

This is all true, and yet I still dislike that notch.

Then it comes down to whether you want an edge-to-edge display with a notch, or no edge-to-edge display. It's mutually exclusive

Have you seen the iPhone X in the flesh? Sit it next to an any of the Galaxy 8 series phones and the bezels are much larger. Then play a HDR movie in landscape (not zoomed in on the Apple handset, natch) and Samsung's machines make the X look no better than an iPhone 8. Thanks to the aspect ratio of most films and shows these days, the minimal curvature on the Galaxy edges don't even register. However the speakers on the iPhone X are in a different league to the Galaxies (if not quite up there with the latest from HTC, Google or Huawei). In this area Samsung have a lot of catching up to do.

The bezels are larger because it prevents accidental touches on the display. Apple was the main company to get conductive multi-touch displays to become the norm, and with that they wanted to make sure they got it right first time. With resistive touchscreens, sure you don't need any bezels, since it requires pressure on the screen, but it's a much bigger problem with conductive touchscreens. I've tried phones with small bezels and if you've got big hands you can accidentally touch the sides of the screen sometimes. I think Apple have done a great job reducing the bezels whilst not over-doing it to ensure that the phone doesn't only look nicer, but you can still comfortably use the touchscreen without worrying about accidentally tapping anything

They could easily fit the speaker and proximity sensors in the tiny bezels that exist on the iPhone X as it is now. It has been done on other phones. As for the front camera, you are right, it would have to go somewhere. Like I said above, I don't mind the notch, it's just interesting to think about where Apple is going to go with this design in the future.

Given what Apple said at the event, it seems that the iPhone X is forming the main base design for the next 10 years. It's possible they may reduce, or remove the notch if they can find a way to fit it in the design whilst still having an edge-to-edge display, but I think it's going to stay as it is for at least 3 years

I don't know if Steve wouldn't LOVE the notch. It's actually incredibly Apple in terms of design. Particularly it falls in the Dieter Rams principle of design being true to itself. That notch houses those 3D Sensors that are now a HUGE part of the experience of the phone. I'm telling you, it's beautiful imho. The issue with the notch isn't when the screen is off, it's when it's on and give it a couple years, they'll figure out how to keep the beauty up. I've had the phone for a day now and trust me, it's beautiful. This is Apple design at its best.

I agree, I got to try one out and it looks really nice. I'd probably say the notch "appears" worse on photos because you're focused on the design of the phone, but when you actually start using an iPhone X you're focused on the content on the screen and really you just forget about it anyway. Regardless of whether you like the notch or not, you'll forget it's there when you start using the phone

I upgraded from the 6+ to the 8+ and have really loved the switch. Force touch was new to me because of this, and I'm really digging it. I'm a developer on the Microsoft platform and have been a "beta" tester on too many products. For me the decision to not get the iPhone X was for that reason, I didn't want to get the first iteration of a new hardware design. I'll let all of the other folks find the bugs and wait for a more refined version of the X.

The iPhone 6 Plus to the iPhone 8 Plus is a huge step up, I'm glad you are enjoying the switch! 3D touch is one of my favorite iPhone features; it has so many useful applications.

The camera improvements are phenomenal. Even without the telephoto lens, being able to take a usable photo in anything other than daylight makes you realise how subpar the 6 series cameras were.

I hear what you're saying about FaceID and your partner not being able to get into your phone, but there's still passcodes so if they have that, they can still get in. Yeah it's an extra second and some clicks to get in but it's still a perfectly viable option.

The reason why Touch ID allowed multiple fingers is because… well, we have multiple fingers. It was still designed for one person, but there was no way Apple could tell if you were registering someone else's fingerprint

Same thing for me....I went from the 6 plus to the 8 plus and it was a much needed upgrade. While I wouldn't mind having the X, I'm perfect happy with the 8 plus.

I could say most of the same things about my 6. While I would appreciate better photos and a bit more speed, most of what I do with my phone is in apps and all the new bells and whistles don't change what they do. I've found in the past that when I was all excited about a new device and got it all set up, there was a point where I just sort of stopped and realized it's still basically the same and was let down. A few cm2 more screen and one less button doesn't fundamentally change what I do with my phone.

This is what I am coming to terms with.
I have been through about 20 different devices in the last three years. Blackberry, Android, and now iOS. Just couldn't settle on what I wanted, and never had enough with one phone.
But there always felt the same kind of thing. Now that I am on iOS, I have noticed that the device itself just works. Everything works together, and it does what I need it too.
I have settled on the 8+, as has my wife, I mean it when I say it, I am contempt. I honestly see us lasting with these devices. The X looks like a great phone, but for the price and having to look directly at my phone, it just doesn't seem worth it.

I think you meant content, not contempt :-)

You only look directly at your phone as you would normally, it's very fast, it's not bad like you're making it out to be

I don't mind Face ID as an option. I actually like it. But... on those times where I want to unlock my phone while doing something else, it's inconvenient. That's when I really appreciate Touch ID

Do you mean when your phone is on a desk? That's the only thing I can think of what you mean when you say "doing something else"

Or if I'm communicating with someone and I want to check something quickly on my phone without interrupting to hold a phone up to my face.

You can look down to your phone as opposed to holding it up to your face

I unlock it at my desk all the time or under tables at meetings etc.

It's still quite a specific use-case, and obviously I wouldn't recommend unlocking your phone underneath tables at meetings, but that's just me.

I had lots of different devices between I switched to iPhone (Windows Mobile just before it) but have been on iPhones since the first one. They're great, the best there is IMO. But even Apple themselves say they design iDevices to get out of the way and be a frame for the apps. That's a double-edged sword because it means I don't really care that much about the frame. The biggest changes to smartphones that have happened in the last decade are in the apps that run on them. A bit faster, a bit bigger screen, a bit better camera, a new way to authenticate... None of this gets me excited about a new frame. Show me something new I can *DO* with it.

You've gotta remember this is the 10th iPhone, and we're getting to a point now where it's difficult to find new hardware features to put on the phone. Proximity charging isn't ready yet, we don't have any hologram technology that will easily work on a phone, and… well I'm really struggling to think of what else the iPhone could have hardware-wise. The biggest changes with smartphones now are going to be software-based, which in some ways is great for the consumer because so long as those software features work on older phones (e.g. ARKit), then there's less reason to upgrade. Bad for Apple, but good for the consumer. The biggest feature I want on the iPhone now is proximity charging, who knows when that will come though. As for my Apple Watch, I'm still using the first one that I bought when it was released. None of the Apple Watch changes have been significant enough yet, I'm at least waiting for an always-on display for the watch

It looks like my comments are not showing up. Testing that fact here...

« If I had to deal with Face ID in this situation, I would need my partner to grab my phone and hold it up to my face » ... or just give her your passcode lol Asfar as gestures are concerned, i think it's a better idea than a screen home button as it takes more room in the screen...

Never said I wasn't being nitpicky, haha. But, I still believe in a variety of different situations —like in the car or lying in bed — just having to lay a finger on the Home button to open my phone is still way more convenient than picking it up and holding it to my face.

I want the better camera in the smaller phone. Had Apple gone Google's route by putting the same camera in both 8 models, I would have gone with the 8. The 8 plus is too big, so I am getting the X.

I thought the same thing when I had the iPhone 8 Plus. But the size of the iPhone X is so much better. The X is more pocketable and FaceID is just as quick as TouchID. I love the X more.

Same boat. Which surprised a lot of my friends because I'm the early adopter... I'm the one in year's past that's stood in line overnight at an Apple store (was first in line at my local one when the iPhone 6+ came out). However, on this one, I felt the 8+ fit my needs, for many of the same reasons you listed above, with the following additions
A) The "bigger" screen on the X is misleading. The 8+ still has more square inches of real estate - and I don't like that fact that it's not as wide as the Plus phones. I'd struggle with that slightly smaller keyboard, as dumb as it seems.
B) I'm still iffy on the notch. I'm sure I'd get use to it, but it's not my favorite. I don't like how video/pictures look in full screen mode; that said, I'd probably just most of the time opt for the smaller view that boxes them on the ends - although seems to ruin the point of having the full screen phone, right?
C) And my biggest one - it's going to be awhile for a lot of apps to catch up and properly design their apps to negotiate that notch - and, it will take even longer for them to perfect it. Even with Apple themselves, I'll guess that some of the gestures and other features will change a couple of times in the next year as people put the phone to real world use and they realize somethings don't work as well. There is a lot more "new" to this iPhone than normal, which means a lot more stuff just isn't going to be ready or perfected for the first few months. I fully plan to upgrade next fall to whatever they have that's similar to it - iPhone Xs+? Who knows. (My real bet is that they go iPhone Pro to match their other lines in naming, but that's a comment for another thread)

That all said... I am feeling a degree of envy of those who did get an X today :)

For point C, for the most part apps just have to make sure nothing is hidden underneath the notch. Other than that, the apps should work as normal.

Have spent a few hours with my new iPhone X and I'm impressed. I do like it, but it does take a minute to accept the changes. I like the larger screen on a smaller footprint, but the smaller size kind of hit me wrong at first. It felt too much like an iPhone 8 vs an 8 Plus. I'm ok with no home button as FaceID rocks, it just does. I'm more unhappy with some of the software changes in iOS like when reading iMessages in landscape, the Plus series offered an iPad-like view of iMessage, and they took that away on the X. I'm not sure why with the same sized screen?? I really don't like that they took the battery % away from the home screen. I think they could have done a better job with organizing icons, especially with no headset connected icon. You have to pull down to the control center to see any of those in detail. All of that can be fixed though. So far so good, and I'm happy with my choice.

I have the 8 Plus. I prefer LCD tech to OLED. Don't care for ghosting, image retention and worst case scenario, burn in. No thanks. Plus. I like the size of the bigger plus phones with the extra one-two hours of battery over the X.

Some of the first battery life tests are out, and the 8 Plus only had 27 minutes longer life vs the X, which isn't a huge difference (10:49 for the X and 11:16 for the 8 Plus). And I've used many OLED screens on Samsung phones and never had issues, and since they made the screens for Apple, I'm not too concerned with it. So those things didn't bother me, and I like the look and size of the X, so I got it to upgrade from the 7 Plus. For me, the 8 Plus didn't offer enough of a reason to upgrade from my 7 Plus, but the X did.

It'll be interesting to see how much ghosting/image retention happens after years of usage. I've had my Apple Watch for 2 years which has an OLED display, and I've not had any ghosting/image retention as of yet, however the watch screen is off most of the time, and most of the interface is black as well.

Did the 8+ as well. Just didn't want to wait and the 8+ had all the main features I wanted.

I got the iPhone 8 (coming from an iPhone 6s). Didn't want to spend $1,000 and didn't want to give up Touch ID. I'm happy with my decision. I was looking for more speed and a better camera and the iPhone 8 is more than enough for me.

I was soooo on the fence with this decision. My iPhone 6 is just creaking along, especially after the iOS 11 update. Did I want the 8 or 8 Plus, or X? I probably changed my mind five times a day. I finally decided to go for the X, I just pre-ordered it the other day and will be waiting about a month to get it. During which time I'll probably continue to second guess my decision every day. But in the end, the deciding factor is that I tend to hold on to my phones for a long time, and the X felt like it had a longer lifecycle than the 8 models.

All I cared about was a big screen and maximum storage. Since the X offered no more than the storage than the 8 plus, I saved my self the extra money.

I'm sure this has been said, but another (critical, in my use cases) difference between the 8 Plus camera and the X camera is the dual OIS. Having OIS on the telephoto lens means more stability, so photos taken zoomed in with that lens will benefit, and Portrait Mode photos will, too. Because iPhone photography is a HUGE part of my daily life, these features along with the lower f-stop make the X the choice for me.

I got an iPhone SE and I don't regret it!

There's a big fanclub for the iPhone SE, not everyone likes bigger phones :)

Why do people constantly write articles like this? Like we give a **** **** about why you didn't purchase something.

I'm on the fence too. Just paid of my 6s plus, and now have a lower bill. My 6s is showing it life especially in the new ar games and apps and I'm ready for an upgrade.but to pay another 800$ for what's basically (to me at least) another software updated 6s plus doesn't sound good to me. Apple Seems like they just wanted to use up all old parts and make the 8 and 8 plus out a new engine in them and called it a day. But as for the x it looks more like they look d towards the future. Not sure what to do. I do feel as if I buy an 8plus I'll end up regretting not buying the x . The x doesn't feel like apples ripping me off by me trading in my 6s plus and letting the slap on a glass case on it doing and camera update and telling me its the ip8. Im not sure I guess I'll just have to take a trip to the Apple store and finally make my decision.

The point of articles like this one is to present an alternative perspective to whatever is the current hype or craze. I am sure it helps many readers analyze the pros and cons in a more logical, thoughtful manner. I am glad that such articles exist on imore, so it's not really so much about the personal choice of this writer as opposed to how his choice may resonate with other readers and help others who may be sitting on the fence, unsure which one to buy. Personally, I felt that some of the arguments in favour of the 8+ are belaboured, but that's just me.

You gave enough of a **** to read it and comment so...

Indeed, this always makes me laugh. "This article is so pointless" "I'm not even interested" yet they take the time to read it and comment…

People who act like $200 is going to break the bank, when they're still buying a phone that costs $800-950 (~$850-1,000 after Sales Tax). That's a pretty weak rationale. If that $200 means the much to you, then why are you upgrading.... and why are you buying phones that cost this much in the first place. The price of the X is a problem largely because it simply isn't that good compared to an iPhone 8+. It's more a relative problem. Yes, people are going "gaga" over it because of the "new design," but is this really the best designed phone of 2017? I don't think so. It uses largely the same internals as the 8+, you just get Face ID accompanying the still-awful FFC, and OIS/Wider Aperture in the Telephoto Lens I've literally never used on my 7 Plus. I find the device less usable than the "Home Button" iPhones. They removed the Home Button, and then just threw everything you did to them in gestures and clicks in other places. Face ID isn't as good or convenient as Touch ID. "Double Click" to install apps in the App Store... Yes, your iPhone now has a mouse button! Congratulations... (That is Sarcasm, for those with no sense of humor.) The main camera is basically a clone of that in the iPhone 8 Plus... IMO, the iPhone X would have made more sense in place of the 8 Plus, with the iPhone 8 as a "Legacy Option," but Apple kept the 8 Plus there to milk those Upgrade Plan customers and justify setting the X price sky high. It's not that I can't afford the phone, or will even think about or miss that extra $200, it's that I will think about or miss the $1,000, because there's no way I'm upgrading to a 4th iPhone that looks like an iPhone 6 Plus, and the X simply isn't offering anything worth paying extra money to (or upgrading when I otherwise wouldn't). And iOS is getting incredibly stale, these days. There is also that "problem." The only thing they did, was make the App Store so awful that I stopped "shopping" there.

As someone from Australia, the price of the iPhone X as lovely as it is, is just way to much for me to afford.
No don't get me wrong love Apple products (iMacs, iPads etc) but when apple is asking around $1500.00 just for the 64gb model then I believe you really have to think hard about your purchase.
When purchasing an apple product, i believe you really have to want it, and to justify the price you must have a plan to what you want it to accomplish for you, and to be able to use all those features so it becomes a worthwhile purchase rather than just an expensive one.
To let you in on a little secret, I have the iPhone 8, love it but my only regret is because i am getting older and the eyesight is growing that bit weaker, I should have got the iPhone 8 Plus instead
Oh well maybe some day.

You can increase the text size and boldness of the text through Accessibility settings I believe, designed for people who are having trouble reading

For me it's too expensive because I am a bit of a geek and have been known to change my phone after a few months. The price of the X is OK if you know you're going to keep it for a couple of years, but I know 100% that is not going to be the case with me. I ended up buying a Pixel 2 so I have a camera which is probably slightly better and a phone I will have no problem replacing whenever the whim takes me.

I am sure everyone will have an opinion about what is worth it or not worth it to them.I understand and respect your decision and I agree with you that Touch ID is far more convenient that face id. I think that is a hard point to argue against. However personally I cannot bring myself to get the iPhone 8 or 8 plus.. for such an expensive phone, the screen resolution is far too low for my liking. 800 dollars for a 1080p lcd screen is just not good enough. They also follow the same overall design that we have seen since the 6 and I am personally tired of it.
For me the iPhone 8 plus is just too big for me to use one handed and the smaller iPhone 8's 750p resolution is just a deal breaker for me.. while I understand you wanting to save the extra 200 dollars, for the the new design and OLED screen with higher resolution are worth it for me. the iPhone x brings a lot of the features I have enjoyed on my android phone and wanted to see on my iOS counterparts.
I will say that $1000+ dollars for a phone is absolutely ridiculous and I don't see myself doing that again anytime soon.

I'm not buying any of this year's iPhones. They're all iterative as far as I'm concerned, and the OS even more so. If you have a 6S or 7 I'm still not seeing a compelling reason to upgrade unless you want to status signal with the new design.

However, coming from Android, the 8's are a perfect jumping in point.

"I understand and respect your decision and I agree with you that Touch ID is far more convenient that face id. I think that is a hard point to argue against." It's not such a hard point to argue against when I use Touch ID myself and it doesn't always work. You can't imagine how frustrating it is when you try to unlock your phone, only to be greeted with "try again", "try again" and now enter your passcode. It's even worse when it doesn't decide to work whilst using Apple Pay, I have to apologise to the cashier and tell them that the technology doesn't always work. Face ID will be much more convenient for me, since it doesn't stop working due to skin moisture or dirt or anything like that. The only big problem I've heard with Face ID so far is that it doesn't work well in sunlight. Hopefully Apple can fix that

after using Face ID for a while now I disagree at least for me. Face ID has been slower in general when compared to Touch ID and far more inconsistent

Excellent short article--and unusually objective for the marketing firm for Apple--Imore. We could use more articles like this.

Excellent article and thank you. I have been thinking along the the very same lines. I thought real hard about this and realized that ever since my first iPhone I have never held up my phone to my face to unlock. I would totally miss Touch ID.

Great article. I went with the 8+ for all the same reasons. Didn't see any advantages to having Face ID and animogies. Everything else is the same except the screen. I like being able to unlock the 8+ without having to look at it. In the store, the X seemed the same size except on the bottom bezel where the Home button is located. Maybe after giving the iPhone X a year to get the bugs or gates worked out, I'll consider it.

I'm waiting a year as well for any potential issues to be fixed. It's a wise thing to do, but it does look like a nice device, I just don't want that to be ruined by little issues which will be fixed next time round

Am I the only person who doesn't use any of this "ID" stuff? I press the home button and I'm in. Face ID, Touch ID. I just don't use it. Not even a passcode. I have to use fingerprint on my work-supplied Samsung S7 edge, and I hate it. Its just a PITA I don't need on a personal device.

"Am I the only person who doesn't use any of this "ID" stuff?" Yes, given it's the primary and most fundamental piece of security on your $700-$1000 device. Good luck when your iPhone gets robbed and all of your personal info is stolen, or deleted, and someone takes out a credit card or buys something in your name

And let's not forget, for us 8 plus owners, there will be the next generation X next year which will likely offer an even more refined experience than this one. While the X owners will be likely to hold off on upgrading, it will make perfect sense for us!

Yea I'm sure people said the same thing when the mechanical car came along. "That thing will never replace my horse". Time for the next step.

I made the same decision as you did but for a different fundamental reason. Yes, the processor is the same on both phones and the difference on the rear cameras is not something I'd make a lot of use of (front camera is irrelevant to me as I rarely take selfies). The deciding factor was the physical size. While the available screen on the X is 5.8" vs the 8 plus's 6.5" the typing space was the deciding factor for me. I've had large phones for 3 years and can't get used to typing on a narrow screen again. And I love my 8 plus!

Agree on the screen size. I swear I just don't get the whole "tall, thin" fad. You can make it a foot tall and 2 inches wide. Then you can advertise it as a 13" screen! No thanks. I want 16:9 dimensions.

I also am very happy I went with the 8 Plus. What is there that I care about (speed, camera) is the same as the X, and the things that put off most people (bezels, etc) I just don't care about. No regrets.

I don't even notice the notch no big deal but the swipe gesture is a failure in my opinion! The new X is so different from past models that I believe Apple will totally change next years model and bring back the fingerprint sensor. So far my X has frozen on several apps and the only way to get out is shut the device down and restart. Some apps are yet updated for the new X and don't work properly. I will send mine back keep the note 8 which is light years ahead of the X!

Why is the swipe gesture a failure? I tried the iPhone X and the swipe gesture was really smooth and intuitive. Within a minute I'd gotten used to it. The fingerprint sensor isn't coming back, don't be in denial, you know it's not coming back. Give apps time to update, the developers are working hard to get them updated, the phone's only just been released! And the irony is, if you go to Android, you're going to be waiting a lot longer for software updates due to Android's version fragmentation

I liked the swiping gestures involving the home button/bar/line/whatever, but the gestures to get the notification banner and quick launch menus is a faff and a half. Even the accessibility features don't particularly help.

I didn't have time to check those, I did find the control center a bit awkward to reach given I'm left-handed, it'd be nice to see an option to change that over to the other side. I'm sure Apple will continue to work on tweaking these gestures, especially if many people are finding them difficult to use

If you want sticker shock, try checking out that $999 American dollar price tag in other currencies ... in Australia the iPhone X starts at $A1579 for the 64GB model and tops out at $A1829 for the 256GB model. The iPhone 8+ tops out at $A1479 for the 256GB model.

I actually returned my iPhone X and went with the iPhone 8 Plus. The main reason is that I assumed that because of the largest iPhone screen it would perform the same as the Plus series in landscape mode - that is not the case. When they launch the X Plus I am ALL IN with that. I just couldn't pay top dollar for the X when the 8 Plus is more versatile in landscape mode. Believe me, it was really hard for me to return the IPhone X, but for that kind of money it has to carry all features of previous iPhone Plus series.

Sticking with the 7 plus, I did consider it as I am on the Apple Upgrade program but in the end I decided to keep what I have. The phone does what I need it to and it is still a great phone. I am still a conditioned American to new every two. Though I am enjoying my Series 3 Watch.

Great Article! Here are more good reasons to KEEP TOUCH ID. Our state law DOES NOT allow touching a phone in a car, let alone picking one up to fully divert one's eyes away to make eye contact w/a phone waiting for you to "look" at it, and more States WILL follow! Touch ID works FANTASTIC already! I get in my '15 Accord Hybrid Touring and my iPhone 7 Plus goes in the tray immediately. I DO NOT have to glance at it, I just press Touch ID & Siri comes on via BlueTooth & everything works GREAT w/my voice. We've been blessed with 4 "Newer" Hondas, all 2015 or newer, ONLY 1 has Apple CarPlay. I can even say "Hey Siri" but sometimes the code/Touch ID is necessary. So, if Face ID becomes the only option, it's a Min. $300 ticket! Plus as mentioned in the article, I too want my wife & daughters Touch IDs so they can open my iPhone. So if anything, have BOTH Touch ID in a car, and Face ID for buying lunch. ;-)

That's a very specific use-case for 1 state that holds that law, and how do you know other states will follow? I don't think these are good reasons to keep Touch ID, given CarPlay exists now. There are plenty of car models that have HomeKit, more than just Hondas

Great article. At last someone who isn't afraid to leave the 8 plus a great review. I had the iPhone X for 3 days and swapped it for the 8 plus. The screen on the X is not bigger than the plus when using. It's smaller, web content is zoomed out, the screen is also narrower and tbh I don't even notice much of a difference with the oled screen. In fact the X is as narrow as my son's iPhone 6s. I absolutely hated face id. In sunlight I couldn't access my iPhone. I don't know why this happened but it did on 4 occasions. I paid £1000 outright for the X and to me it was a bit much. For £200 less the 8 plus is my perfect iPhone. I was upgrading from a 5s. So the screen is huge to me and I love it. Another thing that I use a lot is the homescreen in landscape. You can't on the X. Nobody ever mentioned this.

Web content isn't zoomed out per se, it just adds a bit of space to the left and right hand side, but that shouldn't shrink any content on the page. The OLED display's main advantage is with contrast and dark colors. If you watch a movie where there are dark scenes, you'll certainly notice the difference, especially with the brightness cranked high, as blacks will stay black regardless of the brightness on the OLED display. I can't really comment on Face ID since I don't own an iPhone X to try it, but it's interesting someone else made the comment about sunlight. One of the reasons I'm holding out from the iPhone X is because some things will need to be tweaked to work correctly, and I imagine the next iPhone will fix the majority of the iPhone X's flaws. Not being able to use the homescreen in landscape does suck and I understand your frustration there. It's not something that would put me off buying it, but I do use my phone in landscape a lot so it would be quite annoying. It's a shame you didn't like it, but it's not for everyone. Hopefully next year's iPhone will suit you better