I tried Apple Music, Youtube Music, and Spotify and here's what I found out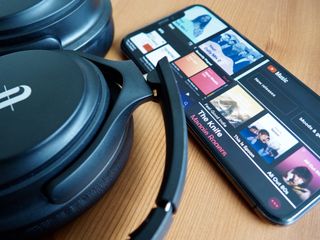 (Image credit: Luke Filipowicz / iMore)
I have been streaming music since it became available here in Canada, and for the first few years of the streaming revolution, that meant I was using Songza. We didn't have Pandora or Spotify in the early years, and Apple Music wasn't around yet. Eventually, Songza got bought out by Google and then changed into Google Play Music, which I didn't like, so I went looking for a change. While Spotify was around Canada by that point, Apple Music was just about to launch. Once Apple Music launched, I signed up and never looked back. I was happy to throw my $10 a month at Apple for streaming all the music I could, but I never even checked out the main competition, until now.
I have spent the last few months testing out Spotify and YouTube Music to finally decide which streaming service is right for me, and here's what I have found.
Music library, audio quality, and device limitations
Now, I'm not a total audiophile, but I do want my music to sound good and the good news is, regardless of which option you choose, your music will sound great. Spotify can stream up to 320 kbps via Spotify Premium's "Extreme" audio quality option, whereas both Apple Music and YouTube Music only go up to 256 kbps. Unless you are listening on some sort of high-end audio system or high-end headphones, chances are you won't be able to tell the difference in streaming quality.
When it comes to the music library, each service offers a pretty extensive catalog. Apple Music is said to have about 60 million songs. In contrast, Spotify is said to have about 50 million, and YouTube Music says it has 50 million official songs — but that's just the tip of the iceberg with YouTube Music.
Unofficial music on YouTube Music
On top of official singles and albums from record labels, YouTube Music has a ton of mashups, fan-created covers, live videos, remixes, and more, making the selection of music much larger than the official music the service boasts. Apple Music and Spotify are more or less limited to official releases from record labels or artists, whereas YouTube Music has almost every bit of Music ever uploaded to YouTube in some fashion. It does make YouTube Music standout for people who love diving into that kind of content.
It's a bit of a double edge sword though because some of that content (especially the fan-created stuff) will get taken down sometimes, so it's a bit of a gamble to rely on it; however, in the couple months, I have used YouTube Music a lot of my favorite fan-created content has stayed in place.
Lastly, when it comes to device limitations, Apple Music has the most. While there is technically an Android version of Apple Music, frankly, it's awful and not worth using — meaning you need an Apple device to enjoy Apple Music.
Spotify, on the other hand, is available for iOS, Android, some smart TVs, even gaming consoles, making it the easiest to use everywhere you could want.
YouTube Music only has an iOS and Android app, but it does have a web player, meaning you should be able to access it on any browser.
Recommendations and music discovery
A huge draw of streaming music is getting recommendations of new artists or genres to listen to, and all three services offer playlists, radio stations, and song suggestions based on your listening habits. When it comes to new music recommendations, people live and die by either Spotify or Apple Music, having better recommendations, and ultimately it comes down to personal preference.
As someone who has used Apple Music for four years, my Apple Music recommendations are spot on because the service knows what I like and what I don't. So, while I think Apple Music has perfect recommendations, both Spotify and YouTube Music are pretty good.
In the months I have used Spotify and YouTube Music, Spotify has seemed to pick up on my taste in music quicker. I felt like after about three weeks of using Spotify, the service was recommending some amazing stuff from artists and had never heard of before, and I was digging it.
YouTube Music took a bit longer and is still a little hit and miss from time to time. The YouTube Music algorithm, much like YouTube, seems to take in outside factors about what's trending or what's popular more so than Spotify and Apple Music.
That being said, all three services will eventually learn what you like and what you don't and be able to give you reliable recommendations.
App experience
I won't bury the lede on this section; Spotify wins hands down. I was blown away by how smooth the entire app experience is and every aspect seems to work flawlessly. Adding music to a playlist, setting up a queue of music to play next, and every sharing music on social media is all so simple from Spotify. It's easy to see why Spotify is so beloved by its users because the experience is just so smooth and seamless — it's hard not to love it.
As much as it pains me to say, Apple Music still has weird quirks and glitches that pop up all the time for me. It boggles my mind that Apple Music still has simple issues four years after launching the service. Adding music to the queue is annoying as hell in Apple Music, half the time when I try to add a song to the queue to play next it doesn't work. Disliking and loving music can be frustrating on iOS as well, often not registering when you try, which sucks because that's how you get Apple Music to recommend you the good stuff.
Lastly, the YouTube Music app is fine. It's not stellar in any way, but also has no glaring errors. It is the newest service and the interface has gotten better since its launch, but it still just receives a passing grade.
Pricing
Both Spotify and YouTube Music have free ad-supported versions of their service, whereas Apple Music does not, meaning if you really don't want to pay, Apple Music won't be for you. Of course, both Spotify and YouTube Music have some pretty hefty limitations on their free version, the biggest of which coming from YouTube music. If you want to use YouTube Music in the background on your phone, you need to pay for it, which kind of makes the free version useless for most people.
Spotify clocks in at $9.99 a month for a single user, which matches both Apple Music an YouTube Music, and all three services have family plans for $14.99 as well. Plus, the Spotify student play is $4.99 and includes an ad-supported tier of Hulu, which is a nice touch, and Apple Music also has a student plan for $4.99.
YouTube Music has no student plan but does offer YouTube Premium for $11.99 a month, which includes everything you get in YouTube Music, plus a bunch of perks for regular YouTube. This like YouTube Originals, add-free videos, playing videos and music in the background, and a few more features. It's pretty smart because if you're paying $9.99 for YouTube Music already, the extra $2 a month for additional perks is pretty enticing.
Final thoughts
All three services have their perks and downfalls, so it's hard to pick a winner. In the end, I have decided to stay with Apple Music, mainly because I'm pretty entrenched in the Apple ecosystem. If you're an Apple user and have a ton of Apple devices, Apple Music is likely a bit better for you. Being able to use Siri to control your music is great, and having all your playlists, music selections, and everything else synced across devices is great.
That being said, if you're brand new to streaming and looking to make the dive into service for the first time, I would recommend Spotify. The app is beautifully designed and makes everything so simple. Sharing music with your friends, creating playlists, and music discovery has never been made more simple.
Lastly, don't discount YouTube Music if you're a YouTube fan — the service is the newest and it's getting better all the time. It stands out when it comes to a variety of content because it can offer unique remixes and fan-created content you can't find anywhere else. If you already use YouTube a lot, YouTube Music will likely fit your life pretty well.
(opens in new tab)
Apple Music has incredible recommendations and offers more editorial content based on music than the other services do and it's seamlessly integrated into iOS, macOS, watchOS, and tvOS. It has a student plan for students, plus individual and family plans to fit your life and needs.
(opens in new tab)
With an incredible app experience, a huge music library, and the ability to play songs at a higher quality, Spotify checks all the boxes for casual users, music fans, and audiophiles alike. Plus, with student, individual, and family plans, and even a free ad-supported option, it's easy to modify your subscription to fit your situation.
(opens in new tab)
YouTube Music may be the newest service to the party, but its learning quickly. On top of all the official music it offers, you can also find remixes, fan-created content, and mashups you won't find anywhere else. The app experience isn't stellar, but if you use YouTube a lot already, YouTube Music offers a lot of perks.
Your experience
What's your personal experience been like with Apple Music, Spotify, and YouTube Music? Do you have a preference? Let us know in the comments below.
Sweet Music
(opens in new tab)
Millions of songs in your pocket.

Apple's music streaming service boasts over 70 million songs, live radio stations anchored by renowned personalities, and thousands of curated playlists spanning every genre you can imagine.
Get the best of iMore in in your inbox, every day!
Luke Filipowicz has been a writer at iMore, covering Apple for nearly a decade now. He writes a lot about Apple Watch and iPad but covers the iPhone and Mac as well. He often describes himself as an "Apple user on a budget" and firmly believes that great technology can be affordable if you know where to look. Luke also heads up the iMore Show — a weekly podcast focusing on Apple news, rumors, and products but likes to have some fun along the way.
Luke knows he spends more time on Twitter than he probably should, so feel free to follow him or give him a shout on social media @LukeFilipowicz.
Between the amount of YouTube I watch, and that I listen to a lot of those mash ups, covers, Nightcore etc, YouTube music is by far the best and honestly, the only option for me. That said, we're someone to ask for a suggestion I'd say Spotify first. 🤷‍♀️

Having tried all three (plus Tidal), I actually prefer Spotify most. It's easiest to use, lag free, great recommendations, and a deep catalog. YouTube Music, however, gets my money every month. Despite its quirks, the ad-free YouTube is its killer feature. I can't go back to watching ads on YouTube anymore.

Very happily browsing and listening to Apple Music direct on my Sonos speakers, here. There's a few things only show up in one of the other- I notice this when converting shared playlists from Spotify to Apple Music or vice versa.- but the playback experience is similar.

I couldn't disagree more about the UI of Spotify vs Apple's, especially when we're talking about queuing music. Spotify's ugly green and black UI is a mess. But back to queuing music because it's important for me, I'm not listening to the radio, I want control... Apple Music's "Play Next" and "Play Later" work as they should and there isn't a confusing double queue going on. There's just the one queue in AM. With Spotify, if you start playing an album or a playlist, you can play something next and insert it "next in queue", but then it goes back to "next up", which is the rest of the playlist you selected and then you can't add something to the actual end of the list of tracks you've selected. Unless you drag individual tracks in the queue manually. I find it confusing and infuriating! And people have been asking them in their forums for years to redo this function. They just need a "queue next" and get rid of the "next up". Spotify's AI for picking music you like or creating a radio station based on a track or an artist does a much better job than Apple's. Apple has a long way to go to catch up with AI, in general. Maybe the average person will enjoy the human-curated playlists, but for me, being the unique music snowflake that I am (that we all are, really), Spotify's AI is better. I find I get results that will not only give me other artists from the same scene or distinct style, but can also give me other tracks of the same VIBE. And Release Radar's new music playlist gives you new releases from artists you follow; AM's New Music playlist tries too hard to propose you unfamiliar artists, to the sacrifice of those you actually follow. Buried down at the bottom of For You is the new releases and they're always a day late. That said, AM has royally stepped up their game with playlists in the last months, tons of new theme playlists and they've been doing a great job keeping new content fresh. I'd argue they're doing more than Spotify. Along with ease of use (just as easy as Spotify to share stuff, too, btw) and a more visually appealing UI, I'm so much happier with Apple Music and have been telling people to give it another chance.

Was a long-time Google Play Music user, but have been using YouTube Music for a few years now. I have and dabble in Apple Music, but YTM is my go-to. There's an amount of inertia with any of these services due to 1) the playlists and/or library you build up, and 2) the recommendation engine, which should improve the more you use the service. So, any new service you try will be at a disadvantage. The author basically landed on AM for this reason. Beyond a short "trial" a while back, I have not used really used Spotify. But I will concur with Charles above that in my limited use, I did not really like UI. I guess the dark theme looked "cool"--before dark themes became such a thing--but otherwise it wasn't intuitive to me...maybe I was just too used to alternatives. Also, the queue issue described above potentially is a showstopper and is really annoying if you use Sonos and like to start playing a playlist, but then add to the end of the queue or "Play Next" while it's playing. I will agree that AM has a nice UI--the For You page is elegant. The app feels a little sluggish at times, though, and seems like it could use some improvements in its caching or performance when the data connection is less than great. Jumping back to YTM, another benefit not really called out above is that YouTube can access YTM playlists. If you you build a playlist using the music video versions of songs, this means that you could play the playlist via YouTube on your TV and have the music videos going. Then, in YTM, you can play the same playlist as song-only--no videos. Probably not killer feature, but cool if you like to play music through your home entertainment setup.

You might want to mention in the article that the Student plan of Apple Music also includes free Apple TV+.

Might be worth pointing out Amazon has a music service too. If you subscribe to Prime you get Amazon Music Prime with it. Reduced catalog, but iOS and Android apps as well as a web option. The do have a pay service Amazon Music Unlimited for $7.99/mo. I'm sure it works well with Echo devices if you are in to that. I can't say much about it as just use it casually for free (Prime subscriber). I use iTunes, um Apple Music, predominantly because of convenience with iPhones, Airpods, HomePods, Macs etc.

I'm a fan of Amazon Music. Gave it A shot on a three month free trial and haven't looked back since it flipped to $7.99/month. They have a deep catalog of music and great playlist options. The audio quality is solid (they have an HD audio service as well for an additional fee) and I haven't had problems streaming over WiFi or cellular. If you can get a trial, I highly recommend giving it a chance.

Agreed. I get Apple Music free through Verizon, but I still pay the $10 a month for Spotify. It's that good.
Thank you for signing up to iMore. You will receive a verification email shortly.
There was a problem. Please refresh the page and try again.