iCan ABC for iPhone hits the App Store [giveaway]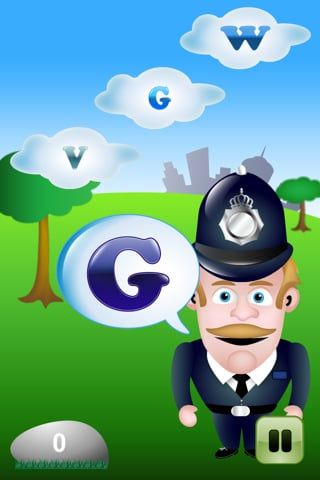 Monkeybin Studios' new alphabet learning game, iCan ABC, has hit the App Store.
Learning methods by pre-school teachers
Designed by parents
Developed by parents
Tested on pre-schoolers
Soothing music
Graphics designed for the right ages
Different gameplay for all stages of learning the alphabet
Children safe game
Professional vocals for all letters
I've spent a few minutes with this app and it is going to be a fabulous learning tool for my daughter when she's old enough. I particularly like that the "host" of the game is a Police Officer because it will help give children a positive association with cops.
The good folks at Monkeybin Studios have given us a few promo codes to give away to you, our awesome readers! For a chance to win, let us know who would benefit from you having this app - your son, daughter, niece, nephew, sibling?
iCan ABC is available for for $0.99. Screenshots after the break.
[iTunes link (opens in new tab)]
Have an app you'd love to see featured on TiPb? Email us at iosapps@tipb.com, tell us about your app (include an iTunes link), and we'll take a look.
[gallery link="file" columns="2"]
Former app and photography editor at iMore, Leanna has since moved on to other endeavors. Mother, wife, mathamagician, even though she no longer writes for iMore you can still follow her on Twitter @llofte.
My 2 1/2 year old son would love this! Of course it helps he already thinks of both of our iPhones as his.

This app would be great for my 4 year old who is entering pre-school. He already wants to send "text" messages to his daddy, and with this app he could actually send a legible message.

Both my girls (4 and 5) would love this, it would be more productive for them than Angry Birds too!

While my son isn't born yet, I'm busy hoarding any and all learning apps for him now. Never too early to start right?

My 3 year old granddaughter would love this app. I'll also use it at school with my first graders. Thanks!

Two girls. One is almost 6, and the other just turned 2. This would make them smrt. ;-)

My 2 nieces (5yrs & 8 yrs old) will benefit from it. Specially since they just started pre-school & school!!

I'm training to be a primary school teacher, so as well as my 6 year old, 4 year old and 4 month old, I hope this would be of benefit to me learning to teach phonics, and to my classes over the next 30 years!!

My daugther will is now starting to learn and is also fascinated by fun learning...can i please have a copy for her.... :)

I don't abc's yet and it's a little embarrassing, so this would help me out alot.

My 2year old would adore this app! He's obsessed with my phone and I'd like him to be learning as he's using it. Please can I have a code?

My 2 year old son loves the ipad, and would really love this.

My daughters. My oldest is 3.5, so this would be perfect for her. And in a couple of years my youngest will be ready, so double the value!

My 3 year old would love this as she practices her alphabet and spelling. Perfect for this age.

I would give to my Grand-Daughter!

My son is 20 months old and loves playing with our iPhones. This app would be great for him!

This would be great for my 2 year old (soon 3) and 4 year old.......

My two boys (aged 3 and 4) are naturals on the iPad and iPhone. It's quite something to see how quickly they navigate around the devices. I can't even explain to them that when daddy was a little boy, we didn't have phones in our cars. We didn't even have phones that we could take upstairs. They learn so much from educational apps. This app would be terrific for them.

A actually great submit by you my friend. We have bookmarked this page and will appear back following several days to examine for any new posts that you simply make.
Get the best of iMore in in your inbox, every day!
Thank you for signing up to iMore. You will receive a verification email shortly.
There was a problem. Please refresh the page and try again.