I'm excited for the Apple Watch Series 7, but nervous for its rumored redesign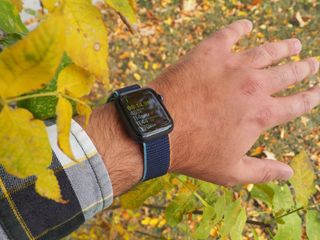 (Image credit: Luke Filipowicz / iMore)
Rumors about the Apple Watch Series 7 are sparse this year, but the suggestion of a redesign does make me nervous.
Although Apple's fall event has yet to be officially announced, all signs point to the company announcing its new products sometime in September, as we've come to expect. In addition, of course, there have been many new rumors and leaks about the iPhone 13, but there's been minimal information about the upcoming Apple Watch Series 7.
Well, our first big rumor in a while has come through for the Apple wearable. It promises a new design, and boy, am I nervous.
Apple Watch hasn't really been redesigned ever
The Apple Watch design has remained mostly stagnant over the years. The sensors on the back have changed a little bit, and there have been minor alterations in screen and chassis size, but nothing has really changed with its principle design.
I believe the Apple Watch is due for a design change to help keep the product feeling fresh, and since watchOS 8 doesn't bring a ton of new features to the Apple Watch, this year seems primed for a big Apple Watch related announcement. So why am I so nervous? The rumored flat design looks potentially problematic.
Is flatter better?
If the renders we have seen with this new flat design turn out to be true, I worry that it may make the Apple Watch even more uncomfortable to wear, especially during activities.
As much as I love my Apple Watch SE, I can't say it's always the most comfortable thing to wear. The digital crown and side button are always in the way if I need to move my wrist back for any reason. This is extremely noticeable when you're lifting weights, arguably one of the most important times to be wearing your Apple Watch, and can make resting your hand in certain positions annoyingly inconvenient.
This alleged redesign doesn't fix this. On the contrary, the square-ish design of the Apple Watch has always made your wrist contend with a flat edge that presses up against it at times, and this design looks like it may make that problem even worse.
Of course, this design could have some serious benefits. If Apple has found a way to flatten the sensors on the back of the Apple Watch — like some of the renders have been suggesting — it could be a lot more comfortable. By sitting more flush with your wrist, the Apple Watch Series 7 would likely lower the device's height when you strap it on. This would help eliminate some of the uncomfortableness you can experience when bending your wrist back while wearing an Apple Watch.
I'm torn on this rumored changed
Here's the thing: I know renders are imperfect and may not even be based on much reality, so all of this needs to be taken with a healthy dose of sodium chloride. However, this proposed redesign seems like it could be a mixed bag of good changes and maybe some not-so-good changes. That's why I'm nervous.
I would argue that the redesign Apple should pursue turns the Apple Watch circular, but I know that's almost an impossibility at this point.
At the end of the day, we won't really know what a redesigned Apple Watch will feel like on our wrists until we can try it ourselves. Who knows. Maybe it will be the best Apple Watch design ever?
Luke Filipowicz has been a writer at iMore, covering Apple for nearly a decade now. He writes a lot about Apple Watch and iPad but covers the iPhone and Mac as well. He often describes himself as an "Apple user on a budget" and firmly believes that great technology can be affordable if you know where to look. Luke also heads up the iMore Show — a weekly podcast focusing on Apple news, rumors, and products but likes to have some fun along the way.
Luke knows he spends more time on Twitter than he probably should, so feel free to follow him or give him a shout on social media @LukeFilipowicz.
Half way through the article, I realized that you're wearing the watch the "standard" way. You should try flipping it around so the crown is facing up your arm, and make the adjustment to the settings that flips the screen for that orientation. Rumor has it that this is how the watch was actually, originally designed but it didn't look enough like a watch that way - so the option was kept and the default was changed. Every person I've ever told about this has permanently changed it, especially if they're at the gym.

You can flip it, for sure, but I feel like that causes other problems like my shirts getting caught up on the Digital Crown, and useability issues. I'm stubborn and old I guess. haha. Once again, I am aware these are very minor issues, I'm just curious if this flatter design will actually solve the nagging things.

This so called new design is just a rumor. Nothing confirmed by Apple of course. I would like a thinner Apple Watch, but not necessarily one with the rumored design. I think someone in the rumor community is trying to make paper stick to the wall.

In all honesty, this is the first time that I hear someone complaining about the crown etc getting in the way and making the watch feel uncomfortable (I have an Apple and a fancy expensive mechanical watch which I love, but which is way more uncomfortable to wear) . But then I looked at the picture in the article again and found that your'e wearing it almost over your wrist, covering this bone that stands out a little (I'm not an anatomist, therefore no clue how to properly call this thing). I carry it slightly higher on my arm, right behind this d..n bone. Maybe not as cool looking, but absolutely not getting in the way in the gym or during any other activities.
My advise would be to buy one of these endless braided loops - they are flexible enough so you can push it over your wrist for cool looks and pull it up slightly for exercising.
However, if you want to look as cool as possible in the gym, I do not have a solution ;-)
I'm looking forward to a flat design - if it turns out to be real.
Thank you for signing up to iMore. You will receive a verification email shortly.
There was a problem. Please refresh the page and try again.