iMore Show 774: That's a Wrap!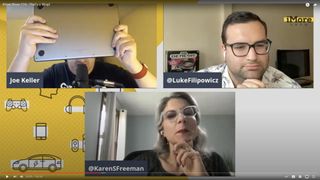 (Image credit: iMore)
This week on the iMore Show, we give our impressions of Apple's most recent devices, tackle some polishing cloth drama, and dive into the company's latest financial results.
Listen now
Watch now
Links
Sponsors
Capital One: Machine learning at Capital One. Capital One. What's in your wallet?
Hosts
Be part of the show!
Send in your comments, questions, feedback, or follow-up to:
Get the best of iMore in your inbox, every day!
Jim Metzendorf has been using Macs since 1994. He is a podcaster, freelance audio/video editor, and author of 'The Professional's Guide to Audio Podcast Production'. Jim also teaches audio production at a college in Cleveland, Ohio. Follow him on Twitter: @jmetzendorf