iMore Show 800: What's the deal with the new M2 MacBook Pro?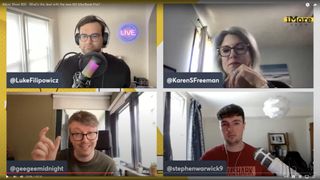 (Image credit: iMore)
This week, Stephen, Karen, and Luke welcome iMore's new Editor-in-Chief, Gerald Lynch, on the show to talk about the new M2 MacBook Pro. Plus, Captain America is finally getting rid of his iPhone 6S.
Listen now
Watch now
Links
Sponsors
Capital One: Machine learning at Capital One. Capital One. What's in your wallet?
Hosts
Be part of the show!
Send in your comments, questions, feedback, or follow-up to:
Get the best of iMore in your inbox, every day!
Jim Metzendorf has been using Macs since 1994. He is a podcaster, freelance audio/video editor, and author of 'The Professional's Guide to Audio Podcast Production'. Jim also teaches audio production at a college in Cleveland, Ohio. Follow him on Twitter: @jmetzendorf
Hey guys. Can you please stop elevating the physical cosmetic looks of the device to be in the same plane as its processor, battery life, disk capacity, speed. The new 13 inch MBP is about 10-20 % faster single core speeds than the one it replaces. it can be outfitted to 24 GB RAM. It ostensibly keeps the same battery life (to some degree, this remains to be seen). Who is it for? People like me, who have a Mac Studio with M1 Ultra, and a MBP 16 inch M1 Max, AND 1 3 inch m1 for writing code when I'm watching TV. It is fast enough to run Xcode and build stuff, and the battery doesn't immediately drain to zero (unlike the Intel models) when you do this. Why would I not buy an Air, no matter what 'design improvements' it had? Because it's fanless! There's no way this does not exact a toll on performance, in the service of being quiet and appliance-like (ugh). Like, _priorities_, OK? You focus on the ephemeral stuff (looks, fashion) and ignore the stuff that matters (battery life, compile speed, ability to run large projects). I couldn't care less whether the 13 inch model has or doesn't have a Touch Bar. I couldn't care less what colors it comes in. I care very little what the screen bezels look like. I care a very great deal about it's ability to drive multiple 4K monitors, and do Xcode builds, and still have good battery life. I know that my priorities are not the same as many consumers, nor that of iMore (or MacWorld, or 9to5Mac, or....or....) technical editors (i.e. writers), but you know we (developers) are the ones who _make_ the software that runs on your Mac, and while there are a lot more consumers than developers, there's also a lot more developers than tech writers. And our needs are legitimate. So that's the answer to the question you posed, 'who is this thing for'. I am a little unsure why this is not obvious. Better processor, more RAM, parity otherwise. They had me at 'more RAM'.