Instant Pot Aura vs Instant Pot Duo: Which should you buy?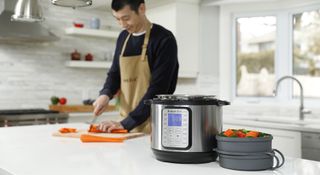 (Image credit: Instant Pot)
(opens in new tab)
9-in-1 wonder

This recent model from Instant Pot will save you some serious cupboard and counter space. It replaces your pressure cooker, slow cooker, rice cooker, yogurt maker, egg cooker, saute, steamer, warmer, sterilizer and can be used to bake cakes. It boasts 15 microprocessor controlled programs, so you can literally just press a button and rest assured your food will be cooked to perfection. This updated model adds cake, egg, and sterilize programs. 10 safety mechanisms offer peace of mind for those nervous about pressure cooking.
For
Microprocessor technology
9-in-1 functionality
Large capacity
15 useful programs
Nice LCD display
Against
No sous vide functionality
Bulky in size
(opens in new tab)
Sous vide superhero

The high-end Aura Pro gives you 11 smart programs. So, you can use this slow cooker to sear/saute, bake, slow cook, steam, stew, sous vide, roast, make yogurt, cook rice and multigrains and keep food warm. The advanced microprocessor technology finely controls the time and temperature for consistent and correct cooking results. While it doesn't have the pressure cooking abilities of the Duo, it can sous vide. Plus, it has a glass lid so you can check your food as it cooks without removing the top.
For
Microprocessor technology
Sous vide functionality
Large capacity
11 useful programs
Glass lid
Against
More expensive
Not a pressure cooker
Bulky in size
The creation of Chinese Canadian Robert Wang back in 2010, Instant Pot has become Amazon's number one selling brand. If you're interested in getting into the crockpot way of cooking or looking to upgrade your existing cooker, then Instant Pot's Duo and Aura models are well worth considering. We're taking a look at the larger "Plus" and "Pro" 8-quart models that offer some pretty nifty culinary tricks and the capacity to feed a family.
The Instant Pot is a great buy all year long, but it is also a very popular sale item on Black Friday. Check out this year's Instant Pot Black Friday deals going on now!
Button up
For ease of use and hopefully decent results, Instant Pot users swear by the pre-programmed settings that mean that you can press a button to either activate a cooking mode. So for the Aura that's sear/saute, bake, slow cook, steam, stew, sous vide, roast, make yogurt, cook rice and multigrains or for the Duo to pressure cook food types like rice, beans/chili, meat/stew, multigrains, porridge, soup, egg, steam, egg, sterilize or bake a cake. On the non-pressure cooking side of things, the Duo also gets saute, slow cooking and yogurt making.
Unique selling points
When it comes to the Instant Pot aura vs Instant Pot Duo, each has its unique selling point that the other doesn't have. The Aura comes with a sous vide cooking setting which means once you pop in your vacuum-packed food items, it creates and maintains an even and accurately controlled cooking water-bath. This used to be something home cooks could only dream of doing in their own kitchen. The Duo's USP is its pressure cooking functionality. Busy cooks rave about how fast pressure cooking is, even with food that's frozen. So having a speedy way to rustle up dinner will really appeal to many.
| | Instant Pot Duo Plus 80 | Instant Pot Aura Pro |
| --- | --- | --- |
| Capacity | 8 quart | 8 quart |
| Keep warm | Yes | Yes |
| Programs | 15 | 11 |
| Finish | Stainless steel | Aluminium |
| Dishwasher safe pot | Yes | Yes |
| Display | Blue LCD | Black LCD |
| Wattage | 1200 | 1500 |
| Dimensions | 14.8 × 13.5 × 14.5 inches | 16.8 x 11.6 x 11.3 inches |
Food moister cult
Neither of these cookers is small and will take up a bit of space on your counter. But if you consider how many other kitchen gadgets they replace, we believe they justify their footprint. Both have decent capacities, are simple to operate, and reasonably easy to clean. The fab thing about Instant Pots is that there are thousands of free recipes online to give you ideas and inspiration. The Instant Pot Community page on Facebook alone has nearly two million followers. You could do a lot worse than to join up to this cooking cult with a Duo or an Aura.
However, as sous vide cookery is a more niche way of getting food onto the table, the Duo would be the more logical choice of the two options. The Duo's pressure cooking capabilities and 15 custom programs will be a lot more useful daily then being able to vacuum cook salmon.
Get Plus
(opens in new tab)
You'll want to duet with the Duo

If you want the ability to pressure cook for fast, flavorful meals, opting for the Duo over the Aura is a no-brainer. It's a very capable multicooker that, thanks to its 15 microprocessor controlled programs, means near-guaranteed results for kitchen success stories.
Go Pro
(opens in new tab)
This cooker's aura is awesome

The Aura Pro is a great tool that you'll find yourself turning to again and again. If pressure cooking isn't essential to you, the useful abilities to monitor your food through the glass lid and take the cooking pot from kitchen to table (and then straight in the dishwasher) might sway you towards this option.
Amy-Mae has been writing about consumer technology since before the iPhone was even a twinkle in Steve Jobs' eye. She started out in magazine publishing with the UK lads' mag 'Boy's Toys' then moved online with startup Pocket-lint.com as the first full-time member of staff, helping grow the site to one of the UK's largest gadget sites. Amy-Mae then moved to Mashable when it only had a staff of around 10 people. After working her way up to a senior role there, Amy-Mae left in 2014 to have her daughter. Since then Amy-Mae has continued to contribute to Mashable and The Daily Dot, keeping up-to-date with the latest consumer technology and social media trends. For iMore.com, Amy-Mae gets to her explore her love of home cooking, concentrating on all things kitchen tech.
Get the best of iMore in in your inbox, every day!
Thank you for signing up to iMore. You will receive a verification email shortly.
There was a problem. Please refresh the page and try again.