iPad 2 AirPlay mirroring walkthrough [video]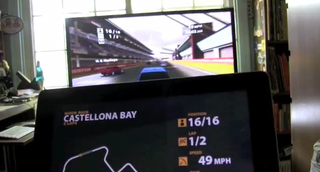 One of the most exciting features of iOS 5 is the ability to mirror the iPad 2 screen on a high definition TV via an Apple TV. When it is enabled, you can see everything that you see on your iPad 2 on the TV, including videos, games, documents etc, all in real time.
Apple 'n' Apps has put together an excellent video walkthrough showing how it all works. The video demonstrates the speed at which the data is transferred between the iPad 2 and the Apple TV. It is very very impressive.
Gaming on the iPad 2 will gain a huge boost with the release of iOS 5 and AirPlay mirroring. It will no doubt enable new innovative ways to play games on your TV and iPad 2, at the same time! Take a look at the video after the break. Let us know what you think in the comments!
[Apple'n'Apps]
UK editor at iMore, mobile technology lover and air conditioning design engineer.
Good use of monotone throughout the video, even when you were apparently excited.

This is amazing. I view the apple tv as an accessory at this point. Wireless hdmi. I suspect the iphone 5 will be capable of this as well. Guess i'll be getting apple tv's for the family.

http://www.splashtop.com/remote

It's called Splashtop Remote Desktop http://itunes.apple.com/us/app/splashtop-remote-desktop/id382509315?mt=8
It's on sale for father's day, $1.99 (original price 9.99)

This is pretty neat. I was one of the people who thought playing Real Racing tethered to the TV was ridiculously silly. But this is a much smoother and more seamless experience.
There was a perceptible lag between the display on the iPad and the display on the television. Slight as it may be, even a 40 millisecond lag between user input and rendering can be annoying when playing certain games. I can't help but wonder how much of that delay was caused by airplay, his wifi network or his television.
If the iPhone 5 supports Airplay mirroring, I would consider picking up an Apple TV for this.

I'm wondering if anyone knows how it works with Keynote. That is an instance where I wouldn't necessarily want to 'mirror' but would like to send the presentation screen through AirPlay. Thanks.

i've been trying this over the weekend, and it's really good. But still lots of glitches. Video playback is laggy, and also there's a clear inconsistence when in Mirror mode vs normal airplay. For example, if in Mirror mode, and there's an youtube video on a page, and you maximize it, the video goes full screen on the TV (16:9),and disappears from the ipad screen, which is smart, and this is because I guess safari is already prepared and ios5 compatible (duh). but for instance, using IMDB app, when in mirror mode, if you maximize the video, it will fill the ipad's screen and the TV (in letterbox, with the ipad's aspect ratio), which is terrible.
Also, if you go out of mirror mode, and then try to airplay the video normaly, it stops doing it, only airplaying the audio etc. I've encountered lots of more glitches, but overall, for beta version 1 (both apple TV, and the iPad) it's super neat.
Mind you, i bought an apple tv this weekend after seeing the video above.

i take it this will only work with the new apple tv?

I do not even know the way I finished up right here, but I thought this publish was once great. I do not recognize who you are but certainly you're going to a well-known blogger if you are not already. Cheers!
Thank you for signing up to iMore. You will receive a verification email shortly.
There was a problem. Please refresh the page and try again.