This new iPad accessory may finally make me take the plunge and buy Apple's tablet
The Astropad Rock Paper Pencil is an artist's dream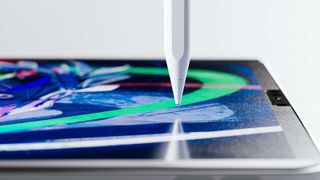 (Image credit: Astropad / Apple)
Astropad has an impressive backlog of accessories for the iPad. There are products that Aim to make the tablet experience more efficient or just a little easier to see — but I've never been drawn to anything like I have the firm's latest invention, the Rock Paper Pencil.
Though I'm a big fan of Apple, I've never seen the draw of an iPad. I have a MacBook Air which is light enough to carry around with me in a bag or backpack, and I have no problem getting lost in my phone on various apps, so the iPad always felt lost somewhere in between. Until now.
A smoother feel
The Rock Paper Pencil is two things in one, designed to make drawing feel much more natural on the iPad. It comes with a screen protector that magnetically snaps into place and has a matte finish to mimic the feel of paper. If you prefer the feeling of the traditional glass screen when not drawing, however, it's magnetic so you can pop it off when you're done. It also means you can put another screen protector underneath — double win.
There are also two tips to put on your Apple pencil in the box that act like a ballpoint pen. This allows for much more precise control when drawing or writing, and they can be taken off and put back on in an instant. The magnetic protector and the pen tip combine to apply that friction and feel you expect when drawing on paper or a canvas.
I've tested out drawing on tablets before and always run into the problem of it not feeling real. Though those with more patience and skill than me will persevere until they're used to it, I've never gotten over the hump. This is what makes the Rock Paper pencil so intriguing to me; I'm not a fantastic artist, but seeing this product gave me the itch to pick up a pen and paper again.
More importantly, however, it's given me the opportunity to rethink having another go with iPad. Making the device feel as close as possible to actually writing on paper is an attractive concept. When you pair that with the host of creative tools available to you with Apple's line of tablets — this has given me a reason to go back.
As of right now, it works with the 12.9" iPad Pro, 11" iPad Pro, and iPad Air but we hope there will be compatible products for the iPad mini 7 and Apple Pencil 3 when they eventually arrive.
With a launch discount of $8.01, you can pick up the entire Rock Paper Pencil set for just $31.99 right now in the Astropad shop.
Master your iPhone in minutes
iMore offers spot-on advice and guidance from our team of experts, with decades of Apple device experience to lean on. Learn more with iMore!
James is a staff writer and general Jack of all trades at iMore. With news, features, reviews, and guides under his belt, he has always liked Apple for its unique branding and distinctive style. Originally buying a Macbook for music and video production, he has since gone on to join the Apple ecosystem with as many devices as he can fit on his person.
With a degree in Law and Media and being a little too young to move onto the next step of his law career, James started writing from his bedroom about games, movies, tech, and anything else he could think of. Within months, this turned into a fully-fledged career as a freelance journalist. Before joining iMore, he was a staff writer at Gfinity and saw himself published at sites like TechRadar, NME, and Eurogamer.
As his extensive portfolio implies, James was predominantly a games journalist before joining iMore and brings with him a unique perspective on Apple itself. When not working, he is trying to catch up with the movies and albums of the year, as well as finally finishing the Yakuza series. If you like Midwest emo music or pretentious indie games that will make you cry, he'll talk your ear off.