iPhone replacement screen not working after iOS 11.3? Here's the fix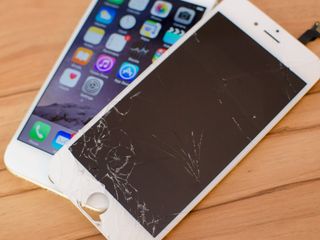 (Image credit: iMore)
Recently, we've seen reports of iPhone 8 and 8 Plus owners who've upgraded to iOS 11.3, only to find their display stuck on the Home screen, unable to interact or navigate further. Why? These users previously either performed a DIY repair or had a third-party repair company (non-Apple Store or authorized retailers) perform a screen repair; unfortunately, certain non-genuine third-party screen components were made incompatible with the iPhone as of 11.3.
If you've run into this problem, don't panic: There's an update out (iOS 11.3.1) that should restore compatibility. Additionally, most repair shops have since updated their screen component sourcing with displays that are compatible with iOS 11.3, and any reputable shop (including us at iFixYouri) should provide a free display swap under the original repair warranty. Here's what you need to know.
Why did the screens stop working in the first place?
While Apple no longer voids iPhone warranties when you attempt a DIY screen repair or get a screen repair done by a third-party shop, the company also doesn't go out of its way to supply the same top-tier parts that go to its authorized repair shops and Apple Stores. As such, third-party shops rely on parts that have been independently verified to work with various iPhone models.
Note: Apple only maintains your iPhone warranty if you've repaired the screen and screen only — replacing other parts by yourself or at an unauthorized repair shop can still void it.
When Apple updates its software, however, there's a small chance that previously-functional parts can stop being recognized by the operating system as legitimate; like a bad blood transfusion or organ replacement, iOS ceases working with that part.
This isn't the first time we've seen issues with non-functional third-party replacement parts: In 2016, Apple faced a class-action lawsuit when iOS 9.2.1 disabled Touch ID on iPhones repaired by third-party companies. The court ended up dismissing the lawsuit, and Apple released an update to iOS 9 that restored the functionality of those iPhone models (and reimbursed any customers who had paid an out-of-warranty fee to get the part fixed).
One note: While we saw reports early on that the iPhone 6 Plus's "touch disease" — wherein the touch response of the iPhone 6 Plus screen became unresponsive or unpredictable, and was often accompanied by a white bar across the top of the display — was also caused by bad parts in third-party shops, this isn't true: The issue stemmed from an Apple hardware design flaw.
Could this be an intentional plan by Apple to thwart third-party repair companies, and force users to pay higher prices at authorized repair centers or Apple Stores? While that makes for a nice narrative, the more likely answer is that of security: Apple is (rightfully) concerned about potential hardware exploits, and in closing certain doors to potential hackers, repair companies can get accidentally shut out, too. Additionally, Apple recently issued a patch in iOS 11.3.1 that should fix non-communicative displays.
Here are the different replacement displays you can get from a screen repair
Third-party shops can use replacement parts of varying quality: When choosing a repair shop, always look for companies that source high-quality replacement parts and provide warranties on their replacement screens. There are a few different types of replacement screens available to consumers:
Brand New Original: These are the screens Apple installs on brand-new out-of-the-box iPhone models. These parts are only available to Apple Stores and authorized Apple repair shops.
Refurbished: A broken iPhone screen with a functional LCD display can be recycled into a refurbished display — these are Brand New Original parts which have been fitted with replacement glass. This type of screen is the highest-possible quality replacement you can get from a third-party shop or retailer.
Third-Party Assembled: While you'll receive the same LCD screen as a Brand New Original model, other display components are not authentic. These screens are fairly high-quality, but you can occasionally spot differences in brightness or color since the display's backlight isn't an original part. These are common in some third-party repair shops and often come with a discounted price.
Third-Party Manufactured: All the display's components (LCD screen, flex cable, backlight, and front glass) are inauthentic parts. These are the cheapest, lowest quality options available when considering a repair.
What can I do if my iPhone display stopped working after iOS 11.3?
If you've run into this issue or you're worried about getting a future screen repair, the good news is you have two options: You can update your software to iOS 11.3.1 to restore functionality, or reach out to a reputable third-party repair shops (who should have updated their component sourcing to use iOS 11.3-compatible replacement screens).
How to update your iPhone to iOS 11.3.1
Those whose iPhone has stopped working should reach out to the third-party repair shop (or, if you DIYed your repair, your parts supplier); any reputable shop should provide you a replacement repair or part free of charge to update your iPhone to a compatible display.
Christopher Johncke, our CEO at iFixYouri, adds:
There's also a chance that Apple may release a software update in the coming weeks to fix this component issue: We've reached out to Apple for comment, but haven't heard anything back as of publication.
In the meantime, if you're considering a screen replacement and don't want to stress about components becoming inoperable, iMore's repair partner iFixYouri offers a high-quality, iOS 11.3-compatible independent screen repair: This includes a one-year warranty on the screen that covers all but accidental damage.
Other questions about third-party parts?
Let us know below.
Master your iPhone in minutes
iMore offers spot-on advice and guidance from our team of experts, with decades of Apple device experience to lean on. Learn more with iMore!
Chris is the founder of iFixYouri, a repair company specializing in smartphones, tablets, computers, and all things electronic. They repair thousands of smart devices on-location in Palm Beach County, Boston and the greater Orlando area each month. The iFixYouri warehouse space is a state-of-the-art repair depot for our corporate and website customers. In addition, iFixYouri now also provides electronics recycling, device buy-back, refurbished device sales, and smart home setup.