iPhone at work: Creative carpentry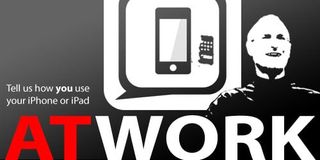 How does a self-employed, creative carpenter use his iPhone to get the job done and what iPhone apps help get him through her day? TiPb's iPhone at work contest aims to bring you just such slices of the iPhone life. Here's Farmdread's answer and as a small token of thanks we're sending him a $20 iTunes gift certificate. If you want to see your name up on the TiPb home page and get a gift certificate all your own, head on over to the TiPb iPhone Forum and share your story now!
I'm a self-employed general contractor specializing in creative carpentry (oh, and I also build giant puppets.) Here's my story:
My work day starts when I get up, and that starts with my iPhone. The Clock alarm is set to a peaceful tone that doesn't annoy my wife (she got sick of "marimba" real quick so currently it's set to "strum." We'll see how long that lasts.)
From here I check TiPb and my Mail in bed as I wake up. Hopefully there aren't any emails from a client that said that their house burned down last night due to something I did. I would expect that in a text, not an email. As I make my morning elixir - coffee - I check my Calendar to see what is on my schedule. Ah, today I am building a fence out of old reclaimed doors and windows.
I jump in my dilapidated truck (needed a new truck, got an iPad instead), record my starting miles using Trip Cubby and find my route using Google Maps. On the way I plug in my iTrip to listen to Pandora (I swear, I don't have a Michael Buble channel) while using my bluetooth headset to call the lumber store to order the framing materials. When I get to the lumber store, I realize that the coffee hasn't totally kicked in (did I even remember to put the espresso in my mocha?) and I need to use Convertbot and Calculator to figure out how many 4x4's and 2x4's I need. Simple math but it's just too early to strain my brain.
As I get set up at the job site, I plug my iPhone into my Ridgid job site radio which conveniently has a 30-pin dock for Apple products. More Pandora ensues (what can I say, Buble is my muse) as I create a masterpiece of wood and glass. Now the end of the work day is near. I open Notes to list the materials needed for tomorrow (easier than trying to remember in the morning.) Then I check the weather using Accuweather to see if I'll need rain gear tomorrow (it is Oregon after all) and I squeeze in a few levels of Angry Birds, check TiPb again for the latest Apple news, and check my Facebook while the homeowner isn't looking. Before leaving, I snap a few photos of my work for my portfolio using the Camera. Driving home I listen to my iPod app for a change of pace (More Buble, different album). As I pull up to my house, I record my ending mileage using Trip Cubby and set my Clock alarm for tomorrow to start it all over again.
The iPhone has become my most important tool. If only it has a "hammer" feature then it would be just about all I would need. I have found that by pluging it into my Ridgid radio I have a full charge throughout the day. That way when I go to lunch I can hit the internet, play TowerMadness and frequently check TiPb (shameless plug but true!)
Are you a carpenter or craftsperson? How do you use your iPhone to get you through the day? What apps get your job done?
Get more iMore in your inbox!
Our news, reviews, opinions, and easy to follow guides can turn any iPhone owner into an Apple aficionado
Your source for all things Apple