How to stop accidentally calling 911 and emergency contacts on iPhone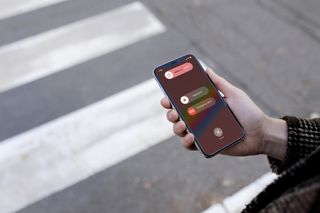 (Image credit: iMore)
Since I got my iPhone X, about once a week I accidentally call, or "butt dial," my significant other, who is my designated emergency contact on iPhone. It's become an issue.
When my phone is in my pocket, I tend to hold it like a gadget security blanket, and I sometimes end up squeezing the side buttons. This was never a problem until I got the iPhone X, which has some new features tied to those side buttons. More specifically, if you press and hold both the power button and a volume button for a few seconds, your phone will call 911 and/or your designated emergency contacts.
I finally took the time to figure out what the hell was going on, and it turned out to be a simple fix. My issue was with the iPhone X and iOS 11 Emergency SOS Auto Call feature. We wrote all about iOS 11's Emergency SOS features last fall. And we even detailed how to disable Auto Call if it became an issue. But until I did some digging, I didn't realize that feature was causing my problem.
So if you, like me, keep accidentally butt-dialing your iPhone's emergency contacts, you can quickly put a stop to that by turning off that Auto Call feature.
How to disable iOS 11 Emergency SOS Auto Call
Just follow these easy steps:
Open your iPhone Settings.
Scroll down and tap Emergency SOS.
Toggle the Auto Call switch to the off position. Gray means off.
That's it. You can still hold the power button and a volume key to trigger Emergency SOS, but unless you move the on-screen slider from left to right, you won't accidentally call anyone.
Read more about Emergency SOS at the link below.
How to set up and use Emergency SOS on your iPhone in iOS 11
Get the best of iMore in in your inbox, every day!
Al Sacco is content director of Future PLC's Mobile Technology Vertical, which includes AndroidCentral.com, iMore.com and WindowsCentral.com. He is a veteran reporter, writer, reviewer and editor who has professionally covered and evaluated IT and mobile technology, and countless associated gadgets and accessories, for more than a decade. You can keep up with Al on Twitter and Instagram.
If the first thing you say on this article is "Since I got my iPhone X, about once a week I accidentally call" then at least have the feature pic be of an actual iPhone X!!!

The story is about Emergency SOS ... that's a picture of Emergency SOS ...

that's your issue with this? I am sure if Jobs were still around, he's simply say, "you're holding it wrong". I have this same issue as well, but turning off an emergency feature doesn't seem like the best solution.

Or, you could have your $1,000 phone in a $15 case. Buttons aren't accidentally hit that way and it won't shatter when you drop it.

" I tend to hold it like a gadget security blanket" - sorry, but that's your first issue to solve.
Thank you for signing up to iMore. You will receive a verification email shortly.
There was a problem. Please refresh the page and try again.