UPDATE: Wi-Fi routers caused disruption of early LG UltraFine 5K displays when placed in close proximity. LG has since fixed the issue and current models should be fine.
When Apple debuted the latest generation MacBook Pro back in October, 2016, they debuted a new 27-inch 5K display along with it. It wasn't just high-density "Retina" quality either, it was wide color, able to show the same DCI-P3 gamut that digital cinema uses. It was everything everyone waiting on a new Mac display had been waiting for. Except for one thing — it was LG designed and branded, not Apple.
That's not to say Apple didn't have a lot to do with the engineering — everything that makes it work so well with a MacBook Pro using just one Thunderbolt 3 cable. But the outside, what we look at, is nothing like Apple.
There are also compromises here. That gorgeous image and convenient charging all in one cable comes at a price — there's precious little bandwidth left for other ports and peripherals.
So, is the display good enough that we shouldn't judge it by its branding, or are the lack of design and expandability deal-breakers? Let's take a look!
I didn't get a review unit for the LG UltraFine 5K display. Instead, I ordered two of them the moment they became available. I wanted two so that, initially, I could test the double display set up on my 15-inch MacBook Pro 2016 review unit. Long term, though, I'm looking to simplify my computing experience. So, instead of a MacBook or MacBook Pro to travel with and an iMac in my studio, I want to go with a single new MacBook Pro that I plug into an LG UltraFine 5K display on the standing desk in my studio and, for off-hours, into the second display at the standing desk in my living room.
Over the last week I've tested both setups, the latter with both the 13-inch MacBook Pro 2016 with traditional function key row (MacBook "Escape") and the 13-inch MacBook Pro 2016 with Touch Bar and Touch ID. I made sure I attached everything I needed, including USB cameras, microphones, and drives, and Ethernet networking. I also tested it on the 13-inch MacBook Pro 2014, which can only drive it at 4K.
Yes, all with the requisite replacement cables or dongles.
A 5K external display for MacBook Pro.
DCI-P3 wide color gamut.
Single cable for display and charge.
USB-C expansion ports.
An Apple-designed external display
Ultra-wide aspect ratio.
Larger than 27-inch display.
Legacy Ports.
In brief
The LG UltraFine 5K display is a gorgeous, high density, wide gamut panel enclosed in a somewhat drab, utilitarian case. It can transit 5K at 60 Hz and power all over a single Thunderbolt cable but that leaves only three 5 Gbps USB-C ports for peripherals. In other words, this is not the display Apple aficionados have been waiting for. It's a compromise. Technical limitations means there's not much we can do about the lack of ports but wait for future chipsets. The design, however, was entirely avoidable. It's simply not up to Apple standards.
It does offer a few features Apple wouldn't have, including a stand that can be raised or lowered vertically, not just tilted to adjust angle. LG also includes a VESA mount in the box. Kudos on that. But the stand does not feel as solid as the old Thunderbolt one, nor the tilting mechanism as smooth. It also doesn't match the finish on Apple's current Retina displays.
For those who dislike or simply don't care about Apple's sensibilities, all of the above might be seen as a positive. Most Apple customers, though, do care.
I bought the LG UltraFine 5K display because there simply is no other option from Apple. If there had been, though, I would have bought it in a heartbeat.
LG UlraFine 5K Unboxing
The LG 5K box is thicker than the tapered box Apple uses for the iMac with 5K Retina display. It's more like the boxes LG uses for their television sets, which makes total sense. But it also made for some annoyance.
Opening it up, I found a lot of loose styrofoam, which was annoying because it got everywhere and I had to break out the vacuum cleaner to fully Ghostbuster it back to the hell from which it came.
The display was also covered in what looked like 1960s science fair inspired silver wrapping. It slipped off with only slightly more effort than Apple's typical translucent wrapper. Horrifyingly, to reveal a sticker on the top right corner of the display itself. It was an EnergyStar certification sticker and it came off easily enough. I appreciate the sentiment but, seriously, putting a sticker on a display? Don't. Just. Don't.
Also included in the box was a manual and a VESA mount. That's a great addition by LG, notably because it was something you had to pick exclusively, and prior to purchase, from Apple. There's also a power cable for the display and a Thunderbolt 3 cable for connecting to your MacBook Pro.
All in all, it wasn't an Apple unboxing experience but it was easy enough to unpack and set up.
LG UltraFine 5K Compatibility
Apple announced the LG UltraFine 5K alongside the new, 2016 MacBook Pro, and that's really what it's designed for. Using the 13-inch MacBook Pro 2016, you can drive one 27-inch LG UltraFine display at its full 5K resolution at 60 Hz. Using the 15-inch, you can drive one on each side for a total of two.
You can also use it with an older MacBook Pro but with a few of caveats:
You can only drive it at 4K, not the full 5K.
You only get sRGB color space, not DCI-P3.
You need a Thunderbolt 3 to Thunderbolt 2 adapter and a Thunderbolt 2 cable for the connection.
You won't get a charge from that cable, so you'll need to plug in power separately.
I tested with that set up using my old 13-inch MacBook Pro 2014 and it worked fine and looked great. It just wasn't as clean or as dense as using it with the new MacBook Pro 2016.
Here's Apple official compatibility list:
5120 x 2880 @ 60Hz
MacBook Pro (15-inch, 2016)
MacBook Pro (13-inch, 2016, Four Thunderbolt 3 Ports)
MacBook Pro (13-inch, 2016, Two Thunderbolt 3 Ports)
3840 x 2160 @ 60Hz
Mac Pro (Late 2013)*
MacBook Pro (Retina, 15-inch, Mid 2014) and later
MacBook Pro (Retina, 13-inch, Mid 2014) and later
iMac (Retina, 27-inch, Late 2014) and later
iMac (Retina, 21.5-inch, Late 2015)
iMac (21.5-inch, Late 2015)
MacBook Air (13-inch, Early 2015)
MacBook Air (11-inch, Early 2015)
3200 x 1800 @ 60Hz
That asterisk is Apple recommending you not use the LG display as the primary display on a Mac mini or Mac Pro, since it may not light up until after you boot, rendering pre-boot options unusable. Sadness.
Ultimately, it's only worth driving the LG UltraFine 5K off an older Mac if you plan on updating to a new, Thunderbolt 3 Mac fairly soon. Otherwise there are a lot of good alternative displays out there.
LG UltraFine 5K Design
The LG 5K UltraFine Display in many ways is the next-generation Apple Retina 5K Display. Apple worked extensively with LG on the product engineering in order to make sure it "just worked" when you plugged it in. The design, though, is pure LG.
And it's not great. It's bland and boxy and looks like any of dozens of the other displays crapped onto Best Buy shelves every year. What's especially galling is that LG is capable of much better design than this. Some of their 4K OLED televisions are gorgeous. Not Apple at all, but still incredibly attractive.
That Apple didn't fight for a better design is bedeviling. That LG didn't have enough pride to do it anyway, shameful. Yes, it would have cost more, but Mac displays are a premium product and great design is something people are willing to pay a premium for. Especially when Apple announces it on stage. Leave bland and boxy for the discount displays that inevitably follow along later.
It probably all came down to a business decision on the part of Apple not to design their own display and LG not to better design this display. And that's too bad. The display is the interface to the computer. It's what most of us look at and allowing that critical relationship to fall under LG's flag, and such a utilitarian flag at that, is risky. Halo effects take years of investment in full ranges of products to build. Horn effects take only a few critical missteps to lose.
Of course, some people won't care. Once the display lights up, the big black bezels disappear into the background and all you see is the image on the screens.
It's not all you'll feel, though. The stand does raise and lower, which is something Apple's Thunderbolt displays never did. But the hinge for the tilt just isn't as smooth as Apple's. Likewise, while the stand is satisfyingly heavy, the structure isn't as solid or rigid as Apples.
There's a reason Apple uses bead-blasted aluminum unibodies and glass, after all. And LG didn't use either. They used black plastic and you can both see and feel the difference.
It's not a deal-breaker for me, obviously, but if there had been an Apple alternative, I'd have bought it instead without a moment's hesitation.
LG UltraFine 5K Display
Rumor has it the LG UltraFine 5K display uses the same if not a very similar panel to the iMac with Retina 5K display. To my eyes, though, it isn't as glossy. That'll please those who prefer more matte displays. Personally, though, I find the slight difference distracting and would have preferred if LG had finished it to match the MacBook Pro exactly. It's especially noticeable when looking at both the MacBook Pro and the LG display at an angle.
If I'm only looking at the LG display, though, I don't notice it at all. I'm absolutely lost, the same way I was in the original iMac 5K display. There's just something about that size. It fills enough of your field of vision, at such a close distance, that it feels like IMAX. Especially when the density is high and the color is deep. It almost feels supra-real.
Since 5K at 27-inches is the same density and size as Apple's iMac, the Retina story remains the same now as it did in late 2015. For comparison's sake, here's what the pixel counts look like for 42mm and 38mm Apple Watch on the left; iPhone 7 Plus, iPhone 7, and iPhone SE; iPad 12.9 and iPad 9.7/iPad 7.9 (same pixel counts), MacBook; MacBook Pro 15-inch and 13-inch; and iMac 27-inch and 21.5-inch on the right:
Specific to the 2016 MacBook Pro, here's a side-by-side of the 13-inch, 15-inch, and 27-inch displays:
That covers the resolution, now for the gamut. If you're not familiar with DCI-P3, it gives greater breadth than the older sRGB standard, which means brighter reds, deeper greens, and more luscious oranges and purples.
These days the 9.7-inch iPad Pro, Retina 5K iMac, iPhone 7 and iPhone 7 Plus, and the new MacBooks Pro all have P3 displays, and if you have any of them, you'll know it's hard to go back. Once you stare at a P3 display for a while, sRGB just looks... duller.
Some people have complained that their LG UltraFine 5K displays came incorrectly calibrated and had to recalibrate them themselves. I didn't have that problem. I know Apple individually calibrates most of their displays these days before they ever leave the factory but I'm not sure if LG does that or not. The two I bought are identically calibrated, though, and to my eyes match the colors of my MacBook Pro.
It's easy to see, because I've got everything running on my studio desk right now. So. Many. Pixels. But the size, density, and color depth are incredible to behold. It's like a high-dynamic range honeymoon that I never want to end.
It's especially great if, like me, you're shooting with iPhone 7 or iPhone 7 Plus. That way, when your photos sync back to the Mac, you get to see them on the big screen in the same spectacular colors you saw them on the small screen.
Speaking of sizes, I know some people would have liked a bigger display. Something along the lines of 30-inches or more. I personally don't like having to move my head or neck around that much when I'm so close, nor do I find the size trade-off worth the loss of density. I just really don't want to see pixels any more.
So, for me, 27-inches is the sweet spot. At normal working distance I can take almost all of it in at a glance and it's dense enough that it crossed the "Retina" barrier and looks like real life.
Of course, there are already 32-inch 8K panels being shown off at CES 2017, so...
Ports and peripherals
The LG UltraFine 5K display appears to have four identical ports on the back. If you look closely, though, there's a difference in how they'r'e labeled. The one on the right has a Thunderbolt 3 icon, and it'll pull 5K at 60 Hz from your MacBook Pro while simultaneously pushing back 85 watts of power. The three ports on the left, though, have USB-C icons, and they're only rated for 5 Gbps.
Getting the display and power through a single cable is a remarkable achievement, especially considering Intel keeps pushing DisplayPort 1,3 — never mind 1,4 — further and further out to the future. But it comes at the expense of other peripherals. You're not getting 4x Thunderbolt 3. You're getting 1x, dedicated to the Mac, and 3x USB-C for the rest.
I'm mostly using USB peripherals so it's not a big deal for me. If you really need higher-performance peripherals, though, you'll need to plug them directly into the Thunderbolt 3 ports on the MacBook Pro itself. And that defeats some of the convenience of having an external display-as-hub.
That's what I'm doing with my podcast headphones, since there's no 3.5mm headphone jack on the LG UltraFine 5K display either. It's a pain, since I was used to just leaving them plugged into my iMac and, before that, Thunderbolt Display. Ideally I'd just use AirPods or Bose QC35 and kiss the wires goodbye, but I'm still Galactica paranoid when it comes to hardlines for video or audio production.
That's why I also use Ethernet. I've got the Belkin USB-C to Ethernet adapter on order but it hasn't come in yet so I'm currently daisy-chaining an old Ethernet adapter to a new USB-C adapter, for the dongle double-down. It's ugly but it works.
I'm also using Apple's USB-A to USB-C adapters for my Logitech web cam and for the USB interface for my Heil XLR microphone. The LG UltraFine 5K display includes a built-in web cam and mic and they're fine for FaceTime or Skype, but not anything I'd use on a podcast or broadcast.
I've used a lot of dongles before. My old Mac Pro had display port extenders, HDMI adapters, FireWire adapters, and who can remember what else. It takes slightly longer and feels slightly sillier setting up, but once it''s done you forget about it.
But you see and enjoy that display every damn day.
Not sure which MacBook Pro to get with the LG UltraFine 5K display. Trying to decide between the MacBook Pro and LG display and the iMac with Retina 5K display? Check out our buyers guides!
LG UltraFine 5K Conclusion
I tried the LG 5K UltraFine Display at the Apple event back in October and liked it enough that, when they went on sale in December — and at a discount thanks to Apple's price cuts on all Thunderbolt 3 accessories! – I snapped up two of them.
Short term, I wanted to test how well my 15-inch MacBook Pro review unit could drive both displays at the same time. And the answer is: just fine. I've noticed no obvious slowdown, tearing, stutter, or freezing. It really does just work.
Longer term, I'm going to be living with one at the standing desk in my living room, where I work off-hours, and the other my studio, where I podcast and otherwise work from. Then, the idea is I'll switch my personal 13-inch MacBook Pro between them. I'm hoping that'll once again let me simplify my computing experience, since it's light enough to travel with and powerful enough to do full-on production.
So far, that's worked out just as well. I did have some trouble with the 13-inch MacBook Pro with traditional function key row at first but once I ran software update, it worked fine. The 13-inch MacBook Pro worked fine from the very first time. (I'd already updated it.)
I don't like the LG UltraFine 5K as much as I do the iMac with Retina 5K display. Apple's design is better in many, many ways. I do like that I can easily adjust the vertical height, though. Previously I had to buy and improvise risers.
Ultimately, though, the LG UltraFine 5K is the external display we have, not the one we deserve. The one we deserve would require Apple take back control of the complete experience.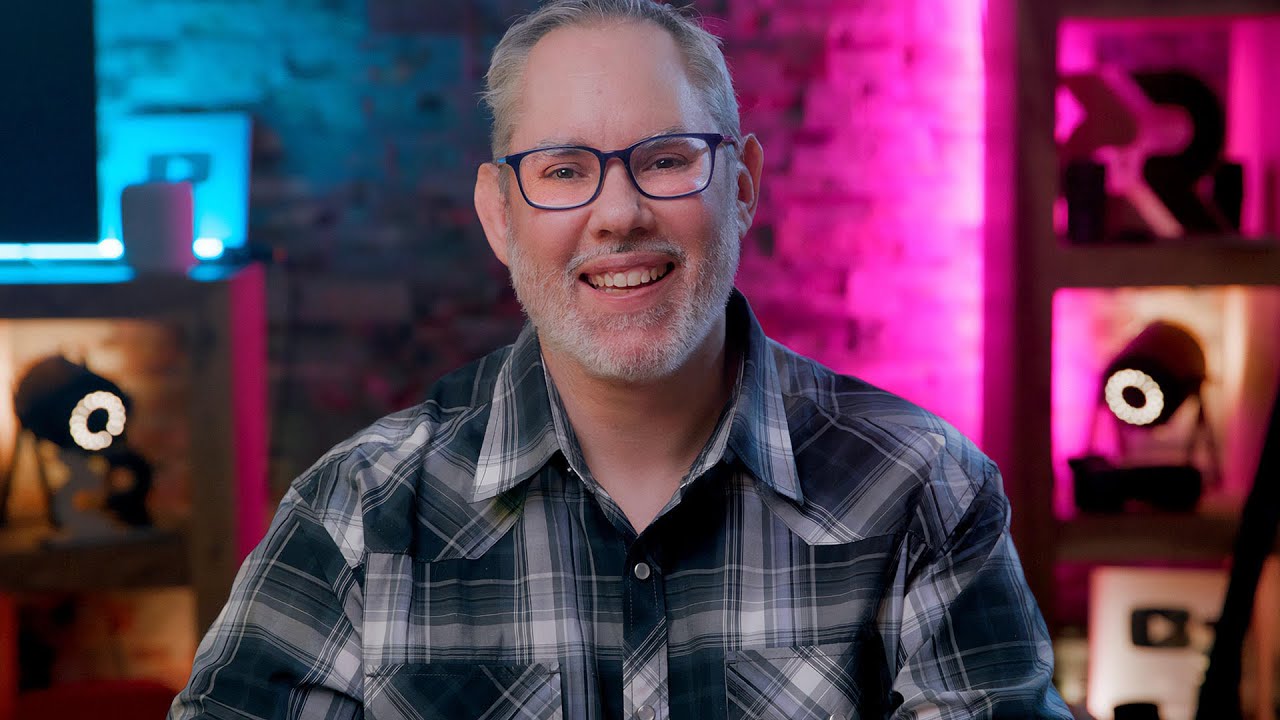 Rene Ritchie is one of the most respected Apple analysts in the business, reaching a combined audience of over 40 million readers a month. His YouTube channel, Vector, has over 90 thousand subscribers and 14 million views and his podcasts, including Debug, have been downloaded over 20 million times. He also regularly co-hosts MacBreak Weekly for the TWiT network and co-hosted CES Live! and Talk Mobile. Based in Montreal, Rene is a former director of product marketing, web developer, and graphic designer. He's authored several books and appeared on numerous television and radio segments to discuss Apple and the technology industry. When not working, he likes to cook, grapple, and spend time with his friends and family.