Apple's 2023 iMac with M3 chip is an incredible computer, with far more power and potential than the average family it's aimed at will ever need. But though it's beautiful to look at, there's room for improvement in the now almost three-year-old external design, while the accessories are annoyingly still tied to Lightning connections.
Pros
+

Super fast M3 chip

+

Gorgeous design

+

Beginner-friendly set-up
Cons
-

Lightning accessories

-

Port selection could use a refresh

-

Not upgradeable
You can always trust iMore. Our team of Apple experts have years of experience testing all kinds of tech and gadgets, so you can be sure our recommendations and criticisms are accurate and helpful. Find out more about how we test.
Apple's iMac line-up has led the pack in the all-in-one computing market since its ground-breaking introduction way back in 1998, a whole 25 years ago. It turned the home computer into a fashion statement as much as a work tool and put Apple back on the map following Steve Jobs' wilderness years.
2021's Apple-silicon-packing M1 iMac was a similarly groundbreaking device — svelte, powerful, and with streamlined design principles that made it an attractive centerpiece in an office.
There's been a bit of a wait for this 2023 successor then — leapfrogging the M2 chipset series entirely, the M3 iMac for 2023 lands with Apple's latest and greatest homegrown silicon powering the show.
It's a super-charged computing experience as a result and a wonderful machine to use — but Apple hasn't taken this M3 refresh as a chance to upgrade some lingering issues with the external design of the iMac. For better or worse, it's essentially identical in every aspect other than its internals to its nearly three-year-old predecessor.
iMac (M3, 2023): Price and availability
The M3 iMac is available now, directly from Apple. All models come with an M3 chipset, but you can configure GPU core count, storage, RAM, and accessories.
Starting at $1,299 for the entry-level model, you can get the 8-core CPU / 8-core GPU variant with 256GB of storage and 8GB of RAM. This model ships with a Magic Keyboard without Touch ID fingerprint scanning, a Magic Mouse, and only two rear Thunderbolt / USB 4 ports. It's a good machine for the price, but even with Apple's efficiency claims, I'd argue that 8GB of RAM isn't future-proofed, and you're going to struggle with just the two input ports, even in the era of wireless accessories. This model is available in four colors — blue, green, pink, and silver.
Note that there's been a price jump in the UK for the iMac, compared to its M1 predecessor's launch price. Where the older model kicked off at £1,249, a price increase to all models earlier this year sees the UK M3 iMac pricing start at £1,399 instead.
Step up to a $1,499 model, and you get the same RAM and storage (8GB / 256GB), but jump to a 10-core GPU, as well as gaining an additional two USB 3 ports, Gigabit Ethernet in the power adapter, and a Magic Keyboard with Touch ID. Leap to $1,699, and the storage increases to $1,699. An additional two colors become available, too — yellow and purple.
You can tweak things further with a custom configuration. In terms of RAM, you can go from 8GB to 16GB for an additional $200, and 24GB for a further $200 on top of that. For storage it's a similar situation — go from 256GB of storage to 512GB for $200, and a further $200 for 1TB of storage, and another $200 for 2TB of storage. As ever with Mac computers, Apple puts an unfortunately high premium on storage and RAM upgrades, and it's near impossible to upgrade these internals after purchasing. So make sure you pick up what you need in the first instance, and think about your future needs, too.
Additional accessory upgrades can also be made. Every machine comes with a Magic Mouse by default, but you can swap that for a Magic Trackpad for $50 extra. Get both a Magic Mouse and Magic Trackpad thrown in for $129. Finally, entry-level models can jump from the standard Magic Keyboard to one with Touch ID for an extra $50, while those that want Touch ID and a full-scale keyboard with number pad can get that for an extra $80.
There are lots of options to pick from here, and the pricing jumps can be a bit confusing to follow, so take your time and think hard about what you want long-term.
For the purpose of this review, we're looking at the blue 8-core CPU / 10-core GPU option, with 16GB RAM and 512GB storage. That comes with the two extra USB 3 ports, the Gigabit Ethernet power supply, Magic Mouse and Magic Trackpad, and the Magic Keyboard with Touch ID, for $2,028.
iMac (M3, 2023): Hardware and design
Seen the M1 iMac? Then you've seen the M3 iMac — the computers, externally at least, are essentially identical.
That's no bad thing! The 2021 iMac was a wonderful re-working of Apple's all-in-one design, and everything there was to love about that model remains intact and just as attractive here. But if you weren't sold on the last model, that's unlikely to change.
Still, there's lots to love. Apple's M3 iMac offers a high-resolution (4480 x 2520) 24-inch display. It's a 16:9 ratio, but the 'chin' at the bottom of the display, which hides some of the innards as well as the speakers, gives the illusion of a taller display. 24 inches isn't very big by desktop display standards of 2023 (it measures 23.5 inches diagonally, actually), but I'd say it works in the iMac's favor, making it more compact and tidy. It's a rich display with wonderful color accuracy — though its peak brightness of 500 nits could be higher for HDR content. But drastic changes to the display might start putting this model into 'iMac Pro' territory — a device we still expect at some point from Apple.
The iMac can be picked up in any of the above colors of your choosing, with the computer's foot, chin, and backplate taking on the color palette (the rear of the screen is a darker hue than what's presented around the front). But all iMacs feature a fairly sizeable white border around the display. I know that divides opinion among the iMac team, but I like how it harkens back to that original two-tone iMac design from way back in 1998.
You're looking at a height of 18.1 inches and a width of 21.5 inches for the iMac, and while the stand's foot means the depth extends to 5.8 inches, the screen itself is only 0.47-inches thick. The efficiency of Apple silicon means everything can run without the need for whirring fans, taking up masses of space. You're able to get it pretty close to a wall, and the iMac never feels imposing in any place you put it — though it could benefit from a height-adjustable stand as well as its tilting hinge.
Another area that could benefit from a refresh is its port selection. While the pricier models have two USB 3 ports (USB-C style) around the back along with the standard USB 4 / Thunderbolt ports, the entry-level model only has the two Thunderbolt ports. These are speedy connections — USB 4 can hit transfer speeds of 40Gb/s under ideal conditions, and the Thunderbolt standard makes daisy-chaining accessories a piece of cake. But even just the four ports on the more expensive iMacs feels a bit stingy, and a more versatile connection selection would be appreciated.
I'd love to see not only some additional ports, but the inclusion of an SD card reader, and an easy-to-reach port on one — or both! — sides of the display to accompany the 3.5mm headphone jack that's here. I know cables coming out of the side of the screen may ruin that clean aesthetic, but it'd be a convenient option nonetheless. Heck, why not make more use of that foot too, and put a charging pad in there?
What remains surprisingly good are the built-in speakers. A six-speaker array sits in the iMac, capable of surprising clarity and bass performance given the thin casing they're housed in. They're nominally capable of Spatial Audio and Dolby Atmos support, but it's not a replacement for a true surround sound system. Regardless, they're perfect for watching a quick episode of TV, or popping on some tunes while you work, potentially saving your desk the extra clutter of a separate speaker system. Likewise, the 1080p FaceTime camera is sharp and reasonably flattering when making video calls — its built-in nature again saves you a port and desk space.
Finally, there's been a handy spec bump for the Wi-Fi connection of the iMac. It's now supporting Wi-Fi 6E (802.11ax) connectivity, allowing for speedier, more stable connections provided your router supports it. Bluetooth is of the 5.3 variety.
The included accessories are a bit of a mixed bag by today's standards though. I love the Magic Trackpad — it rips the trackpad straight out of a MacBook and is excellent for accessing the excellent gesture support built into macOS. The Magic Keyboard is fine — the key travel is too low for my taste (I still personally think the best keyboard for Mac is the Logitech MX Keys Mini for Mac), but it looks great and gets the job done. The Magic Mouse though is in great need of a rethink. Being able to make use of gestures on the surface of the mouse is great in theory, but it's an exercise in form over functionality — it's just not very ergonomic or comfortable to use long-term. And the much-documented lunacy of putting the charging port on the underside continues to amaze and frustrate.
These items still make use of a Lightning port connection to charge too, looking ever more out of place now that even iPhones have jumped to USB-C ports. I appreciate though that they come pre-charged out of the box, ready to get to work the moment you unpack them.
All in, the iMac remains a very attractive machine, with well-considered functionality — even if there's still room for some extras to be squeezed in to perfect the design, and a refresh needed to keep the accessories relevant.
iMac (M3, 2023): Performance and software
This year's iMac arrives with a whole new generation of Apple silicon in tow, launching the baseline M3 chipset, while the latest MacBook Pro models introduce the new M3 Pro and M3 Max variants.
It's another significant leap in performance for Apple's homegrown chipsets, and one that's a more marked improvement for the iMac line, seeing as it skipped the M2 generation entirely.
The M3 series of chips are the first to make use of the 3-nanometer build process in a computer (piggybacking off what was achieved in the iPhone 15 Pro chips), allowing for greater performance and efficiency by squeezing more transistors into a smaller space. It's cutting-edge stuff and drives some impressive gains compared to the M1 iMac before it — even if comparisons to the M2 series are more modest.
Apple claims as much as a 65% improvement in speeds with the 10-core GPU option compared to its M1 counterpart, a 35% jump in CPU performance, and a 60% speed increase for machine-learning tasks through the improved efficiency of the Neural Engine. It's the new capabilities of the GPU that are arguably the most exciting elements here though — particularly for gamers, which Apple seems to be increasingly looking to tempt towards its machines. The M3 now supports full hardware accelerated ray-tracing — the GPU technique to bring more lifelike lighting and reflections to 3D scenes, being the headline feature of top-tier graphics cards and modern games consoles. In addition, there's also support for Dynamic Caching (improving communication between the GPU and memory to eke more frames per second out of a 3D scene), and mesh shading, which allows for more complex geometry to be rendered at scale without causing the machine to chug. Even on this entry-level M3 chip, away from the even bigger gains of M3 Pro and M3 Max, it makes for the most gaming-ready iMac there's ever been.
Note that our model is a step up from the baseline iMac, thanks to the inclusion of the 10-core GPU and 16GB RAM, so the following benchmarks may represent an improvement over the entry-level iMac model.
Running the Geekbench 6 CPU benchmarking tool, a synthetic measurement of how capable the CPU's processing power is, we saw single-core average scores of 3060 and multi-core average scores of 11950. Looking at Geekbench's Mac scorecard across the generations, that sees the M3 comfortably beat out even the M2 Max chip in single-core performance, and just below the M2 Pro in multi-core scores — an impressive placement given this is effectively an entry-level machine.
It's a similar story in the Cinebench R23 CPU benchmark, returning scores of 9476 and 1899 in multi-core and single-core tests respectively — representing leaps of close to 20% and 25% over the M1 series. These are admirable gains.
3D performance from the GPU is excellent, too. GFXBench Metal, which tests GPU performance, saw its benchmark tool return average scores of 50.6fps in its 4K test, and
114.7fps in its 1440p test. As you can see from a comparable test with the M2 Pro Mac Mini, it's here where the entry-level M3 chipset shows its limitations compared to the higher GPU-core count of the Pro and Max chip variants — but this is still a night-and-day improvement over M1, and a promising sign for gamers looking to have fun with the iMac. Our go-to Tomb Raider benchmark, at 1440p with graphical bells and whistles dialed up to the max, returned a 44fps average, proving that games with modest demands can be very enjoyable played on the Mac. I had good fun running around the Sword Coast of Baldur's Gate 3 for instance, one of this year's best Mac games, provided I didn't go too crazy with every graphical flair option available to it.
Putting these synthetic benchmarks into practice, it's a joy to use the iMac. Apps open instantly; web browsers can chew through dozens of simultaneous tabs being open; Garageband track merging occurs in the blink of an eye; Apple Arcade titles run with buttery smoothness. Aside from pushing the iMac to its limits with 3D rendering work, something the M3 chipset isn't really tuned for, you'll be hard-pressed to tax the system with the day-to-day tasks you'd expect to regularly throw at it.
It's helped along by Apple's excellent pairing of in-house software with homegrown hardware, the two working in harmony to ensure performance efficiency in a way that the myriad potential hardware configurations of a Windows PC can't account for. And the latest version of macOS, Sonoma, has some lovely new features to take advantage of, too.
macOS Sonoma for instance now supports home screen widgets, letting you get at-a-glance info from select app sources the moment you fire up your desktop. Video call improvements make it a better machine for handling presentations, with Presenter Overlay letting you interact more comprehensively with any screen you're sharing with viewers. Game Mode takes full advantage of the M3's gaming capabilities too, prioritizing process importance for game applications when they're running in full screen, and lowering input latency and audio delivery for gamepads and connected AirPods respectively.
And as ever, Continuity features make the iMac a great partner to your iPhone and iPad too, whether that's extending the display to an iPad, or taking advantage of the Universal Clipboard to paste images and text between devices.
iMac (M3, 2023): Competition
All-in-one competition is a bit wishy-washy beyond the iMac, and there's nothing else like it in Apple's own macOS line-up. On the Windows front, the HP Envy is a good high-end option with its giant 34-inch widescreen display, while the Dell Inspiron 24-inch is a cheap-and-cheerful alternative if you're platform agnostic. Neither have the power or efficiency of Apple's M3 chip though, and aren't really like-for-like alternatives.
Instead, if you can easily and affordably get your hands on a high-resolution monitor, consider one of the higher-end 2023 Mac Mini devices with M2 Pro chipsets. Compact powerhouses, they'll admirably take on any task you throw at them: the M2 Pro chipset actually offers better GPU performance than the standard M3 chip here, though it isn't quite as good in single-core scenarios. The Mac Mini is relatively portable in a pinch, should you need to take your work elsewhere with a screen, too.
iMac (M3, 2023): Should you buy it?
Buy the iMac (M3, 2023) if…
You're after a tidy desktop experience for all the family
This is about as slick as desktop computers get, with a gorgeous exterior and welcoming design that's great for all the family to share.
You don't need a super-charged chipset
The M3 in its standard configuration is an incredibly capable chip — unless you're doing high-end 3D or video editing work, you can probably ignore the M3 Pro and M3 Max laptop options Apple has also launched.
You're a casual gamer
The M3 chipset has enough power to play games enjoyably — it won't challenge a dedicated gaming PC, but its GPU will capably run the latest titles at modest graphical settings.
Don't buy the iMac (M3, 2023) if…
You've got a great monitor
Save yourself some money and get one of the higher-end Mac mini machines instead, which are excellent, offer similar performance, and can plug into any monitor you choose.
You need something portable
It's easy to move the iMac around your house, but a 14-inch MacBook Pro or MacBook Air might be a better choice if you need to work on the go.
You've got an M1 iMac
The performance leap with M3 is good, and maybe enough to justify an upgrade. But in all other aspects, this is the same machine, and unless your workflow now calls for demanding tasks to be completed, you're probably fine sticking with what you have.
iMac (M3, 2023): Verdict
The 2023 iMac is a wonderfully-welcoming computer. It's easy to set up, comes with everything you need right out of the box, and is compact and slim enough to happily slip into almost any corner of your home — it's so good-looking it doesn't need to be confined to your office.
Its M3 chipset is stupendously powerful, tearing through the basic computing tasks that this family-oriented machine is designed for, but with enough power in that skinny frame to be considered a legitimate gaming machine for those with an interest in it.
There's room for Apple to refresh the exterior, though. Some additional ports wouldn't go amiss, particularly an SD card slot. And while they're accessories to the package rather than the computer itself, it's a shame to see Lightning connections still powering the mouse, trackpad, and keyboard where almost every other element of Apple's line-up has made the leap to USB-C. The Magic Mouse, charged from a port on its underside, is in real need of a redesign.
These small issues aside, you're left with a fantastic all-in-one computer that wipes the floor with any Windows alternative. But Apple shouldn't go another generation of iMac without thinking about the external design improvements that can be made, or without refreshing those accessories.
---
Bottom line: A wonderful all-in-one computer, perfect for families — though its port selection and packed-in accessories could do with a refresh.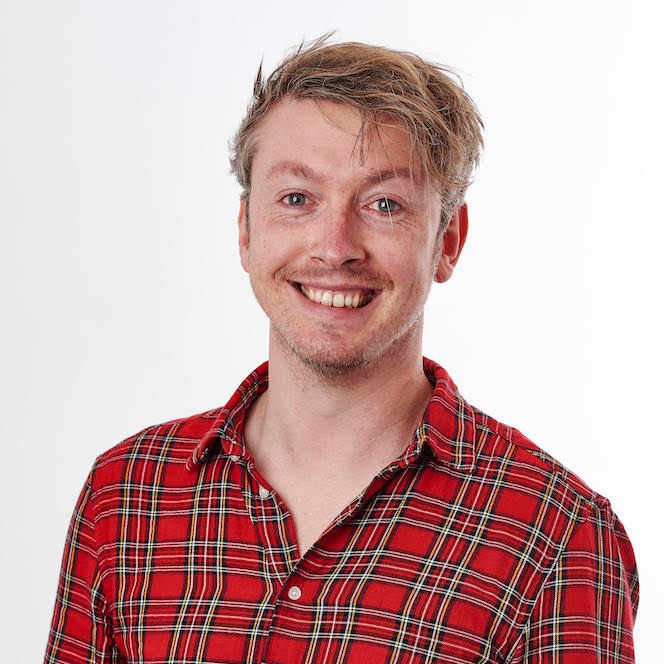 Gerald Lynch is the Editor-in-Chief of iMore, keeping careful watch over the site's editorial output and commercial campaigns, ensuring iMore delivers the in-depth, accurate and timely Apple content its readership deservedly expects. You'll never see him without his iPad Pro, and he loves gaming sessions with his buddies via Apple Arcade on his iPhone 14 Pro, but don't expect him to play with you at home unless your Apple TV is hooked up to a 4K HDR screen and a 7.1 surround system.
Living in London in the UK, Gerald was previously Editor of Gizmodo UK, and Executive Editor of TechRadar, and has covered international trade shows including Apple's WWDC, MWC, CES and IFA. If it has an acronym and an app, he's probably been there, on the front lines reporting on the latest tech innovations. Gerald is also a contributing tech pundit for BBC Radio and has written for various other publications, including T3 magazine, GamesRadar, Space.com, Real Homes, MacFormat, music bible DIY, Tech Digest, TopTenReviews, Mirror.co.uk, Brandish, Kotaku, Shiny Shiny and Lifehacker. Gerald is also the author of 'Get Technology: Upgrade Your Future', published by Aurum Press, and also holds a Guinness world record on Tetris. For real.