macOS 10.14: Rumors, feature speculation, and more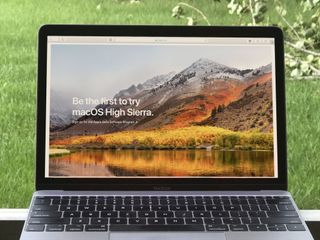 (Image credit: iMore)
This year, macOS hits lucky number 10.14. Apple's been working on it since last fall, when marketing weighed in on what it thought the next update needed, engineers pitched new ideas, and Apple's senior vice president of software engineering, Craig Federighi sifted through the big pile on his desk. Since Apple doesn't tease future releases, until Federighi takes the stage on June 4 at WWDC 2018, it's impossible for anyone on the outside to know everything that made the cut but that doesn't stop the rumors from flying.
Here's what's made the news so far!
June 2, 2018: macOS 'Mojave' 10.14 dark mode, Xcode 10, App Store redesign, and News app
Developer Steve Troughton-Smith has shared screenshots of what he ways are the new Xcode 10, macOS 10.14 dark mode, redesigned Mac App Store with video previews, and the Apple News app for macOS.
Following along, developer Gui Rambo teased that the name will be macOS Mojave. (Though, there's still time for Apple to change all the slides to macOS Weed just to mess with the leaks.)
Yeap. macOS Mojave will have system-wide dark mode.Yeap. macOS Mojave will have system-wide dark mode.— Guilherme Rambo (@_inside) June 2, 2018June 2, 2018
We'll see the whole thing on Monday when Apple kicks off the WWDC 2018 keynote at 10am PDT / 1pm EDT.
May 28, 2018: Mac App Store once again rumored to be getting a macOS 10.14 makeover
I thought this was pretty much common knowledge since WWDC 2017, following the launch of the iOS App Store redesign last year, but it's widely, deeply expected that the Mac App Store redesign, like the iBook Store redesign, will follow this year.
Stlll, Gruber dropped this on Daring Fireball and it's getting attention, so it's worth the reminder:
Something unexpected could always go wrong, but it'd be news if we don't get this stuff in June.
May 23, 2018: System-wide Dark Mode rumored — guessed? wished? — for macOS
Gui Rambo is a reverse-engineering whiz, so when he throws something up on Twitter, it's worth paying attention to. In this case, it's hard to tell if Gui is sharing a rumor, and educated guess, or just wishing like the rest of us. But, given that Apple has started down the Dark Mode path on macOS, forever should it control its destiny... or, rather, just finish implementing it already.
April 30, 2018: 'Marzipan' isn't 'Marzipan', but it's coming 2019... as part of a new UI
John Gruber, writing for Daring Fireball:
I just assumed Marzipan was the name for one of the candidates for this project, but that Apple was going ahead with a different candidate. Apple often weighs different approaches, like using AppKit or WebKit for iOS before coming up with UIKit, or other languages or storage technologies before going all-in on Swift or APFS.
It could be part of a bigger project that, to borrow John's HTML analogy, brings a little CSS to the table?
That's also when the new Home screen and interface design are currently scheduled to appear, which John doesn't think is a coincidence. And is probably not a coincidence.
Mark Gurman, on Twitter, claims this is part of separate projects being run by the Swift team.
Sounds like that's referring to a pair of separate projects (known alternately as "Amber," "Infrared" and "Ultraviolet") from the Swift team. Not the same as the iOS apps on Macs initiative. There are many moving pieces with a major multi-year, multi-step project like this. https://twitter.com/imhassan/status/991291521377824768Sounds like that's referring to a pair of separate projects (known alternately as "Amber," "Infrared" and "Ultraviolet") from the Swift team. Not the same as the iOS apps on Macs initiative. There are many moving pieces with a major multi-year, multi-step project like this. https://twitter.com/imhassan/status/991291521377824768— Mark Gurman (@markgurman) May 1, 2018May 1, 2018
February 12, 2018: Apple reportedly pulling a "Snow Leopard" on macOS 10.14
Snow Leopard, famously, was the version of OS X that focused less on new features and more on refining the existing features and core technologies. macOS High Sierra had much of the same focus as well. Still, given how many major achitectural changes Apple has rolled out (and in some cases, rolled back) over the last few years, it sounds like more refinements, not less, are in our future.
Mark Gurman writing for Bloomberg:
The same is, apparently, true for macOS where, for example, APFS still needs to roll out for Fusion drives, the new Windowing Server still needs to be fixed, etc.
December 20, 2017: Apple working on easier iOS to Mac app deployment, potentially for macOS 10.14
Right now, developers who make both iOS and macOS versions of their apps can't share much between them. And that makes developing and maintaining the Mac version more difficult than, say, the iPad version. Apple could be about to make that easier, though.
Mark Gurman, writing for Bloomberg:
I spoke to developers who've worked on previous, third party, shared framework attempts in the past. Here's what they thought:
When will we see macOS 10.14?
If Apple keeps to its recent schedule, it will show off macOS 10.14 for the first time during the keynote for it's annual World Wide Developers Conference (WWDC) on June 4, 2018. Tim Cook will introduce macOS 10.14, while Craig Federighi, Senior Vice President of Software Engineering, will go through its different tentpole features.
It's likely that the first developer beta of macOS 10.14 will be made available the same day as the presentation. As with the last few iterations of macOS, a public beta should follow later in the summer.
What new features will we see in macOS 10.14?
macOS 10.14 is rumored to be low on new features and high on stability and reliability fixes, much like macOS High Sierra and OS X Snow Leopard were. Apple has made many, huge changes under the hood over the last couple of years, including everything from a new file system to a new windowing server, and it has to keep paying down that technical debt.
What new features have been rumored include:
New framework to make it easier for developers to bring iOS apps to the Mac.
System-wide Dark Mode.
Home app
APFS for Fusion Drives
When will macOS 10.14 launch for the public?
For the last few years, new versions of macOS have gone into general release in the fall. While iOS has been tied to the release of new iPhones, always arriving a couple days before the new models launch, macOS has been more fluid. (Though, increasingly, Apple seems to be trying to coordinate the releases due to the amount of shared features between them.)
2017: September 25
2016: September 20
2015: Spetember 30
2014: October 16
2013: October 22
What will macOS 10.14 be called?
Update: macOS Mojave is currently being teased as the official name.
Is this the year Craig Federighi finally gets to use macOS Weed? Probably not. It's the crack marketing team, as he often points out, that gets to choose the names.
More likely is one of the following, part of a list of Apple trademarks unearthed in 2014:
Big Sur
California
El Diablo
Redwood
Mammoth
Miramar
Mojave
Monterey
Pacific
Sequoia
Sonoma
Tiburon
Ventura
What do you want to see in macOS 10.14?
I'm still waiting for better Split View handling, the Home app, the News app, and proper drag-and-drop support for the Photos app, amoung other things.
What about you?
Master your iPhone in minutes
iMore offers spot-on advice and guidance from our team of experts, with decades of Apple device experience to lean on. Learn more with iMore!
Joseph Keller is the former Editor in Chief of iMore. An Apple user for almost 20 years, he spends his time learning the ins and outs of iOS and macOS, always finding ways of getting the most out of his iPhone, iPad, Apple Watch, and Mac.