macOS High Sierra FAQ: Everything you need to know!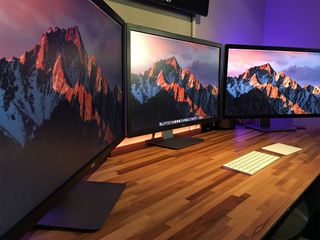 (Image credit: iMore)
Apple is preparing for macOS 10.13 High Sierra, the newest version of its Mac operating system, which is supported on the Mac mini, iMac, Mac Pro, MacBook, MacBook Air, and MacBook Pro. There are a few big features coming our way and lots of under-the-hood fixes as well. We have all the info you need about what it is and when it's coming right here.
What's new with macOS High Sierra?
Sept. 12, 2017: macOS High Sierra public launch available Sept. 25
Apple spent the better part of two hours talking about its latest line of iPhone 8 and 8 Plus and the iPhone X at its fall event. This is no surprise considering it's dubbed the iPhone event. Though Apple also mentioned the new Apple Watch, and upcoming features in watchOS 4, not a peep was mentioned about macOS High Sierra. Does this mean Apple is planning a special event just for macOS? Probably not. It just didn't merit any special attention this time around.
The good news is that Apple quietly added a release date for High Sierra on its website. The final version will be available September 25, the same day that the new iPhone and Apple Watch line will be available in stores.
August 23, 2017: Flagship creative apps will need to be updated to work with macOS High Sierra
Apple has published a new support document that details the compatibility of the company's professional apps with macOS High Sierra. Final Cut Pro X, Motion, Compressor, Logic Pro X, and MainStage will all need to be updated to their most recent versions in order to run on High Sierra:
Final Cut Pro X 10.3.4 or later
Motion 5.3.2 or later
Compressor 4.3.2 or later
Logic Pro X 10.3.1 or later
MainStage 3.3 or later
Earlier versions of all of these applications are incompatible with the new operating system.
What, why, when, and how to get macOS 10.13 High Sierra
What is macOS 10.13 High Sierra?
macOS High Sierra is Apple's newest version of the desktop operating system. This is its second version under the new nomenclature, macOS. Last year, Apple made the switch from OS X to macOS, much to our surprise (not really).
Check out Rene Ritchie's review of macOS High Sierra
High Sierra is technically a minor update to macOS Sierra, though the new features are pretty amazing. So the idea is that Apple went higher with its already great Sierra operating system.
When can I get my hands on it?
macOS 10.13 High Sierra is available as a beta for developers and as a public beta right now. If you're not a developer, and don't want to risk testing the public beta, you'll be able to download it for free this fall.
If you plan on downloading the developer or public beta, be smart about it: If you only have a single Mac, make sure you create a partition to run beta software, or install on a secondary Mac you don't rely on for everyday use.
The final version, the public version that is no longer in beta, will be available September 25 as a free update in the Mac App Store.
How do I upgrade to macOS 10.13 High Sierra?
Apple makes it really easy to upgrade to new versions of its operating system across all devices. If you're unsure how to get the latest software upgrade, we have you covered with a comprehensive guide.
How to upgrade your Mac software
My Mac is old, can I upgrade to macOS High Sierra?
The latest Mac operating system will run on the following devices:
iMac (Late 2009 & later)
MacBook Air (2010 or newer)
MacBook (Late 2009 or newer)
Mac mini (2010 or newer)
MacBook Pro (2010 or newer)
Mac Pro (2010 or newer)
Will there be any features that won't work on my older Mac that is listed as compatible with macOS High Sierra?
Similar to El Capitan and Sierra, if your Mac was built prior to 2012, you won't be able to take advantage of the Metal Graphics framework and many of the Continuity features, but the rest of macOS High Sierra should be just fine.
How much is this new software going to cost me?
Nothing! Apple stopped charging for software upgrades quite a few years back. macOS High Sierra is a free update for all iMac, Mac mini, and Mac laptop computers that are compatible.
OK, so what are the new features coming to macOS High Sierra?
The short answer is HEVC support, APFS support, better graphics, VR support, and some fantastic app improvements. The long answer is below. Read on for details.
HEVC stands for High Efficiency Video Coding. It's also known as H.265. It's a new standard for video compression that is about 40% better than the current H.264 standard. It compresses 4K video much faster and more efficiently and improves video bit-stream. It also uses less bandwidth so you can stream higher quality video in places where your internet speeds are lower. Video file sizes are much smaller, and so take up less storage space on your Mac.
Basically, HEVC is way better than H.264 for video compression and you're going to love how fast you can stream 4K movies without any lag.
Why is Apple File System such a big deal?
Every computer uses some form of file system. Imagine your Mac has a filing cabinet that a little guy goes to every time you open a file or search for something. Let's call him "Apple."
Apple's current file system, Hierarchical File System Plus (HFS+), works great, but he came up with his organization system more than 30 years ago. Even though he updated it about 20 years ago, he didn't actually clear everything out and start fresh. He just made some changes so he could file stuff faster and find stuff easier.
Fast-forward to today, where Apple has designed a new way to organize and keep track of everything in your Mac. He got a new filing cabinet, better locks, and even added filing cabinets for your iPhone, iPad, and Apple Watch. He also got those file folders that can be adjusted wider so he can fit more files in each one, and changed the paper weight of current files so they are thinner and more of them can fit into a folder.
What this means for you is that you'll be able to access and load your files much faster, encryption will be much stronger, duplicating files will happen in a blink of an eye (even large video files), and you'll have protection from crashes thanks to metadata copying.
Basically, it's going to make your Mac feel brand new again, and if your Mac already is brand new, it's going to make it feel like you just installed a turbo engine.
That's correct. Apple has suped up the Metal graphics processor by adding machine learning, external GPU support, and virtual reality.
Metal 2 focuses on GPU support over CPU, so things will load and process faster — up to 10 times faster, according to Apple. This is great news for game developers and might (hope, hope) open the door for more PC games to make their way to Mac in the future.
macOS High Sierra will support external GPUs, too. So even your baseline MacBook will be able to support heavy graphics programs in the future.
Wait ... Did you say VR support?
Oh, yeah. The Metal 2 framework will make it possible for developers to create virtual reality games and macOS High Sierra will make playing virtual reality games on Mac a reality.
The iMac with 5K Retina display and the iMac Pro will natively support VR. Plus, thanks to macOS High Sierra, you'll be able to add an external GPU seamlessly and play VR games. Valve has even decided to add SteamVR to the Mac.
What about the apps? Did Apple update any apps?
It sure did. Apple added some nice improvements to Photos, Safari, and Mail. There are also some pretty sweet additions to Notes, FaceTime, Siri, and iCloud. Read on to find out more.
Photos has a few redesign features, a couple of great new filters, some cool editing tools, and looping Live Photos.
Expanded sidebar - The sidebar is now always on to make searching for your photos a lot easier. The photo Import view shows all of your past imports in chronological order, similar to your standard Photos collection.
Better organization - You can filter photos by different criteria. There is a selection counter that will let you drag and drop multiple images into an album or import them to your desktop.
Better editing tools - You'll be able to adjust the contrast and color options for your photos just a little bit better with Curves for fine-tuning and Selective Color for saturation. Oh, and there are more photo filters now.
More Memories categories- You'll get more automatically generated Memories based on different criteria. For example, you'll get beautiful slideshows from your first anniversary, or scroll through pics of your pets.
Live Photos Extreme - Live Photos have been super charged with editable Loops, Bounce, Long Exposure (my favorite), trim, and mute. You can even select a key photo for each Live Photo, which will be the single non-moving image people will see before they touch the photo to watch it move.
Better third-party app support- Third-party apps are better integrated with Photos in macOS High Sierra. You can select a photo, open it in a third-party app, and make your edits. Those changes will automatically be saved in Photos. You won't have to re-save new edits. App extension support has also gotten bigger with more apps.
Bigger faces - The People album has larger thumbnail images for faces and group pictures better. If you're signed into iCloud Photo Library, your People changes will update across all of your connected devices.
Safari's biggest update is with Intelligent Tracking Prevention. It uses machine learning to find cookie trackers and stop them from following you from one website to another. So, you won't be as likely to see an add on one website for a product you just looked at on another website.
Safari in macOS High Sierra also implements an autoplay auto-block tool. Basically, if you visit a website that has an add or video that is set up to automatically blast you with noise, it won't play automatically on Safari. Blocked!
Speaking of blocked, Safari in macOS High Sierra lets you personalize what your browsing experience looks like with each website you visit. You can enable Reader View, content blockers, page zoom, and auto-play blocking. It's in the same section that used to house Reader View.
Oh, and Safari is even faster than ever before. Zoom, zoom!
When you search in Mail in macOS High Sierra, the most relevant results will appear as "Top Hits" so you can find what you're looking for faster.
You can also use split-view when composing mail. Productivity increased!
Apple gave Siri a boost in macOS High Sierra with a more expressive voice. It has better tone and talks more realistic. Personally, I like it when Siri tells a joke in a super robotic voice. I think it's funnier.
Siri is also able to learn about your music interests by connecting to Apple Music. You can ask to "play something to help me relax" or "make me a party playlist" and it will play songs based on your previous Apple Music activity. In macOS High Sierra, Siri also knows a lot more about the music you're listening to.
When you save a file in iCloud Drive, you can share it with others, just like you do in the Notes app. Using the Share tool, you can send people an invitation to edit and everyone that's using the supported app can collaborate in real time.
Apple has also added iCloud Family Sharing, which means you can invite family members to share your iCloud storage instead of everyone having their own account. iCloud Family storage plans include 200GB or 2TB of storage, so you can load up all of your photos, videos, and more.
Search for flight info with Spotlight
When you enter your flight number into Spotlight, it will search your system for all the information you need to get there on time, including arrival and departure times, terminals, gates, delays, and airport maps.
In macOS High Sierra, Spotlight also supports constellation information, celebrity facts, and lots of Wikipedia results for those really elusive bits of knowledge.
If you use a particular not a lot, you'll be able to pin it to the top of your list so it doesn't get lost in the mix every time you update another note. Keep it at the top and it'll stay there, right were you left it.
Notes also gets tables in macOS High Sierra. It's sort of like a mini spreadsheet for keeping track of things like expenses, party invitees, and wedding plans.
Have you every had a moment when you're FaceTiming with your family when someone does something so cute or so funny that you wish you could have captured it? Well, now you can. In macOS High Sierra, you'll be able to take Live Photos of the FaceTime window, and this is on the Mac, which will automatically save to the Photos app. And, before you think about taking a Live Photo without your dad knowing, you'll both get a notification when one is taken.
That's right. Your chats, those ones you don't want to delete because they hold a special place in your heart, will no longer disappear if you download a fresh copy of an operating system. All of your Messages will be stored (encrypted on both ends) in iCloud. So, when you start using a new device, your chats with mom from a year ago will still be there.
The bottom line
Though macOS High Sierra doesn't seem like much on the surface, the under-the-hood improvements are huge. With advanced file systems, better graphics and video compression, and support for VR, your Mac is really finding its stride.
If you have any questions or comments, please put them in the comments and we'll try to answer them as best we can, as we learn more about macOS High Sierra.
Master your iPhone in minutes
iMore offers spot-on advice and guidance from our team of experts, with decades of Apple device experience to lean on. Learn more with iMore!
Lory is a renaissance woman, writing news, reviews, and how-to guides for iMore. She also fancies herself a bit of a rock star in her town and spends too much time reading comic books. If she's not typing away at her keyboard, you can probably find her at Disneyland or watching Star Wars (or both).