Mac mini rumors: Features, price, and more!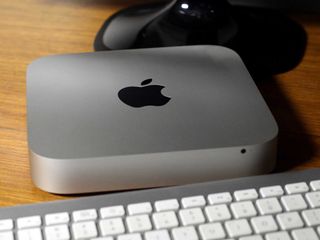 The Mac mini hasn't been updated since October 2014, when it was made even more appliance-like than previous generations. Since then Apple's bring-your-own-mouse-keyboard-and-monitor Mac has been missing in action. Here's what we know.
August 20, 2018: Mac mini update once again rumored for this fall
The Mac mini, infamously, hasn't been updated for years. Apple's still been working on it but, for a variety of reasons, could or would never push revisions out the door. Now, it's once again being rumored the company is about to fix that.
Mark Gurman, writing for Bloomberg:
Will it be at the September iPhone and iPad event, or a Mac-specific event in October? Apple has both split them up to maximize focus, and gone all in in the past. Two events are twice the coverage but double the work, after all.
We'll have to wait and see.
July 11, 2018: Apple planning Mac mini refresh for the fall
Kuo Ming-Chi has issued another of his infamous, supply-chain exfiltrated, research notes to clients. This one, splendidly, included mention of the Mac mini. It remains a product Apple is actively working on, but one the company has somehow failed to push out updated for in the last several years.
From MacRumors:
Hopefully, it'll actually hit the shelves this year.
October 19, 2017: Tim Cook says Mac mini remains an important part of Apple's product lineup
Apple's CEO, Tim Cook,
As reported by MacRumors:
My guess remains that we'll hear and even see more about the next Mac mini in 2018. My distress remains Apple not updating the current design with modern chipsets and ports in the meantime.
April 6, 2017: Phil Schiller says Mac mini remains an important part of Apple's lineup
As part of an exclusive briefing held at Apple's campus in Cupertino, senior vice president Phil Schiller commented — sorta — on the future of Mac mini.
From Tech Crunch:
April 5, 2017: Next Mac mini might not be so mini
Many people have hoped that Apple would replace the existing Mac mini with more of a Mac mini tower, complete with expansion ports. That doesn't seem to be the direction Apple's going, but there is potential for more powerful Macs mini going forward.
Is the Mac mini dead?
Not until Apple officially pulls the plug.
When will we see a new Mac mini?
Best guess — 2018. That's when Apple has teased the new (modular) Mac Pro will make an appearance, at least. It's possible Mac mini will get pushed out to 2019, but the sooner the better. For everyone.
What do you want to see in a new Mac mini?
Mac mini is supposed to be the entry-level Mac desktop, but as MacBooks become the mainstream choice, there's room to do something... geekier. Appliance computing is all well and good but there's also something to be said for a computer than can grow with you.
Mac mini could be both. An easy to use starter system that can have new and better memory, drives, and perhaps even graphics that can expand over time, if and when you need them. Here's what we'd like to see:
USB C / Thunderbolt 3 ports.
Legacy USB-A, Thunderbolt 2, HDMI, and SD card ports.
Kaby Lake processors.
Quad-core processor option.
Graphics cards capable of supporting harder-core gaming and VR.
Magic Keyboard with Touch Bar and Touch ID.
Space gray or matte black options.
Gold and rose gold options. (What?!)
Make it a mini tower — expandability, yo!
How about you?
Get more iMore in your inbox!
Our news, reviews, opinions, and easy to follow guides can turn any iPhone owner into an Apple aficionado
Rene Ritchie is one of the most respected Apple analysts in the business, reaching a combined audience of over 40 million readers a month. His YouTube channel, Vector, has over 90 thousand subscribers and 14 million views and his podcasts, including Debug, have been downloaded over 20 million times. He also regularly co-hosts MacBreak Weekly for the TWiT network and co-hosted CES Live! and Talk Mobile. Based in Montreal, Rene is a former director of product marketing, web developer, and graphic designer. He's authored several books and appeared on numerous television and radio segments to discuss Apple and the technology industry. When not working, he likes to cook, grapple, and spend time with his friends and family.
I still love my late 2012 Mac mini and its as fast if not faster than when I bought it thanks to upgrades I made. I hope they don't change it too much. I have a 2014 mini also but less ways to upgrade made me sad. I feel my 2012 is so perfect though. Ease of upgrade or repairability. I like how in the 2014 some connectors like for the hard drives are secured better with a small screw compared to the 2012 where I worry at times it will pop off but never has. Just nice insurance. The 2012 mini is my all time favourite computer I've had.

I have the 2012 i7 Quad Core that I run as server. Upgraded with SSD and 16GB of Memory. Rock Sold running 24/7 for 3 years. Look at the prices used 2012 i7 Quad Cores are selling for. Hopefully Apple's Powers to Be may finally be realizing users want some POWER on all levels. It doesn't ALWAYS have to be THINNER.

The 2012 Mac Mini is an underrated workhorse. I updated mine to SSD while using the HDD as storage and I also upgraded the ram to 16 gbs and what a difference. The fact that it's upgradeable makes it a great choice. Sent from the iMore App

split into 2 Mac minis. One an Apple TV sized puck with i5, 8gb RAM, 128GB SSD, 2 or 3 USB-C and HDMI for 499. The rest traditional Mac mini with 4 USB-C instead of USB-A. Fine, could tolerate without traditional ports. No spinning drives. Don't gouge us on Memory and SSD costs. 699-1099

Splitting the Mac mini in two and having an ultra low power one using the innards of the MacBook could be really cool as long as they keep the higher end Mac minis around.

A double-wide PCI card slot for standard Nvidia and AMD cards. I've passionately wanted this for years.

SSD only options. The 5400 rpm drive shouldn't be sold in any Mac these days because the amount of time you are waiting on I/O is just too much for what you would expect from an Apple product. Beyond that, give us quad-core processors again. Lots of people use the Macs as headless servers but are still hanging onto the 2012 versions because the 2014 gave up so much performance. Of course, upgrade the ports to USB-C to stay consistent with all new Macs.

I've been seeing this a lot. How slow are 5400 rpm drives?. I've been tempted to buy a Mac Mini but people everywhere tell me I shouldn't buy one with a drive like that.

Pretty bad. Fortunately, I've been able to replace all the drives in the Mac minis I've bought with SSDs including the latest 2014 one. Massive performance improvement.

The drive in the 2014 Mac Mini can be replaced? Everything I've read has said it is pretty much not upgradable at all. The 5400 rpm hard drive is making my Mac Mini very painful to use. Thankfully I only use it as a Plex server, but even doing a few things on it each day is painful. If I could swap out the hard drive I definitely would add an SSD. Sent from the iMore App

In this day and age I would never get a spinning HD let alone a slow and crappy 5400rpm version. The fact that Apple's new filesystem (APFS) has been optimized for SSD storage is telling.

Updated processor; ability to upgrade RAM; smaller form factor such as Intel's NUC or the new HP stackable PC.

Something faster than my i7 2012 model so I have an upgrade route. That probably means a quad core option although I don't know if such a processor exists. 4 USB-C ports. I don't want any USB-A ports, let's make the switch quicker vs dragging it out. A desktop quantity of fast storage. 256GB is ok for my MacBook, but my desktop needs more and it shouldn't cost the earth. Worst case use some standard form factor like M2 so the storage is upgradable. It's probably easier to just say make an intel NUC, with an aluminium case.

I would frankly be happy if Mac mini survives the line up with minimal updates -- Thunderbolt 3 ports and new CPU. Everything else would be icing on the cake for this presumed dead product. Alternatively, I would also be fine with Mac Pro with consumer grade components at $999 to $1499 starting price.

4 TB3/USB-C, 16 or 32 gigs of RAM options, a quad option. Kill everything else if you must, Apple. I'd be all in.

1. Latest Intel processors, including quad-core options. Don't need ext GPUs, it's a Mini not a Pro.
2. Make it easily upgradeable, RAM and SSD, like the Mini used to be!
3. 4 X USB-C ports and TB3. Don't bother with SD card slot, can live without it. And a separate power socket, it's not a notebook.
4. An HDMI port. The one legacy port users (particularly upgraders) really need.

If you're gonna remove the SD slot you might as well remove the HDMI, since a USB-C to HDMI cable would suffice

I think two updates are warranted that don't directly involve the Mac mini but would make it more useful. (But I obv support modern processors, fast SSD, TB 3 etc) 1) create a capability for an iPad to act as display for a Mac mini. Mac mini's were the bring your own mouse keyboard, display. It'd be great if I could just plug my iPad into a Mac, get the benefit of that nice screen, & the power of Mac OS & ability to use a mouse+keyboard. The Mac can sit there acting as a file/iTunes server, backup and repository 24/7 but only when I need the extra power do I plug in. Duet display has a slow (usable as 2nd screen) ability. A fast native capability would be great. 2) 1yr free iCloud storage = size of hard drive you purchase. Too many people avoid backing up even though time machine is a brain dead solution. Even at a TB that's a small marginal cost for Apple more than covered by their insane margins. And they'd more than make up for it the next year when users just stick with what they offer and they'd have a better experience and have their data safe. As their most appliance like computer, this is best place to start this. Sent from the iMore App

A 5th USB on or near the front. Maybe front side? For easy thumb-drive, portable-hd, or camera USB connection in a pinch.
And if the SD card reader remains, I would prefer it near the front as well.
I personally hope they don't change the design. Other than giving us back the ability to upgrade ram etc.

1. Ram and storage upgradeable after purchase. 2. Bring back 2 drives option (or better 4!). 3. make it bigger and heavier if more drive and RAM requires it. 4. support at least 32GB RAM (64 would be perfect!). 5. Release Apple branded display with a foot that fits exactly the size of the mini.

The Mini could be an Apple Trojan horse in the IoT world and it could and easier on-ramp for all those freaked out folks sitting knowingly on their insecure older Window kit...
Do NOT kill this line
There is a fertile environment with home automation; IoT; iOS integration, macOS services.
This environment is untapped because it hasn't been incipient until now and Apple offerings today are not a cogent investment for the future...
2 minis
one designed for NEW macOS user who do already have existing monitor & usb keyboard&mouse
it's the eco-system - grow the ecosystem - make it easy for interested folk to take the 'red pill'
$350
KabyLake
8M RAM soldered
128G SSD
2 TB3
2-4 legacy USB 2
SSD
HDMI
(could be puck sized but low cost is primary) $$
KabyLake+
upgradable RAM - up to 64M
upgradable SSD - 128 base
4 TB3
2 HDMI
Graphic
not puck sized
designed to be a macOS server box

Good list but I wouldn't want any legacy ports. It should be consistent with the MacBook Pro, so no legacy USB or HDMI

They're not going to make it customizable or upgraded. So if we're going to get a sealed, disposable unit of computing:
Form factor of an apple TV (complete with integrated power supply)
gigabit ethernet.
Intake vent on the bottom front, exhaust vent on the top rear.
Less than 1.75" tall.
Four of 'em in a row should be less than 19". They've just made a replacement xserve. The design explicitly allows for a clever peripheral vendor to make a well designed, secure rackmount adapter to put 4-16 minis in a 1U. Unlike a wine cellar contraption needed for the mac pro. It's much slower than a mac pro, but much more dense and parallel.

I agree and I bet they'll make it even smaller, maybe about the size of a USB stick but it'll be double sided USB-C/thunderbolt. One side will plug into the new LG display designed for Apple users. The other side will be empty for users to decide it's use. Of course bluetooth, wifi and built in SSD drive will be part of the unit, Gigabit Internet will come via a dongle adapter and the Mac Mini will be powered via USB-C/thunderbolt. It will be impossibly small, 2" long, 1" wide, .5 " high.

I'm still rocking my early 2009 mac mini, best pc I've ever owned. I'm waiting for a new mac mini.
I would like to see a larger mac mini with upgradable parts, e.g. ram and graphics. The mac game developers will get a boost. I'm fine if they make two versions - a small quiet appliance macmini, and a larger more powerful headless mac with upgradable parts.
MacOS is a great OS, but they limiting its adoption by not offering the right products..

if you love your 2009, you will most certainly love a 2012, Imo the best value of all the mini's at this time. can be had for 300 if you look around, maybe 400 for an i7 model. 2x8gb of ram and an ssd or 2 and you've got a great machine. 2011 iMac can be had for 250!

Apple's discontinuation of displays does not poertend a good future for the Mac Mini or the Mac Pro. These headless Macs would be the first ones *requiring* a 3rd party display (the laptops of course have a display built in so you could get along fine without leaving the brand). We've long suspected low sales of these entry and pro machines and Apple, no doubt, has research showing that the market for these is only shrinking. Their product lineup is a long way off Jobs' 2x2 grid. Time to simplify again. Apple has enough to worry about with phones, tablets, laptops,and their all-in-one before even thinking about AR and cars. If anything, Apple could possibly make a unicorn Mac... the elusive expandable, enterprise Mac that replaces both the mini and the pro. Get in cheap and expand to very high end. Enterprise is the only place Apple's "PCs" stand a chance of any significant growth. Low margin and high volume. It's not Apple's usual way but it makes business sense. I think it's unlikely, but the only way I could see a headless Mac future. More likely, Apple doubles down on selling appliance computing devices.
iPhone, iPad, iMac, MacBooks. 2x2 grid. (2 iOS devices. 2 macOS devices).

Apple (more specifically Phil Schiller) has already gone on record saying that Apple will be coming out with a new high-end display when they release the next generation Mac Pro. I'm willing to be it will be 8K resolution.

I use the Mac Mini for my DVR combined with EyeTV app. Works great for years! I now also use it for fileserver and have external drives plugged into it (4-bay USB-3 and 4-bay Thunderbolt 2) I would want the following in the next Mac Mini:
* SSD OR HD (HD are still cheaper for the amount of storage for videos, photos, music, etc.) and expandable by user.
* Latest Intel processor
* 8 GB min (expandable by users to 24GB min.)
* Thunderbolt 2 and 3 (both connector types)
* HDMI (for connecting to TVs and Receivers)
* USB-C (at least 2)
* USB-3 (for backwards compatible uses of type A cables)
* Latest Bluetooth 5
* Ethernet port (it's still faster than Wifi)
* SD slot (nice to have) What would be really cool is if they built in an AppleTV equivalent inside to augment a regular Mac OS. Then users wouldn't need both a Mini and an AppleTV plugged into my Receiver/TV.

Have two versions!
1) Same form factor as now with hardware on a slide that slides out with upgradable components in a tray. Like the have the rear slide out. Pricing starting at $499 and up.
2) Form a mini tower of about the same size, but higher with a removable side with upgradable components and upgradable video cards. Pricing starting at $599 and up. Both with the following:
* PCIe HD 500GB+
* Latest Intel processor
* 8 GB min up to 64GB+
* Thunderbolt 3
* HDMI (for connecting to TVs and Receivers)
* USB-C (at least 2)
* USB-3 (at least 2 for backwards compatibility)
* Latest Bluetooth 5
* Ethernet port (10/100/1000
* IR and remote Would also like to see a tower like Mac Pro again that's upgradeable and internal expandable. Would also like to see AppleTV with Amazon Echo capabilities and heavy LoT integration.

For consistency with the MacBook Pro it shouldn't technically have any USB-A or HDMI ports

Just throw out the 2014, and refresh the 2012. Take that sad little box thats being lapped by the intel NUC, and give it a reason to live. 4 cores, 64gb ram, nothing soldered on, upgradeable everything, and plenty of I/O, of both current and future varieties.

Just update the specs, newer CPU, graphics, and ports. The form factor doesn't really need to change, it looks good on a desk, and having pulled one apart, not a lot of wasted space. The only way to make it smaller would be on chip HDD's which take the most internal space. This would impact the tinkerers which frankly Apple couldn't give two $;);$:$ about anyway. I'm sure they'll come up with something on the iFixit scale of zero.

the ifixit scale of zero isn't such a big deal IF its indestructible, infallible, and the ram/ssd costs are reasonable. So yeah its a problem

Renee, I believe you want too much from a device Apple considers to be an entry point. In any case, I would like to see UHD support and USB-C ports. I don't think a discrete graphic card and a biometric sensor are in the table, although the later could be included in a new line of keyboards. If the new Zen CPUs from AMD work as promised, it could be an interesting choice as they cost less and provides a much better graphic component than Intel's counterparts.

The Mac Mini should be truly mini. Like iTV mini. Truly appliance the ish out of it. *BUT* add a Mac(intosh) to the lineup. Currently, there's the Mac Mini, iMac and Mac Pro. But a 'standard' Mac is missing. Something not Pro(overpriced) and not All-in-one. A small 'blade' desktop with 1 (or 2) expansion slots. Please

I have two late 2012, one with the i5 and the other with the i7. I upgraded the both to 8GB RAM and the i5 with a hybrid drive and i7 with SSD. The i5 runs MacOS Server an iTunes in order to be a multi-purpose server for media and other network services like TimeMachine backup target. The i7 is a general use machine and with the SuperDrive attached is used to digitize my DVD as I have a huge disc library. My many machine is my Retina MBP from late 2013.

I was in for a new Mac mini last time. But ended up not buying one.
Why?
No quad core
No dual drive
No upgradability
Guess what I vote for in a new Mac mini :-)

Upgrading is anathema to current Apple.

Easy. See Surface Studio minus Windows, oh but put better hardware in it, lol.

Honestly, Apple should kill it off. It is a failed product. It's original goal: to lure Windows users who fell in love with the iPod to switch to OS X. The problem is that Apple never bothered to launch an advertising campaign to let us know that Apple hardware priced similarly to Windows hardware existed. Most of us never knew and continued to buy Windows hardware as before. Another thing: it is a desktop, an outdated form factor. Unless you have heavy duty computing tasks - which the Mac Mini is not suited for - nearly everyone has replaced their desktops for laptops. Even folks who have high performance computing needs like CAD, video processing/editing, high end gaming etc. are increasingly getting laptops. Finally, the original rationale for it - getting people to ditch Windows - is now being met by iOS. (And Android, which, let's face it, was almost as important for breaking the Wintel monopoly as Apple products were.) A 4 GB machine with low end Intel CPUs? Well, the light productivity and casual gaming that such hardware is capable of is very much replaced with an iPad, which moreover is portable and has a much better UX/UI. The window (terrible pun not intended) to compete in the inexpensive desktop market closed going on 10 years ago when people stopped buying cheap desktops in the first place. Once good 64 bit laptop chips that enabled decent CPU and graphics card performance in devices that wouldn't be too big and bulky to carry around, run fire hot or drain the battery in less than 4 hours became a reality, the desktop was dead, and people began to buy laptops to replace their desktops. The last gasp to save the form factor, the all-in-ones, didn't work either. With iOS around, there is simply no use case for a device like this. If you want an underpowered device that can't really do much, an iPad costs the same - or less actually - and is much more fun to use, and that speaks nothing of an iPhone 7s Plus, which doesn't cost that much more but is an absolute beast. If you want to get work done, there is a MacBook for about $1000. Maybe there is a need for a class of machines for people who need more than that the $500 iOS devices offer, but not as much as the $1000 MacBooks offer. Well, Apple is trying to convince people that the iPad Pro is what they need. Perhaps. But the reality is that the Mac Mini never filled that need either, and even if it did, the desktop form factor would severely limit the number of people who would buy it. So, such people are going to keep buying Windows 10 Lenovo Thinkpad and Dell XPS laptops until Apple begins to offer machines with 8 GB of RAM and an i5 CPU in that price range. So Apple needs to drop hardware that was only good for fighting the last era's battles and instead truly engage Microsoft and their OEM partners in the Surface Book category, where it seems all the light and heat is right now. Instead of trying to convince people that a $1600 iPad Pro (it's true cost when you add the keyboard and mouse) running iOS is a suitable replacement for an $800 laptop running Windows 10 - first of all it isn't and second even why would you even if you could? - they need to make the MacBook Air something that can go head to head with the Surface. I am not buying Microsoft's propaganda about all these people switching from MacBook to Surface Book (just as I do not buy Tim Cook's claims about all these people switching from Android to iOS) but Apple does need an entry in the "better than an iPad because it runs macOS no iOS but still cheaper than a MacBook" category and price range, so might as well make the MacBook Air that is marketed as a Surface Book competitor it.

You are absolutely right based on the case you make. You just do not see it.
Mac mini is the perfect private server. Handling:
Web sites
Mail servers
Open directory
Development server for xcode
Timemachine server
IOS cache
A perfect tool for a family like ours with 4 iphones and ditto ipads, 2 MBA, 1 MBP and an imac. It is by far the best server I have ever had.
First I used linux, rock solid but too complex to set up
The windows server that was a management nightmare
The os x server on mac mini. I have two they run unattended I only manage it when Apple comes with an upgrade.

I considered the server angle while writing my reply. The rub: people likely to set up Mac servers are already into the Mac ecosystem and are very technical. In other words, a very niche market. Apple is not into $500 niche devices that will not expand their customer base. That is also why they are rumored to be getting out of the display and router markets

/me has been waiting to buy one for a server and is relatively new to macOS.

Out of the router market, yes. Out of the display market, no. Apple (more specifically Phil Schiller) has already gone on record saying that Apple will be coming out with a new high-end display when they release the next generation Mac Pro. I'm willing to be it will be 8K resolution.

I see your point, but the iPad is not a MacOS replacement. I have never seen Apple say that it is. They say that it is a replacement for your old Windows computer. While I also prefer laptops, not everyone needs one if they already own an iPad. The iPad can't be a Plex server, run Photoshop, run iTunes, run Final Cut, send audio to more than one Airplay device at a time, bootcamp to Windows, run security cameras, host your media collection, etc. I use all of the above, plus it runs my Simple Remote and J River Media Center. I just need something that can get the job done. Using Photoshop with an iPad Pro and Astropad is a feature you can't get with just an iPad. iOS is severely limited as a full time desktop replacement. That is fine because it is fantastic at what it does, which is why they sold more iPads than Dell sold computers last year.. However, a lot of people also need a computer that can run desktop apps and the upside to the mini is that it could also be a nice fit for an entertainment center and you don't have to worry about its screen melting off in clamshell mode. Also, it is an entry level Mac. I already owned an iPod and I did not buy a Mac to use it. I bought a card for my PC that had a firewire port. The thing that interested me in Macs was the iPad. I love that device. I was already using PCs, but I wanted to give Mac a shot. If the barrier to entry would have been $1000, I would have just stuck with Microsoft. I bought a 2010 Mac Mini as a way to test OSX. I figured that I could use it in my entertainment center if I didn't like it. The thing is, I still have that Mac Mini running full time today. It feeds a monitor in my office so I can manage it when necessary and it also feeds the Denon receiver in my living room. It has been a workhorse without a problem for over 6 years. Also, it is the reason I went on to buy an iMac and two MBPs since then. In short, I think it is worthwhile for the Mac newbie, the media maven, the pro that uses them for servers, and the person that can get by with an iPad for portable use, but needs some desktop level apps at home.

they should remove all the ports and just leave 3 USB C connections.

remember guys that Intel pricing is a big part of the cost, i5's approach 200 and i7's 300.

Make it half the size, and replace HD with SSD. Since most Mac's now-days have SSD's even iMac is Fusion based. which is somewhere in-between, doing this o Mac mini will fall in line with other products. Although the only advantage is still a desktop as the reason to keep a hard drive. it is still only 2.5" hard drive.. its not 3.5", so u already have smaller capacity 'as is'.. External storage is the way to go.. Alternative u could go bigger, being a desktop, and have a 4TB drive in one of these

as everyone says above - i7, upgradeable SSD and RAM - preferably 32Gb or 64Gb so i can run my VMs.

What I want is a Skull Canyon NUC running OS-X. I've wanted to buy a mac-mini for a long time - but they are so obsolete I just can't justify spending the $$$. I'd kind of like for it to be relevant for 3 or 4 years - which the current mac-minis are not (mostly because of 4K) .

A low-powered 20-30 watt graphics card option might be nice. It should be able to play anything a future ipad pro will play and maybe a little more. Get rid of the hard drive option. It takes needless space. Fast SSD only. Need to be able to get up to a terabyte. Of course the processor should be updated -duh. Best in communications VR in a Mac Mini right now is an incredibly stupid idea. No one will but a mac mini so that they can play VR. VR capability is not needed. Remember, VR means 200 watts of power plus a noisy fan. We need to use about 30 Watts. 50 Max. Upgrading a mac mini is a stupid idea for Apple. It's not needed and it provides problems in servicing the computer. I'd like them to keep USB but I think they are going to force a move to thunderbolt/wireless.

If I had my druthers - a built-in optical drive (bluray). But it'll never happen. Realistically - it needs to have the same CPU, ram, storage, graphics, audio, antennas and ports as the upcoming release of iMac. Just limit the config choices on these to constrain the thermal load to keep it fanless. Then, future updates to the Mini in lock-step with iMac leveraging as much of the iMac investment as possible onto the Mini motherboard form factor. User-accessible ram and storage connectors, but no modularity beyond that. This is the Mini not the Pro.

My old desk had a tray for the k/b. I kept a CD burner in there. I never used the internal one after that. You just need an extension USB cable and something to fasten everything. Something to think about.

What would you use the optical drive for? I've not needed one in years

My Mini is hooked up to the tv and running EyeTV. Streaming services in Australia are expensive and have limited content compared to US. I do buy some movies and shows in iTunes these days but have a lot of DVDs and some blurays purchased previously. Yeah I have an external drive but really miss the neat, clean design of the internal slot drive.

Unfortunately it's just a sign of the times. Some people have plenty of movies on VHS tapes, although it doesn't mean we can still support it now. Discs are slow and can be damaged easily if not taken care of, they're just outdated now.

DVDs are *fast* compared to buffering streaming services over the internet in many countries I visit. Unlike VHS, both new content and players are widely sold on DVD in many (all?) countries. Streaming may be the future, but many parts of the world where Macs are sold are not enjoying that future yet.

Which is why Apple and other companies sell external DVD drives. Tech companies generally develop for the majority, and the majority of the world can cope with streaming. But other countries have things like external DVD drives for a solution, so they're not left behind whilst they catch up

It's cute, but I'm not sure if it's for me.

"Make it a mini tower — expandability, yo!" not unless they do that on the Pro too. I think they *may* make it a straight up line, and merge the Mini and the Pro. Think about it, if they're changing the Mini, they'd mix it with the Pro. Base line is $500, and then you can add parts to get up to the Pro. As in, get the one with two cores and 4gig for $500, add 4 gig for $250, add 2 cores for $500, and so on. They'll say something like "you want customization, here's customization!"

"Everything you need to know about the MacMini" - After reading this, it's clear that you know absolutely NOTHING about the MacMini other than the name.

The forgotton Mac Pro, The forgotton Mac Mini. I'm wondering when Apple will remember iCloud lol!

What's this "iCloud" you speak of? ;)

Thank you for dating the entries of this article so readers can tell what is new material. I still run my 2012 Mac Mini with joy. However, I have connected a Samsung T3 1TB external SSD and made it my boot drive. The internal spinning harddrives is now my backup drive. When the Mini bites the dust, I'll disconnect the T3 and connect it to my new computer. Hopefully that is the next generation Mac Mini.

I'm still using my late 2012 Mac mini mainly because the 2014 version wouldn't allow user replaceable memory upgrades. Last December I replaced the hard drive with an SSD (which was a nerve wracking experience to say the least). That non-Apple sanctioned upgrade gave it a little more speed and extended the life of the device, but eventually I'll have to get a new desktop. Apple should once again allow users to upgrade the ram But should also allow for the main drive to be upgraded. However in stead of using a traditional hard drive or SSD they should switch to PCI-Express M2 SSD. They're about the size of a ram chip and can therefore be installed in a slot right next to the ram.

I got excited from the thought of a new modern and customizable Mac Mini!

Still occasionally using my 2009 Mac Mini, which is stuck at El Capitan, until Apple releases a new Mac Mini.
I think all-in-ones are wasteful. Apple could design a mac mini that could attach to the rear of a monitor. Of course it will need to be done well, so it looks and functions well, but it can be done. Apple could design their own monitor to make it look great.

Base the Mac mini on a BYODKM case that contains rearrangements of the same boards used in iMac models. Include options for SATA (2.5" spinny drive or SSD) for better price points, in addition to models with onboard storage. All other specs exactly per imac, and then release it alongside iMacs in lockstep.

This is badly out of date. It's saying the modular Mac Pro is coming in 2018. Nope. It's coming in 2019. I would hope the Mini will come this Fall. Maybe that would be a replacement for my planned NAS I've been researching. But I suppose that will only work if MacOS Server continues be updated in Mojave. Lots of interesting things coming in the next three months!

Would love to see a completely rethought Mini as a competitor to the Intel NUC. Make it even smaller and more designed for portable computing.

My 2009 mac Mini has replaceable memory and storage and I would like to see these things return with the new models. Obviously, up to date processor, graphics, ports (lots of them) will also be necessary.