Decade in review: The 2018 iPad Pro has come closest to being a computer replacement so far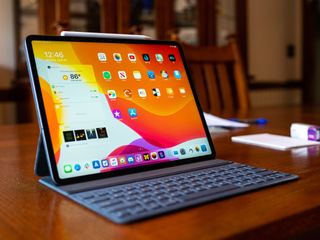 (Image credit: Joseph Keller / iMore)
I'm writing this on a third-generation iPad Pro. It's likely that the photo you see at the top of this article will have been edited on one, too. This machine has become one of my primary tools for getting work done (I find writing on an iPad lends itself to fewer distractions) on a day-to-day basis.
It's also an intriguing look at the future of the iPad as a computer. The iPad Pro and, subsequently, iPadOS in 2019, suggest that Apple is taking the iPad more seriously as an alternative to more traditional computers (both Windows and Mac) than it previously has. But while iPadOS certainly starts to make that case with software, it was the iPad Pro itself that really started that ball rolling.
With powerful hardware, USB-C, support for a new Apple Pencil, and an eye firmly fixed on the future, the third-generation iPad Pro is my pick for Apple's most significant product of 2018.
Form and function
It's hard to talk about the 2018 iPad Pro without talking about its design.
Until the 2018 iPad Pro, the iPad lineup had used the same design language since 2012 introduction of the first iPad mini with rounded sides with chamfered edges transitioning to the front-side glass of the device. The 2018 iPad Pro shook that up with a design more reminiscent of the iPhone 4, with flat sides that struck a bolder visual tone than previous iPads (personally, I'm hoping this design makes its way back to the iPhone).
These flat sides weren't just a case of Apple changing things up, either. One side of the iPad Pro now plays host to a magnetic plate for inductive charging the most recent Apple Pencil.
The bezels on the iPad Pro also shrank, which was possible thanks to another addition Apple made to the iPad Pro: Face ID. Apple removed the Home button from the iPad Pro, opting instead for a TrueDepth camera apparatus to power Face ID. While some (including me) quibble with the placement of the camera itself, I find that I much prefer having Face ID to Touch ID when using biometric authentication with apps.
So long Lightning, hello USB-C
It's the addition of USB-C that really makes the case for the iPad Pro as Apple's mainstream computer of the future. This one change opened up the iPad Pro to be a more flexible device, allowing more people to take advantage of the considerable power that the tablet has to offer.
For one thing, you no longer need a Lightning-to-whatever adapter. All you need now is a whatever-to-USB-C cable. This may seem at first like a distinction without a difference until you remember that USB-C is a standard. You don't need to wait until Apple launches some kind of adapter, and you don't need to wait for MFi partners to make something to Apple's specific specs.
Take external hard drives, support for which arrived in iPadOS earlier this year, as an example. While Lightning-equipped iPads can use external drives if they're running iPadOS just like the iPad Pro can, they need to use an adapter to do so, adding a clunky middle step to a process that's smooth and seamless on the iPad Pro. On my iPad Pro, I just plug the USB-C-to-USB-C cable that was included with my portable SSD into my iPad and I'm good to go.
And USB-C is versatile. You can do things like plug in a USB-C hub, which in turn gives your iPad access to several other ports. Some even plug in external displays, such as the LG UltraFine models made in collaboration with Apple. It has enough power and throughput to handle all of this.
It's because of that power, that flexibility, that USB-C allows the iPad to become an excellent computing option not just for mainstream users, but a great number of professionals, too. It's just a better option than Lightning. It's compatible with more accessories, offers better power delivery, and really opens up the expansion options for the iPad Pro in a way that just isn't there on Lightning-equipped iPads.
Software is the other part of this story
As I previously noted, one of the features that helps USB-C on the iPad Pro stand out is the fact that you can properly use external drives, be they little thumb drives or full-on hard drives, without the need for any sort of adapter. But this feature is relatively new to the iPad experience.
Previously, you needed dedicated apps to use external storage, apps often written for a specific piece of hardware. It was a mess. With the launch this fall of iPadOS 13, this shortcoming has now been corrected. Not only can you use external drives to transfer data around in the Files app (where most of your files live anyway), but you can also do so directly in third-party apps that support such functionality.
This is particularly helpful for photographers, who can now directly import their photos from their SD card (or in some cases, directly from the camera) into apps like Lightroom or Pixelmator Photo. Speaking as someone who likes to keep his iPhone photos and standalone camera photos separate, this could not be a more welcome change.
iPadOS, now a dedicated software branch specifically for iPad hardware, suggests a change in the relationship between Apple's software team and the company's tablet lineup. While we could generally expect a major update to the iPad experience once every two years or so, the branching of iPadOS suggests that perhaps Apple may speed up that cadence.
With additions like Today widgets on the Home screen, desktop-class Safari, and the major steps for forward for app multitasking, iPadOS 13 is a great first step in really taking the iPad into its next act.
The 2018 iPad Pro and iPadOS show us the shape of things to come
The hardware on the 2018 iPad Pro is top-notch. The A12X system-on-a-chip is still Apple's most powerful custom silicon, even after the introduction of the A13. USB-C makes the tablet more useful to more people. And iPadOS starts the iPad off in its own software direction that it hasn't really had since its inception.
One of the things we saw in 2019 was that Apple added Smart Connectors (an thus, Smart Keyboard support), to both the iPad Air 3 and the 10.2-inch iPad, making them even better productivity devices (despite some flaws, justing being able to plug in and type is always better than connecting with Bluetooth). Previously, the Smart Connector and Smart Keyboard had been exclusive to the iPad Pro lineup. I won't be surprised to see USB-C and yes, even Apple Pencil 2 support trickle down to the lower-priced models as well.
That's the biggest effect that the iPad Pro is going to have, as has been the case with other Apple product lines in the past. The high-end gets the best features first, followed by a trickle-down to the lower end of the range. This might not be an entirely new observation, but assuming that it holds true, it tells us just what kind of products we can expect the iPad to become, and it's all thanks to the current iPad Pro and iPadOS.
With additional features like USB-C and the ability to directly connect, charge, and carry your Apple Pencil with on your iPad, lower-priced iPads will become better products for everyone. Products that you'll find in more homes, offices, creative spaces, and classrooms. And additional improvements to iPadOS will hopefully continue to help define the iPad as a device separately from the iPhone, taking it in new, more interesting directions than it could go if it were tied more closely with iOS.
It's almost a certainty that we'll see the next iteration of the iPad Pro at some point in 2020. And, especially if certain rumors are true, it's going to be a vast improvement over the third-generation iPad Pro in a number of ways. But while a fourth-generation iPad Pro is sure to do a lot of things better than the current model, that current model did them first, and because it did, I think we'll see that impact on the iPad family for years to come.
More navigation links:
Apple
Google
Microsoft
Master your iPhone in minutes
iMore offers spot-on advice and guidance from our team of experts, with decades of Apple device experience to lean on. Learn more with iMore!
Joseph Keller is the former Editor in Chief of iMore. An Apple user for almost 20 years, he spends his time learning the ins and outs of iOS and macOS, always finding ways of getting the most out of his iPhone, iPad, Apple Watch, and Mac.