Decade in review: Apple's most significant product in 2010 was the iPad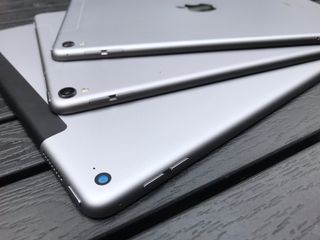 (Image credit: iMore)
I still remember the day my first iPad arrived. It was during the finals of March Madness in 2010, and I was supposed to meet up with some friends to watch the Final Four. I opened the box to reveal this strange new computing device and fell in love at first sight. I skipped that sports ball meet up to spend time with my new iPad.
Back then, most of my friends made fun of me for my big new purchase. "What's the point? It's just a really big iPod touch." Over the years, every single one of them has purchased an iPad of their own. Turns out, it's much much more than just a huge iPod touch.
What is this 'iPad' thing, anyway?
The first iPad launched in April of 2010. It had a 9.7-inch display screen with huge bezels. You could get one with Wi-Fi only, or with Wi-Fi and cellular (at the time named "Wi-Fi + 3G"). At the time, the only cellular model you could buy was on AT&T's cellular plan.
It had a 1024 x 768 pixel resolution display (by comparison, the current iPad with a 10.2-inch display has a 2160 x 1620 pixel resolution display). It weighed nearly a half-pound more than today's iPad at 1.5 pounds. It came with either 16GB, 32GB, or 64GB of storage and was running on Apple's A4 processor chip.
It came with iPhone OS 3.2, later that year to be renamed iOS with iOS 4. It had a browser (Safari), a mail app, iPhotos, a video app, iTunes, and the iOS App Store, which was already boasting a decent number of apps optimized for the iPad.
It did not come with Apple's iWork suite. If you wanted the iPad-optimized version back in 2010, you had to pay for it.
It did, however, support some important accessibility features from day one, including VoiceOver screen reading, Zoom Magnification, and support for closed-captioned content. A clear indication, even from 10 years ago, that Apple considers accessibility to be an important part of its design.
The battery of this first-generation behemoth was up to 10 hours, nine if you were using the 3G network.
The first-generation iPad did not have a camera.
You've come a long way, baby
Since it's first iteration in 2010, Apple has updated the iPad seven times (the 2019 model 10.2-inch iPad is the seventh-generation iPad), has launched three additional model iPads; the iPad Air, iPad mini, and iPad Pro, and has grown the iPad market so much that, by itself, the iPad is the size of a fortune 500 company.
The size of the display remained the same 9.7-inches until 2019 when it was upgraded to a larger display, though kept a slim case design thanks to the smaller bezels.
The case size and shape fluctuated a bit over the years, making room for smaller batteries and new hardware features, like a camera.
By the second iteration, the iPad gained a camera and by the third generation, it gained a Retina display (this was in 2012) and a new processor chip, designed specifically for the iPad: the A5X.
A lot of people, including myself, have said that the third-generation iPad (or iPad 3) was pivotal in popularizing the iPad, and tablet use in general. Apple had finally hit a good balance, having a versatile tablet with more features, a wider demographic, and a lot of forward momentum. So much so that Apple released the iPad 4 just seven months later. I was one of those that bought the iPad 3 and was pretty peeved that the iPad 4 came out so soon afterward. No harm, though. I still have my iPad 3.
Over the next few years, the iPad would get minor updates to its screen resolution, processor chip, camera resolution, and battery life. Minor upgrades meant to keep the iPad alive and fresh.
In 2018, Apple added support for the Apple Pencil, leveling the playing field for creatives that wanted to draw on their iPad with the same convenience that was previously only afforded the iPad Pro.
In 2019, Apple completely redesigned the iPad's body, dropping it into an iPad Air style chassis and extending the screen landscape to 10.2-inches. Today it runs an A10 Fusion chip with 64-bit architecture and an M10 coprocessor. It's also got an 8mp back camera (not that great compared to an iPhone 11), but still chokes out a measly 1.2mp FaceTime camera (the same one it's had since 2017).
Why the iPad was so important in 2010
Apple was marketing the iPad as a replacement for the computer, but it was criticized for not being enough like a computer. It didn't have multi-window capabilities and didn't even support Flash or Adobe software. We were so entrenched in what we all thought a computer was that we didn't stop to realize that maybe this tablet concept is what a computer should be, at least to most people.
Over time, we've come to realize that this really is a "post-PC era" (to quote the late Steve Jobs). Most people that are reading this would probably say that I'm wrong. That we need full computers and all their capabilities, and that tablets, no matter how good they are, just don't quite meet the needs of everyday computing life.
Most people reading this are probably the type of people that use a computer every day for work. And if you don't work from home, you probably tend to bring your work home with you a lot.
Everyone else, people that work in the service industry, in manufacturing, in labor, in administrative roles, don't need multiple window desktop screens with full support for real Photoshop when they're at home. The average person, while sitting at home, is usually reading emails, browsing their preferred news aggregate, like Google News, Apple News, Reddit, or Flipboard, or is posting things to social media. For that, you don't need a PC (or Mac). Full computers are really a niche thing today. They're important for people that want to create and work on specific projects that require specific software or have particularly computing needs. They're too much computer for a lot of homes. We're just still living in a past that has been marketed to us by tech corporations that convinced us 10 years ago that every home needs a computer. Those same companies are still marketing to us, convincing us that a tablet like the iPad isn't enough computer for average, everyday use.
The way we experience home computing has changed significantly in the past 10 years, and the iPad, though it wasn't the first, is the tablet that made the biggest impression on what we think a computer should be today.
Now we just need to stop listening to the tech companies and pundits that are still trying to say that a tablet isn't good enough for home computing. Sorry my friends, but when I look outside my tech bubble, the iPad is enough.
And that is why the iPad is the most significant tech gadget in 2010 as it relates to Apple. What do you think? Do you agree or disagree with me that the iPad changed the way we experience home computing today?
More navigation links:
Apple
Google
Microsoft
Master your iPhone in minutes
iMore offers spot-on advice and guidance from our team of experts, with decades of Apple device experience to lean on. Learn more with iMore!
Lory is a renaissance woman, writing news, reviews, and how-to guides for iMore. She also fancies herself a bit of a rock star in her town and spends too much time reading comic books. If she's not typing away at her keyboard, you can probably find her at Disneyland or watching Star Wars (or both).