How to move from an individual iCloud Account to Family Sharing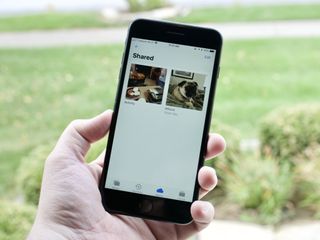 Beginning with the days of the original iTunes Music Store, Apple has made it a priority to get all of its users to create an Apple ID — one account to use for all the services Apple has to offer, from support to buying the latest and greatest gear to content. It's become a part of the set-up process for every new Mac, iPad, and iPhone. Thanks to Family Sharing, families can each have a separate Apple ID, but also share content purchased with each individual account.
Apple recently added iCloud Family Sharing, which allows users to, not only share content purchased and downloaded using each other's Apple ID, but also allows everyone in the Family Sharing circle to use the same iCloud account. Here's everything you need to know about iCloud Family Sharing.
What is iCloud Family Sharing?
It's actually an extension of the standard Family Sharing plan, which allows up to six family members to share content purchased from iTunes, iBooks, and the App Store, as well as sharing an Apple Music subscription for a few dollars more. Adding iCloud allows all members in the Family Sharing plan the ability to store photos, built-in and third-party app content, documents, and more.
This feature is a fantastic cost saving option for families that use more than the free 5GB per month of iCloud each. The higher storage plan you subscribe to, the better deal you get overall.
How much storage do I need for my iCloud Family Sharing plan?
It all depends on how much iCloud storage each person in your family already uses. If a family of four uses 60GB of iCloud storage each, you're going to want to go all-in with the 2TB plan, but if each family member only uses about 15GB, then you'd be fine with just the 200GB plan.
Though there is a 50GB iCloud plan for $0.99 per month, it's not available in the iCloud Family Sharing plan. You'd have to upgrade to at least the 200GB plan for $2.99 or the 2TB plan for $9.99 per month.
We turned on Family Sharing for our household of four a couple of years ago when the kids were old enough to have their own iPads and iPhones. To keep all these devices backed up, we purchased additional storage for every member of the family: 50 GB for 99¢ a month each. Total monthly bill: $3.96, peace of mind: priceless.
With the birth of iOS 11, Apple announced that family sharing would include the ability to pool iCloud storage. Around that time, I was starting to bump up against my 50 GB limit, but the rest of my family group was well below that threshold. Conveniently, Apple also began offering 200 GB of storage (the amount of space we were using) to families for $2.99 per month.
By converting my 50 GB account to a shared 200 GB account and sharing it with the rest of the family group, the squeeze on my data was relieved and almost a whole American dollar was saved every month to boot.
How to I add a person to my iCloud account?
The first thing you'll need to do — if you haven't already — is set up your family with a Family Sharing plan. Once you're Family Sharing plan is set up, all you have to do is add iCloud to the plan.
Remember, you must subscribe to the $2.99 200GB iCloud plan or higher in order to add family members to the plan.
Tap Settings.
Tap your Apple ID banner.
Tap iCloud.
Tap Manage Storage.
If you already have 200 GB or 2 TB of iCloud storage, skip to step 9. Otherwise, tap Change Storage Plan.
Tap either the 200GB option or the 2TB option.
Tap Buy.
Enter your Apple ID password when prompted.
Tap Buy to confirm the storage upgrade.
Tap Share with Family.
Tap Invite Family Members.
An iMessage sheet will appear with your family members' names pre-filled in the address field. You can add a comment to the invitation, then tap the Send button.
Each family member will receive an iMessage with a link to accept the invitation to join the shared storage plan.
Pro Tip:If an adult family member needs more storage space or wants to use their own iCloud storage, they can choose to have a separate storage plan and still be part of the family group.
After you share your iCloud storage with your family, the iCloud storage map shows how much space you are using (in living color), how much space the rest of the family is using (in gray), and the total amount of storage available for the family.
What about all the data I have stored in iCloud—contacts, pictures, reminders, documents in iCloud Drive? Are those all automatically shared, too?
In a word, no. In a few more words, not unless you choose to share it.
All of the data associated with your iCloud account—such as credit card numbers, contacts, calendars, files you've stored in iCloud Drive—remains yours and yours alone...unless you share it.
Family sharing offers a shared family calendar and a shared family photo album, but these are separate and distinct from any other calendars in your iCloud account and albums in your iCloud Photo Library. Add an event to the shared family calendar and, by default, everyone in the family can see and edit it. Add an event to a personal calendar you have stored in iCloud and no one else can see or edit it unless you explicitly allow that to happen, and only for the specific people you choose. Same with the shared family albums in Photos and other albums you create in your iCloud Photo Library.
Your data is still your data; the only thing that might change is the size of the container for the data.
Can anybody be in a family?
Apple's Terms and Conditions language doesn't define a family, other than to say that all family members must share the same home country. Also, an individual can only belong to one family at a time and can only join a different family up to twice per year. Further, an individual can change the iTunes account associated with a family no more than once every 90 days.
What happens when a family member leaves the family?
If you're over 13, you can leave a family group without any action taken by an adult or organizer of the family. Or an organizer can remove a family member over 13 or transfer him or her to another family. In both of these cases, the departing family member loses access to any content shared by other members of the family group, and the remaining members of the family group lose access to purchases made by the departing member. The departing member will be able to keep any purchases that were made while in the family, but any on-going subscriptions that were paid for by the family organizer or any new apps or content that the departing member wants to buy will be the responsibility of the departing member.
What if I want to stop Family Sharing? Where does all the shared data go?
The organizer can turn off Family Sharing and disband the family group by tapping his or her name in the list of family members in the Family Sharing settings and stopping Family Sharing. The organizer will retain the family calendar, reminders, and shared photo album in their iCloud account.
How is Family Sharing working for you?
Have you hit any potholes in the Family Sharing road? Tell us in the comments below and we'll see if we can help you out.
Master your iPhone in minutes
iMore offers spot-on advice and guidance from our team of experts, with decades of Apple device experience to lean on. Learn more with iMore!
Mike Matthews is a writer at iMore.com. He has used Apple products all the way back to the Apple II+. He appreciates no longer having to launch apps by loading them from a cassette tape recorder.