How to get Apple TV Plus for free
You can get Apple TV Plus for free with many devices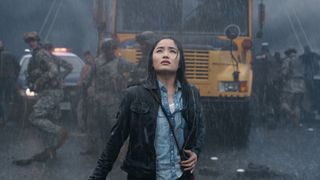 (Image credit: Apple TV Plus)
An open secret to many enthusiasts, there are tonnes of ways to get Apple TV Plus for free. With great shows like the 61-time Emmy-nominated Ted Lasso and Oscar Winning coming-of-age comedy film Coda, there's a lot to love on Apple TV Plus.
If you have just picked up a new device or just haven't had the chance to make your way through the best shows on Apple TV Plus, here are all the ways to try it for free.
How to get Apple TV Plus for free with a trial
There are a handful of ways to get Apple TV Plus for free through the Apple website. First, if you are just looking to get Apple TV Plus by itself, you can get a 7-day trial before committing to it on a monthly subscription. You can do this from the Apple TV Plus site by simply clicking the "Try It Free" button. If you have the app, you can do the same from there. This works particularly well for older Apple devices or if you didn't grab the free trial that comes with your Apple purchase. If you aren't interested in paying for it after the subscription, you can cancel it immediately and still have access for the duration of the trial.
If you want a little more than seven days, you can get a free trial for the entire Apple One bundle. This will give you a month and comes with access to iCloud Plus, TV Plus, Apple Music, and Apple Arcade. This is a pretty nice bundle and it's well worth checking out the other services while you have it. If you decide to check it out, here are the best Apple Arcade games right now.
How to get Apple TV Plus for free with purchases
You can get 3 months of Apple TV Plus with most Apple purchases. If you have purchased an iPhone, iPad, Mac, or Apple TV, you can grab a three-month trial from the device allowing you to watch shows and movies for 90 days. You have to claim the trial within the first 90 days of getting the device to use it. As well as being able to do this from the app, you will be sent an email to your registered email, allowing you to use the trial.
How to get Apple TV Plus for free with Best Buy
Right now, you can add 3 months of Apple TV Plus to your basket alongside any purchase at Best Buy and this can be used for new or returning customers. This means that purchasing an Apple device at Best Buy technically gives you 6 months of Apple TV Plus up front.
If you currently have Apple TV Plus, this trial won't work for you but you can cancel your plan, wait for it to run out, then use the code.
How to get Apple TV Plus for free with a mobile plan
If you're with T-mobile, you can get Apple TV Plus with a Go5G Next or Go5G Plus plan. This is a plan benefit and will run for as long as your plan goes on. This deal is present for both new and existing customers. If you are on a Sprint plan instead, you can get a promotional code that gives you a certain number of free months of Apple TV Plus depending on your plan, ranging from a month to 12 months.
One more thing... a promising model
Severance, Mythic Quest, Foundation, Invasion — there are so many fantastic Apple TV Plus shows launching every month. This is before mentioning the best Apple TV Plus movies. The "binge streaming" model of putting an entire season out in one go on services like Netflix has accelerated the hype cycle around most modern shows and movies. The free trial system that Apple TV Plus operates with incentivizes weekly episode releases and longer streaming cycles and this ultimately allows fans to stew on everything. If I can finish a new season of a show in a single night, there's nothing to keep me wanting more — no reason to discuss it with my friends over a drink.
Ultimately, Apple, like other streaming services, wants to give potential users a reason to come back and invest in its entertainment. The "binge" model is one that largely ends up with consumers forgetting about projects very quickly. Where Netflix is being widely criticized for ending shows after a single season, Apple is allowing them space to grow. Though I think Netflix currently has a better selection, Apple seems to display more faith in its projects.
Master your iPhone in minutes
iMore offers spot-on advice and guidance from our team of experts, with decades of Apple device experience to lean on. Learn more with iMore!
James is a staff writer and general Jack of all trades at iMore. With news, features, reviews, and guides under his belt, he has always liked Apple for its unique branding and distinctive style. Originally buying a Macbook for music and video production, he has since gone on to join the Apple ecosystem with as many devices as he can fit on his person.
With a degree in Law and Media and being a little too young to move onto the next step of his law career, James started writing from his bedroom about games, movies, tech, and anything else he could think of. Within months, this turned into a fully-fledged career as a freelance journalist. Before joining iMore, he was a staff writer at Gfinity and saw himself published at sites like TechRadar, NME, and Eurogamer.
As his extensive portfolio implies, James was predominantly a games journalist before joining iMore and brings with him a unique perspective on Apple itself. When not working, he is trying to catch up with the movies and albums of the year, as well as finally finishing the Yakuza series. If you like Midwest emo music or pretentious indie games that will make you cry, he'll talk your ear off.